With SNAP Recipients, Federal Workers in Need of Food, Florida Agencies Fill Shutdown Gap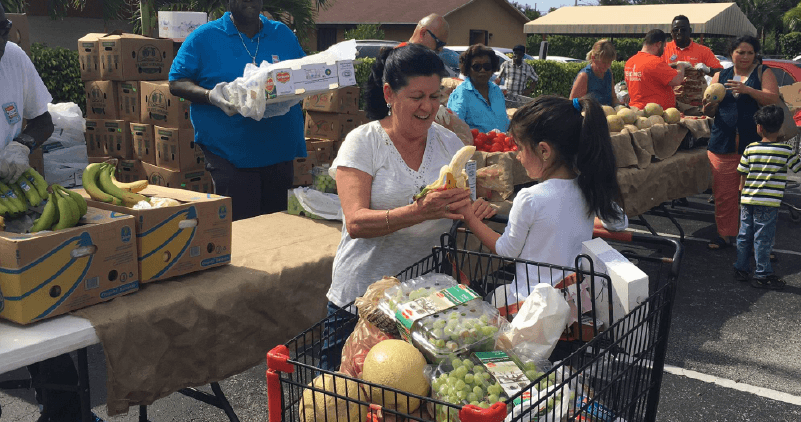 By Samantha Gross | Miami Herald
Despite the federal government shutdown, the 2.9 million Floridians who receive federal food assistance will get through February with an early allotment to stock up on groceries, but the shutdown has created a whole new group of people who aren't used to needing help getting food on the table: federal workers.
The many furloughed employees and contractors present state agencies and local groups with a new problem, and they've had to make changes in staffing and structure to keep Floridians healthy and fed while dealing with their own shortages caused by the shutdown.
By Sunday, Jan. 20, those who depend on the Supplemental Nutrition Assistance Program, or SNAP, will get their benefits for the month of February, according to the United States Department of Agriculture. In Florida, those who receive SNAP through the Department of Children and Families would normally get those benefits in the first 10 days of February.
Even though the federal budget bill expired on Dec. 21, a provision allows federal agencies to make payments up to 30 days after that date. Congress approved funding for SNAP through January. (rentalry.com)
But the thousands of federal workers without paychecks aren't able to apply for SNAP benefits because no one is there to process their applications.
According to the agency's website, about 95 percent of USDA's employees were furloughed as a result of the partial federal government shutdown.
Florida has one of the highest numbers of SNAP retailers in the country. Across the state 16,176 retailers redeemed nearly $4.8 billion in benefits last year, according to a USDA fiscal report. Of those retailers, 1,486 are located in Miami-Dade County.
Maria Alonso, president and CEO of United Way of Miami Dade, which provides financial and health support to tens of thousands of local residents, first learned about the changes to the SNAP schedule from a reporter.
Alonso said the changes would likely add to the increased workload the non-profit has already seen since the shutdown began in December. Call volumes from furloughed federal workers asking for family assistance have been steadily increasing, she said.
"The longer this goes on, the more complicated things will get and the greater the needs will be," she said.
While DCF's plan to notify those who receive SNAP benefits is still in the works, food banks are thinking about what happens next. The agency's closure means an uncertain future not only for low-income people receiving benefits but also puts applications for SNAP licenses (and reauthorization of existing licenses) on hold, as well as funding for disaster assistance nutrition programs (SNAP-D) or even commodity programs for food banks to help with storage, distribution and warehouse space.
Feeding Florida, the state's largest food bank network, says it is confident that the community will rally to make sure the food banks are able to provide help for anyone who needs it.
Executive Director Robin Safley said they are used to having a push on the system, having just come through three hurricanes where they were on the front line of what she calls "mass feeding."
"The good thing about our network is that they're so committed at the ground level that usually if we get in a pinch we let people know we're in need," she said, "The system always shows up."
Safley added that while the shutdown cuts off the temporary emergency food commodity program as well as technical assistance, certain state-funded programs will help Floridians out. For instance, the state matches up to $40 of SNAP benefits spent at certain farmer's markets.
At Feeding South Florida, one of Feeding Florida's 14 regional distribution centers, federal employees and contractors who normally don't need help paying for food have come to the facility for support. Sari Vatske, Feeding South Florida's executive vice president, said she's received letters from TSA agents, federal court staff and others in need of groceries and asking whether they would qualify for SNAP.
But even employees of the food banks can't get answers, because the people who could answer the questions are on furlough.
"If people who are technically employed but not receiving money need food, what's going to happen? Are new people going to be eligible?" Vatske said.
She added that while food ordered prior to the shutdown is still en route, commodities programs that provide food and pay for storage, distribution and warehouse space have been put on pause. The network has already added special volunteer shifts and is asking the community for more donations. The food bank is dipping into reserve funds to cover programs that would normally be supported by federal money.
"In order to cover staff and our fleet, we have to do more," she said. "We're being asked to do more with less."
In addition to federal employees, contractors and SNAP recipients, the state's school lunch program, breakfast program and fresh fruits and vegetables program are also at risk. They are administered through the Department of Agriculture and Consumer Service's Division of Food, Nutrition and Wellness and funded quarterly, which means it received $200 million to last January through March.
Even if the shutdown lasts until March, the department says it will look to pull in money from other state funds and ask schools to hold off on reimbursement requests.
"Despite the shutdown, we have an obligation — moral and legal — to fund a nutritious lunch and breakfast in every school across our state," said Commissioner Nikki Fried, who spent the day before her inauguration volunteering at Second Harvest food bank in Tallahassee. "It's the foundation upon which our children are prepared to succeed each school day. We will continue working with federal partners and our department's divisions to provide these meals to Florida's students throughout any lapses of appropriations."
To view original story, click here.