35 weeks and counting: Wellington food distribution to continue indefinitely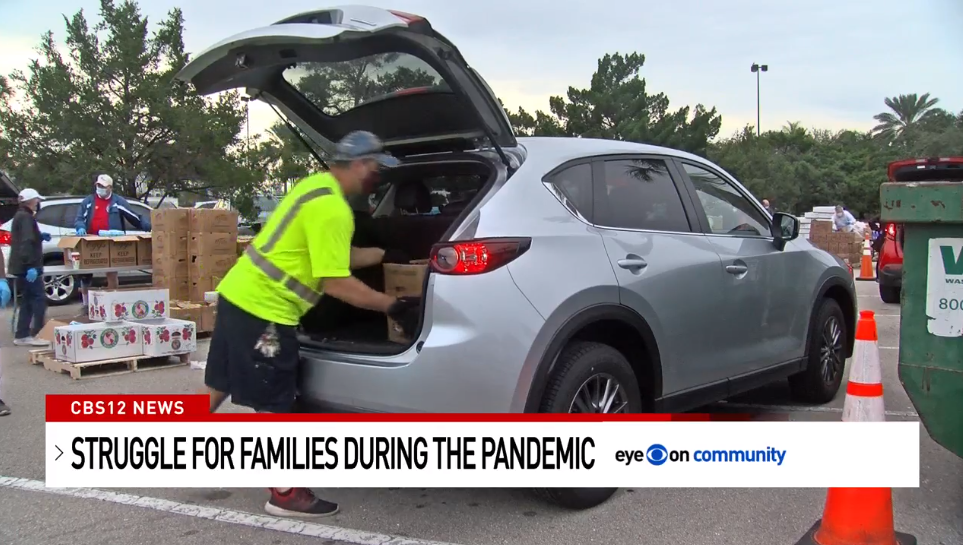 WELLINGTON, Fla. (CBS12) — It's a new year, but there are still people in Palm Beach County struggling for work and food.
On Tuesday, the Village of Wellington, along with Feeding South Florida, completed its 35th food distribution at the Wellington Mall, filling hundreds of cars. So far, they've given out nearly 1.8 million pounds of food, to more than 27,000 families. They distributed 50 million pounds of food across the county.
"This is the difference between my children and I eating or not eating," said Caroline Tummino in an interview as she waited in her car.
Tummino was laid off as a dental hygienist early in the pandemic. She has 27 years of experience.
"It gives you a feeling of not being enough when you have to rely on other sources to take care of your family. Being home the last seven, eight months has been very depressing," she said.
Sari Vatske, the Executive Vice President for Feeding South Florida, said they would be distributing food "for the foreseeable future. As long as it's necessary, we plan on being out here."
"This has become a way of life," she said.
"We've had walk ups from the bus," Wellington Mayor Anne Gerwig said. "Technically we're not supposed to give it out unless there's a voucher and they've driven up, but we're not going to have someone from a bus stop walk up and not get something that they can take back."
Food isn't the only thing Tummino struggles with; she's also trying to manage a broken foot but can't afford screws and a bone graft doctors say she needs.
"The village had community services deliver it to me so I didn't have to go over there, and they would bring it into the house for me, which is amazing," she said.
However, there is a silver lining.
Tummino says these past few months have meant for time with her three kids and animals, like Cooper the cat.
"If anything, 2020 has taught me to be very grateful," she said. "I've realized how many good people are actually in my life."
Tuesday mornings are a reminder.
By: Andrew Lofholm
Originally posted on January 12, 2021 by CBS12. View original article, here.