To the Rescue: CEO of Feeding South Florida Paco Vélez talks about food insecurity amid the pandemic—and how his team is combatting it.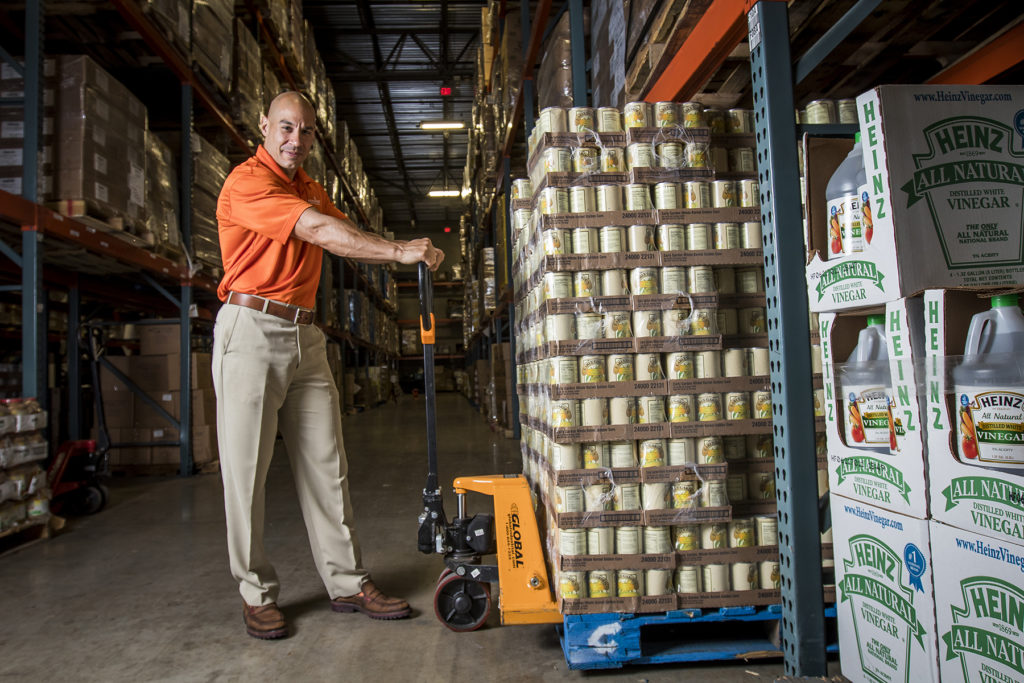 The numbers alone speak volumes. Last fiscal year, Feeding South Florida distributed 61.5 million pounds of food, the equivalent of more than 51 million meals. The area's largest food bank was responsible for serving nearly a quarter of the state's food-insecure population through its benevolent efforts in Palm Beach, Broward, Miami-Dade and Monroe counties. But as of late May of the current fiscal year, Feeding South Florida already had distributed 87 million pounds of food.
During a 10-week stretch that coincided with the start of the COVID-19 pandemic shutdown in early March, the nonprofit organization began conducting more than 40 weekly distributions across the four counties, handing out some 28.2 million pounds of food along the way. That figure doubled the amount distributed during the exact same period in 2019.
"For many people during the pandemic, if their grocery store was out of supplies, they could wait a couple of days for it to restock or go to another store," says Paco Vélez, who joined the organization as CEO and president in April 2012. "If Feeding South Florida runs out of food, our families have nowhere to go. They just don't eat."
As Vélez shared during a recent interview, the numbers only begin to tell the story.
Had your team ever discussed plans for a scenario—whether an economic calamity or a health crisis—that might involve such a sustained run on food supplies?
We've always been involved with disaster response, as it pertains to food supplies. When it comes to a hurricane or an isolated disaster, it doesn't affect the entire food system and supply chain. [But] last year, we had the government shutdown, and it created a situation where resources were pretty scarce because the shutdown affected the entire country.
Fast forward to today. This goes well beyond what happened with the government shutdown. It's affecting so many different industries around the world. It's impossible to plan for. So, to answer your question, we had not planned on something this catastrophic. We have plans for other disasters. But not a global pandemic.
Demand for food jumped by 600 percent at Feeding South Florida after March. Can you put that into human terms? What were you seeing on the front lines of food insecurity?
Right off the bat, there were phone calls just pouring in. … We were accustomed to receiving about 120 client phone calls a day [600 per week]. That quickly jumped to more than 4,700 in a month [nearly 1,200 per week]. We were getting inundated with family requests for food.
As an organization, we don't do mass distributions because we prefer families coming to our pantry and accessing food when they need it. But we felt the distributions were necessary; people needed to pick up food in their cars with limited contact. As soon as we launched those initial distributions across the region, cars started lining up so early in the morning. And for miles and miles.
To make it easier for the families, we handed out vouchers to let people know that we had food for roughly 2,000 families. Once we reached that limit, we invited people to stay and see if there was anything left over, and we'd give them a voucher for the next week. There was a mini-survey on the voucher that helped us to understand who we were serving. One of the questions asked if you had ever received food assistance prior to the COVID-19 pandemic. More than 50 percent of those initial responses indicated that it was their first time.
These were families that either, A, had only one breadwinner in the household, and that person had lost their job; or, B, the family was living on two incomes and now only had one income or zero incomes. They still had to live. They had to make house payments, utility payments—and still put food on the table.
For the people who never thought they'd ever be in such a situation, can you put into words how humbling it is to ask for assistance?
It's humbling all the way around. I'm often asked if it's rewarding to do what we're doing. For the split second that a person has that micro-emotion of happiness or relief that they have food for the week, it's a wonderful moment. However, you know that it's not the end.
You have all these families in their cars, with their makeshift masks—and you can see in their eyes just a spectrum of emotions: fear, desperation, gratitude. You can tell the ones that have never done this before; you'll see newer model cars. They're lost. They're a little embarrassed. And there's a sense of a broken spirit. Then you see kids in the car, and they don't fully grasp what's going on, but they're still thanking you. Those scenes have moved me to tears many times.
To your point, there's no better word than humbling.
As South Florida reopens, people might assume that an organization like yours has a chance to catch its breath. What's the truth about where we're at when it comes to people needing food assistance?
The fortunate thing is that food insecurity and the struggles that families face on an ongoing basis is getting highlighted. My fear is that once we go back to some kind of normal, that all of that will be lost—even though so many families will continue to struggle.
As the leader of this nonprofit, what are some of the lessons you've learned in dealing with the pandemic?
The initial lesson is that we can call ourselves community, a country, a planet, but it's clear that we're extremely fragile, especially when it comes to our food system. For me, it's looking at how Feeding South Florida can strengthen that food system and become the organization that our community needs us to be. We have to take advantage of the fact that we are in South Florida and work a lot closer with our growers. We have the ability to become even better and do more with the community.
By: Kevin Kaminski
Originally published in the South Florida Business & Wealth on December 18, 2020. View original article, here.
Photography by Eduardo Schneider