Thousands line up for miles to get free food during coronavirus crisis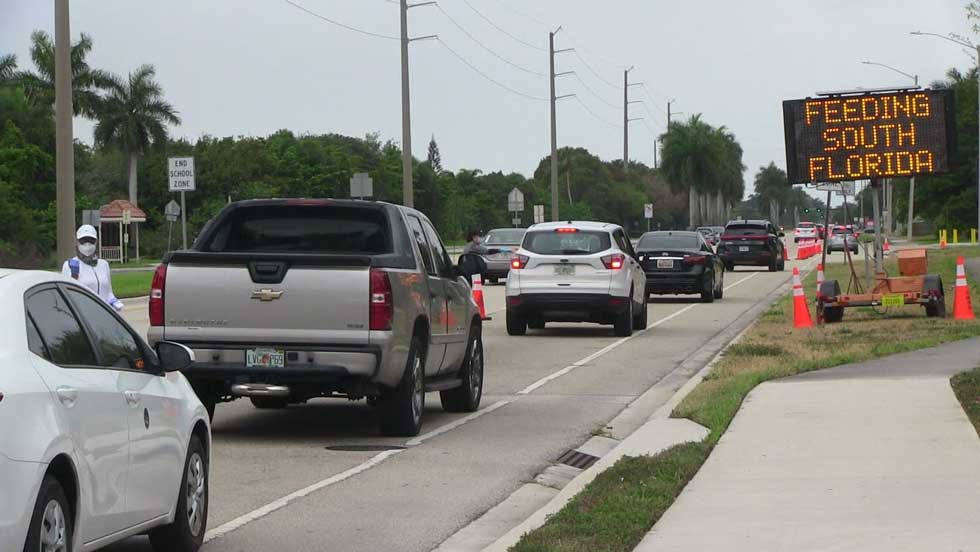 Thousands of people were willing to sit in their idling vehicles for over three hours in a line that stretched more than five miles just to get one bag of free groceries at a coronavirus food distribution Saturday.
Miramar Regional Park opened at 9 a.m., but cars were lining up outside the front gate as early as 6 a.m. It was worth the wait for people like Miramar resident Erika Solar.
"No job. Two kids. I'm pregnant. I'm in line since 6:30 this morning. It's worth it," she said. "They're doing an awesome job. I wish I could help."
Two tractor-trailers arrived with a total of 48 pallets of produce that included eggs, fruits, vegetables, rice and other basics. They were put into bags designed to hold enough food to feed a family for a week, according to Feeding South Florida, a food bank serving Broward, Palm Beach, Miami-Dade and Monroe counties.
Mayor Wayne Messam was among dozens of masked and gloved volunteers loading the free bags of groceries, and he said people were very thankful.
"You can see how widespread this situation is," he said. "You see people who are clearly working class individuals … and people you would never think to see coming through these lines, which just shows the gravity of what COVID-19 has had on our economy."
More than 1,000 vehicles wound their way through the park in the first hour. A few tried to cut in but police were keeping most in line.
Drivers were told to pop open their trunks and keep their windows closed while cruising past tables filled with grocery bags. You could hear them shouting "thank you" to the volunteers.
Vice Mayor Maxwell Chambers was handing out food on the day after receiving news that his Aunt Sylvia had died from COVID-19 in London.
"It's been touching every family," he said. "My family is no different."
Miramar has hosted two previous food distribution events in the city, but a fourth is scheduled for 9 a.m. Thursday at Miramar Regional Park and it is open to anyone, not just city residents. It will remain open until the food is gone.
"We know Miramar is at the center of South Florida, basically 30 minutes from everywhere," Messam said. "It's an ideal location for folks in our community to come and get some food."
By: Wayne K. Roustan
Originally published on April 11, 2020 by South Florida Sun Sentinel. View original article, here.
Image credit: Wayne K. Roustan