The pandemic is pushing people to financial ruin. And the worst hardships lie ahead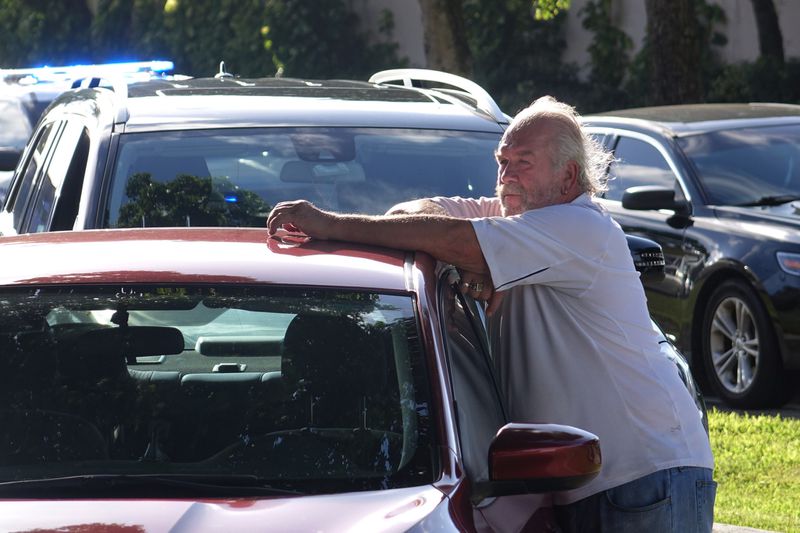 A growing number of unemployed Floridians, their finances shredded, are struggling to pay for their homes and feed their families as COVID-19 pushes the economy to the brink that many have feared since spring.
Nearly seven months after the coronavirus shattered businesses, disrupted industries and forced hundreds of thousands of working Floridians to the sidelines, South Florida's social safety net is severely frayed.
Emergency U.S. government benefit programs begun in March have expired or are near exhaustion. And there is no immediate sign that more federal relief is imminent as feuding politicians in Washington remain stalemated in negotiations.
Some businesses have recalled workers, for sure. But thousands of desperate families in South Florida have been driven to food banks, legal aid and mental health programs in an attempt to survive the lingering pandemic.
The anguish is likely to grow.
"This crisis isn't going to end any time soon," said Jennifer O'Flannery Anderson, CEO of the Community Foundation of Broward, which helps philanthropists steer funds to social causes. "We have to get out of crisis mode and into long-term recovery and response."
According to an August report compiled by the Nonprofit Executive Alliance of Broward, an organization of top leaders of charitable and social service organizations, "the landscape has changed drastically and looks grim with more people now experiencing financial instability."
"Requests for financial assistance have also soared, showing a frightening increase in the number of Broward households unemployed or simply unable to make ends meet in the current economic climate," the report added.
Roy Schimmel is one of those in distress.
On Wednesday morning, Schimmel, 60, of Tamarac, was the first in line at a Feeding South Florida food giveaway at Sunrise Tennis Club Park. He arrived at 1 a.m. and slept in his car as he waited. By 9 a.m. hundreds of cars were lined up behind him, stretching east on West Oakland Park Boulevard and hooking north onto Pine Island Road.
Schimmel has been a regular at food giveaways ever since he got laid off in March from his job stocking shelves for businesses at Fort Lauderdale-Hollywood International Airport. His wife is disabled and can't work. His only income is $275 a week in unemployment. "Who's going to be able to live off of that?" he said.
He has been searching for jobs but hasn't had any luck. He's also not in any position to take a job that's too physically demanding. In recent years he's had two shoulder surgeries and a knee surgery. He also has severe arthritis. "I don't know how much longer I can keep going.
Schimmel said that in recent weeks he's noticed that some food giveaways are now hit or miss because of a lack of inventory or heightened demand. "Sometimes you may get lucky, sometimes you get next to nothing."
He feels lucky that his house is paid off. "People who are living in apartments are now having landlords throw them out," he said. But he understands there is another side to the tight money equation: "Those landlords have bills to pay, too. You can't just let people stay for free."
Feeding South Florida, a giant nonprofit, has been handing out food at more than 40 distribution points throughout the pandemic. From Palm Beach County to the Florida Keys, more than 110 workers and thousands of volunteers have maintained a steady flow of food to the jobless and their volunteers.
The number of people obtaining food doubled to 1.5 million on an annual basis after the pandemic hit, the organization says. Some 45% said it was the first time they'd sought help.
Paco Velez, the organization's CEO, says federal money that has funded hundreds of tractor-trailer truckloads will end in October. After that, Feeding South Florida will have to buy food on its own. Besides mass food distributions, local governments such as Palm Beach County started handing out cash assistance for food a month ago from funds provided by the federal coronavirus relief program.
"Our families are truly desperate," Velez said. "They have been desperate and fearful for quite some time. They got an infusion of funds from a stimulus check and emergency unemployment benefits. But that can only go so far."
Walter Igreda, 67, of Weston, was in line at Sunrise at 4 a.m. Wednesday to ensure he could receive some food. "If you come at 9 a.m., you'll be way in the back," he said.
He was laid off in March from his job doing maintenance at a hotel in Weston after 18 years. He said he hasn't heard anything about the hotel reopening or recalling employees.
"I'm waiting for them to call me," he said. "As of right now, I don't know anything."
Igreda said he is currently getting unemployment compensation, but it barely covers his rent. Over the past month he started joining food lines to help ease his expenses. His wife also picked up odd jobs to help make ends meat.
He said he has been looking for jobs, but it has been difficult. "No one calls back."
By: David Lyons and Andrew Boryga
Excerpt of original article published by South Florida Sun Sentinel on October 11, 2020. View full article, here.
Photo Credit: Joe Cavaretta / South Florida Sun Sentinel