Food drives across South Florida help hundreds struggling during coronavirus pandemic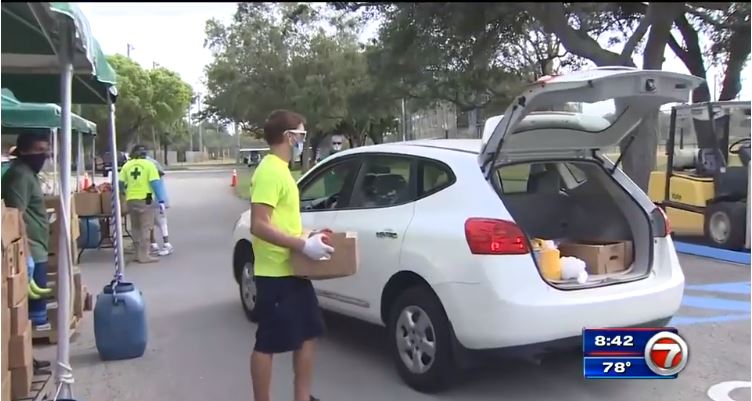 NORTH MIAMI BEACH, FLA. (WSVN) – As thousands face hardships during the COVID-19 pandemic, organizations across South Florida are trying to help out as much as possible by giving away food to as many people as they can.
Feeding South Florida hosted a drive-thru food distribution at Greynolds Park, located at 17530 W Dixie Highway, in North Miami Beach on Friday morning.
Dozens of vehicles could be seen waiting hours prior to the start of the drive at 9 a.m.
"It's systematic by different fruit and vegetables at each of the five stops," said Miami-Dade County Commissioner Sally Heyman. "Seven hundred vehicles will come through, and as quick as they roll through, they will get bags of different foods and [head] out the other exit."
Heyman said it was the first time a drive-thru food distribution was held at the park, and that it will likely be the last.
"We're starting to see all the amenities getting ready for a park opening on Wednesday, and this will be one of the parks that will open," she said.
Long lines persisted at other distributions in the cities of Miami and Miami Lakes, as so many residents continue to struggle without work during the pandemic.
In Broward County, Feeding South Florida held another drive-thru food distribution at Central Park, 9151 NW 2nd St., in Plantation.
Feeding South Florida has been hosting food distributions for several weeks during the pandemic.
"We're very happy to be partnering with the City of Plantation doing a COVID-19 food relief for the community here," said one organizer with Feeding South Florida. "It's absolutely fantastic. We're happy to be serving the community and those in need of food at this time."
"This is very important. I just had a baby, 3 months old, and we don't have food. I lost my job. I used to be a server in Miami, and this is really important for us," said one recipient.
"Very important," said another recipient. "It's a matter of life."
Plantation Mayor Lynn Stoner said it has been encouraging to see so many people stepping up in this time of need.
"Clearly it's very important," she said. "It crosses all economic barriers. It's not just what you would typically think would be people that are in need of food. This process is all economics, so we're very pleased that we're able to assist in conjunction with Feeding South Florida."
Approximately 700 families were given groceries at the Plantation distribution.
By: Katrina Bush and Donovan Campbell
Originally published on April 24, 2020 by WSVN. View original article, here.