Feeding South Florida's new state-of-the-art kitchen cooks 10,000 meals for the hungry in Boynton Beach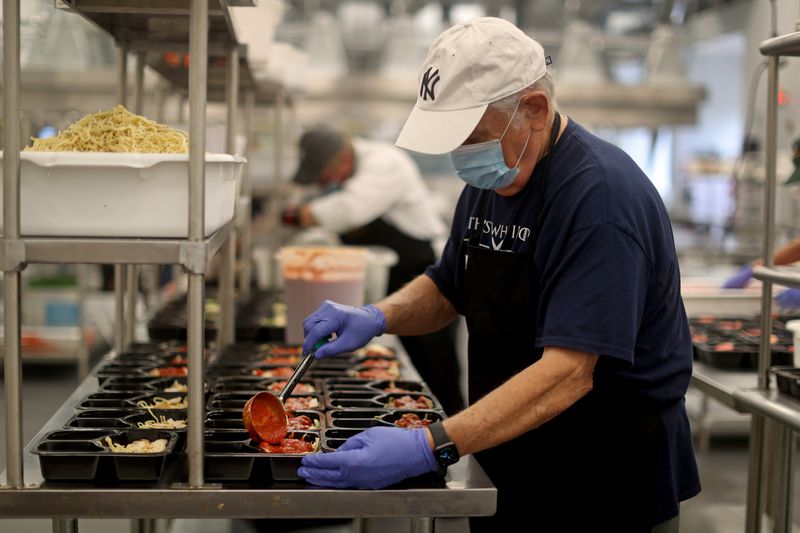 An army of chefs and volunteers can pump out 10,000 chef-quality meals a day for South Florida's hungry at Feeding South Florida's new state-of-the-art kitchen in Boynton Beach.
It's a major pivot for South Florida's biggest food bank. When the COVID-19 pandemic created soaring demand for hunger relief, Feeding South Florida decided to hire professional chefs to cook the raw ingredients it usually donates to the needy.
For now, Feeding South Florida can make 2,000 to 3,000 meals daily until additional chefs are hired, but already the food bank feels pressure to ramp up production, says Sari Vatske, executive vice-president of Feeding South Florida.
"We tried to speed up construction as the pandemic got worse," Vatske says of the kitchen, which debuted July 13. "One of our manufacturers actually had COVID so it took longer to get equipment in here."
The arrival of its 5,000-square-foot kitchen comes as national food banks wrestle with jam-packed parking lots and growing lines, a crisis worsened by surging COVID-19 cases and sudden job losses. In 2019 the food bank served 700,000 people in Broward, Miami-Dade and Palm Beach counties, a number that since ballooned to 1.2 million so far this year. More than half seeking hunger relief are people using Feeding South Florida for the first time, she says.
Many are "homebound seniors, adults who can't cook for themselves, those who go to congregant meal sites at senior centers, or children who don't have reliable transportation to pick up meals at school," Vatske adds. "It lets us reach at-risk folks who wouldn't otherwise be able to get food."
The emphasis is chef-quality meals: On Tuesday, the entrée of the day was mandarin chicken with enriched rice, bell peppers, purple onions and mushrooms, and a side of grilled pineapple salad.
Chef Chrissy Benoit flipped a colorful medley of sizzling bell peppers and purple onions blistered with char from the natural gas grill. She cooked side-by-side with chef Steven Jones, who moved eight flame-grilled chicken breasts to a dolly.
"We want to make sure people have lots of lean proteins and veggies," Benoit says, finishing off the peppers. Then she laid pineapple slices on the grill. "An extra pinch of sweetness doesn't hurt."
In stepping up to the grill, Feeding South Florida aims to fight back against a summer slump in food donations. At the start of the pandemic, grocery stores and restaurants cut back donations to food banks as consumers panic-bought supplies. South Florida's hospitality industry also curbed donations to stay afloat. Even now, in July, retail donations to Feeding South Florida are 75 percent what they were pre-pandemic. And the local produce growing season ended months ago.
"We don't typically buy shelf-stable foods, they get donated to us, but because of COVID we're spending a lot more," Vatske adds. In late-May, as part of the CARES Act, the United States Department of Agriculture started giving $300 million a month in grants to food distributors to buy meat, dairy and produce and pass it along to national food banks. Federal funding is the reason why an extra 160 tractor-trailers a week unload 6.4 million pounds of produce at Feeding South Florida's distribution hubs, Vatske says.
Which means it's more critical than ever to start turning corn into corn-on-the-cob, says Benoit, a manager of Feeding Palm Beach County in charge of menu-planning, hiring and training chefs. All meals are nutrition-rich, typically low-sodium, low-fat or a combination of both.
"Say your family is food insecure and we gave you a full box of apples," Benoit says. "Your kids will eat two apples a day and get sick of them after two days. Here, I can turn them into nutritional apple chips, applesauce or fresh-pressed apple juice, and the value goes way up."
Most cooked items will be frozen or refrigerated, adds Jones, then later combined by an assembly line of volunteers. Cooked meals are packaged inside black, TV dinner-style containers, and a machine can vacuum-seal 27 meals per minute.
The food bank's pricey kitchen equipment is designed to process large volumes of food. Enough pasta to make 1,800 portions can be boiled in the tilt skillets, or giant basins that tilt forward and pour liquid into an open grate in the floor. A five-foot-tall, 30-quart standing commercial mixer can slice nine cases of cucumbers in 15 minutes and is like a "Kitchenaid on steroids," Benoit says. "The gas grills work even if a hurricane knocks out the food bank's electricity."
Along with mandarin chicken, Benoit is planning future meals of peach cobbler; a seafood bake with shrimp, salmon, snapper and mahi-mahi; and pasta marinara with grilled chicken, mixed greens and melon.
On a stainless-steel table, Rob Proctor busied himself by cutting grilled pineapple into chunks. A Lake Worth realtor, Proctor says the COVID-19 pandemic gave him few real-estate sales, so he decided to volunteer for Feeding South Florida.
"I've been getting cabin fever and just wanted to get out of the house to help the community," Proctor says. "This is the best thing I can do to feed as many as possible."
Originally published by South Florida Sun Sentinel. View original article, here.
Image credit: Susan Stocker, South Florida Sun Sentinel