Feeding South Florida® Sees 600% Increase in Demand Since COVID-19 Crisis Began: Corporations, Foundations and Community Donating; More Help Needed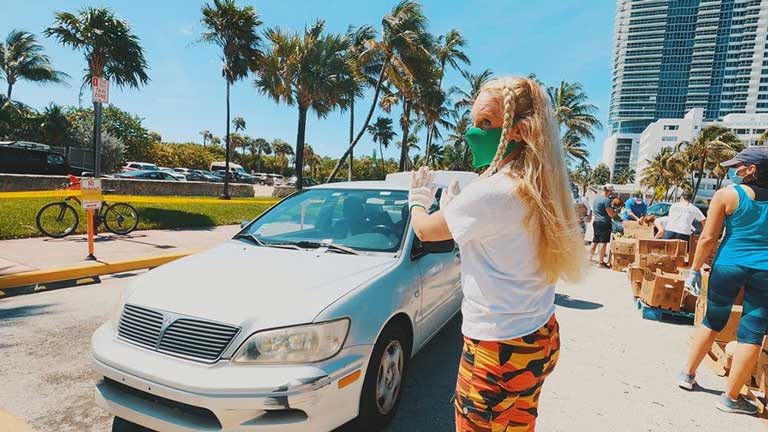 Pembroke Park, Fla. — April 17, 2020 — Feeding South Florida, the leading domestic hunger-relief organization in South Florida, has seen a 600% increase in demand since the COVID-19 pandemic began. Area corporations, foundations, artists, and the community are donating to Feeding South Florida, which is rapidly responding to the needs of and increased number of food insecure individuals throughout Palm Beach, Broward, Miami-Dade and Monroe Counties.
Miami Heat Partnership: The Miami Heat, along with the Micky and Madeleine Arison Family Foundation, is donating $200,000 to Feeding South Florida. Micky Arison is the Miami Heat's managing general partner. As part of this donation, Lineage Logistics has matched it with a $200,000 contribution to Feeding South Florida.
Bank of America Donation: Bank of America of Palm Beach, Broward, and Miami-Dade Counties is donating $520,000 to Feeding South Florida. Bank of America committed $100 million to relief efforts globally and after seeing the need in South Florida, came together as a region in support of Feeding South Florida's double output of food provided to families.
David Guetta "United at Home" live stream concert fundraiser: Guetta, a French DJ, record producer and songwriter known as the "grandfather of EDM," will host a live stream concert from Miami ― in partnership with the Miami Downtown Development Authority ― on his social media channels on Saturday, April 18, starting at 6 p.m. EDT. The two-hour show will raise funds for Feeding South Florida, Feeding America, the World Health Organization, and the France-based Foundation Hôpitaux de Paris-Hôpitaux de France™.
WSVN and the Ansin Family Foundation: WSVN and the Ansin Family Foundation has made two separate donations of $50,000 to Feeding South Florida to help families in the region that have been impacted by the COVID-19 pandemic.
TBC Corporation Warehouse Space: TBC Corporation, one of the largest marketers of tires for the automotive replacement market, is donating its 25,000-square-foot warehouse space to Feeding South Florida for three months. The space, located next to Feeding South Florida's Pembroke Park headquarters, is being used for volunteer activities such as packing boxes, and storing dry materials.
In addition to monetary donations, there are many ways to contribute to Feeding South Florida:
Feeding South Florida's #PushUpFeedingSouthFlorida, started by Florida Representative Michael Gottlieb and South Florida firefighters, is to do 19 push-ups, donate $19, and tag 19 friends. Participants are encouraged to tag Feeding South Florida on social media. View challenges from Feeding South Florida President and CEO Paco Vélez here.
Donate to the Feeding South Florida COVID-19 Response Fund at org/donate-now/. Every $1 = 7 meals.
Volunteer to help pack family meal boxes at Feeding South Florida's headquarters in Pembroke Park and Feeding Palm Beach County headquarters in Boynton Beach. Each location is holding sorting/packing volunteer opportunities Tuesdays–Saturdays from 8:30 a.m. – 10:30 a.m., 11 a.m. – 1 p.m. and 2 p.m. – 4 p.m. To register for a volunteer shift, visit https://feedingsouthflorida.org/volunteer/ or call 954.518.1818 for the Pembroke Park headquarters, or 561.331.5441 for the Feeding Palm Beach County headquarters.
Since the COVID-19 crisis began, Feeding South Florida has distributed over 10.5 million pounds of food in its service area (Palm Beach, Broward, Miami-Dade and Monroe Counties). Plus, it added another 130 food distributions on top of what it normally distributes with partner agencies each week, to supplement closed agency sites, schools and meal sites. Fresh produce, protein, dairy and shelf-stable items are available at these distributions. Approximately 160,000 households in the four counties are being served weekly by Feeding South Florida.
"We are incredibly thankful for the donations and efforts of the Miami Heat and Micky and Madeleine Arison Foundation, Bank of America, David Guetta, and TBC Corporation; and all of the critical help that we are receiving from the South Florida community," said Vélez. "This unprecedented time requires a staggering amount of assistance, and we are grateful to receive it. We anticipate this level of need to continue for 12-18 months and will continue needing the community's support to ensure kids, seniors, families and recently unemployed are fed."
Feeding South Florida's food distributions are updated daily and available at https://feedingsouthflorida.org/covid19/.
To find out how you can help, learn about what Feeding South Florida is doing, safety precautions, and much more, visit https://feedingsouthflorida.org/covid19/.
###
Photo credit: Kike Velderamma