Feeding South Florida Bracing for Reduction in Food Supply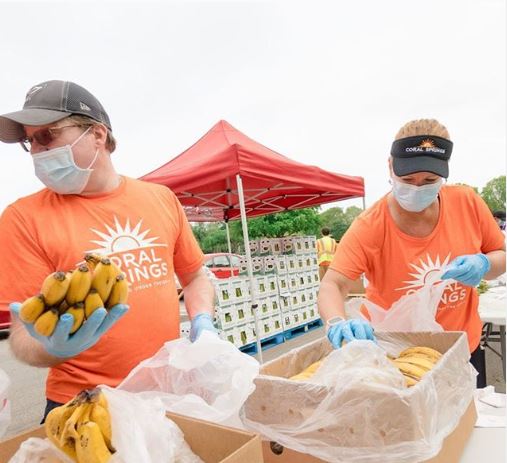 Since March 2020, when South Florida began to feel the impacts of the pandemic, the increased need for food assistance was well documented by local, national and international food banks, other nonprofits, media and the government. Also recently shared is the reduction of food boxes provided through the USDA's Coronavirus Food Assistance Program (CFAP), a program created with CARES Act funding. We are currently in phase 4 of this program. Unfortunately, the amount of food Feeding South Florida received decreased from 160 53' trailer loads of food per week in phase 1, to 110 loads in phase 2, to 60 loads in phase 3, and now down to only 14 trailer loads per week in phase 4.
Despite the sharp decrease in the flow of food, Feeding South Florida has proudly supported our network of approximately 300 partner agencies, continued community drive-thru distributions with our municipal partners, provided family meal boxes through school districts (this program sunset when school districts reopened schools), created a community delivery program with first responders, provided direct home deliveries, opened a Community Kitchen, and more.
From March to today, Feeding South Florida has provided 138.6 million pounds of food to our quad-county service area. To put that in perspective, last year during the same time period, we provided 56.6 million pounds of food. Because of our efforts to secure and distribute as much food as we can, Feeding South Florida is now the second largest food bank in the United States.
Feeding America food banks, including Feeding South Florida, have shared that at the end of December 2020, the country will experience a "commodity cliff", which means food banks across the country will see more than a 50% reduction in food supply due to the expiration of the CARES ACT funding, USDA's CFAP and Trade Mitigation commodity programs.
Simply put: there has been, and will be, much less food. With an impending scarcity in food resources; to meet the increased need, it's more important than ever we all work together.
Throughout this pandemic, we've seen more than 1.5 million individuals need food assistance. More than 45% have never needed assistance before, and through no fault of their own, lost their jobs and find themselves seeking help for the first time in their lives. It's heartbreaking to see the desperation and panic on the faces of those who need us most. Despite the drastic reduction in resources, Feeding South Florida will continue doing all we can to serve every person in need of assistance.
What's most helpful is contacting your member of Congress and sharing the need for increased food resources. We're hopeful that we can continue using our collective voices for good and fight the real battle – increasing the amount of food available.
By coming together, and advocating for our families and the greater good, we can ensure no one goes hungry. We are planning a information session soon where we will explain in more detail what we're seeing and anticipating. Please stay tuned for more information. Together, we are stronger.
In the meantime, anyone in need of food assistance can find an agency near them, a distribution site near them, or contact our client services center by visiting feedingsouthflorida.org/covid19.
If you're able to help, please do so by registering to volunteer at volunteer.feedingsouthflorida.org or by donating at feedingsouthflorida.org/donate-now. To maintain the same level of output that we've seen as a result of CFAP, we will need $8 million per month to purchase food – that's enough for 40,000 to 50,000 households per week.