Federal Workers Impacted by Government Shutdown Get a Little Help from Feeding South Florida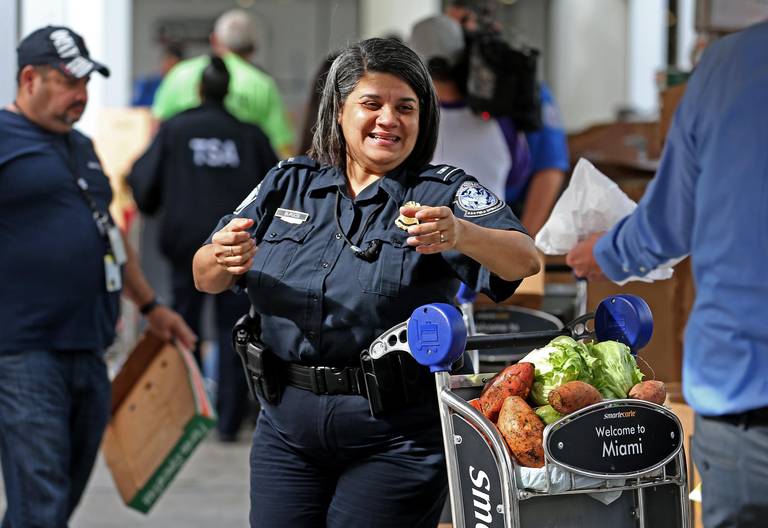 By Carli Teproff | Miami Herald
To view original post and video, click here.
With no end in sight for the government shutdown, Feeding South Florida is doing what it can to help federal employees who are not getting paychecks.
On Thursday, the non-profit food bank made two stops in Miami-Dade — one at Miami International Airport and one at the Federal Bureau of Prisons — to deliver meat, produce, hygiene items and cleaning supplies.
"These guys are working hard to protect us , so we need to be there to provide for them," said Paco Vélez, the president and CEO of the organization. "This gives them one less thing to worry about."
The organization, which feeds more than 700,000 people from Palm Beach to Monroe counties, says it will continue to make deliveries to federal employees as long as the shutdown lasts.
At MIA, Feeding South Florida volunteers lined up boxes of everything from squash to pet food as TSA workers and U.S. Customs and Border Protection employees used shopping carts to load up.
"Feeding South Florida's presence here today for the federal workers who aren't getting a paycheck means the world to them," said Daniel Ronan, the federal security director for TSA.
"There's a lot of stress right now on their lives. They've missed one paycheck and they're coming up on that second paycheck that they may miss," he said. "So knowing they can get some food to bring home and put on the table is a great relief to them and it allows them to focus more on their mission and not have to worry about dinner tonight."
For information on how to help or receive help from Feeding South Florida visit https://feedingsouthflorida.org or call 954-518-1818.