Digital Dish: Food Shouldn't Be An Impossible Choice | August 2021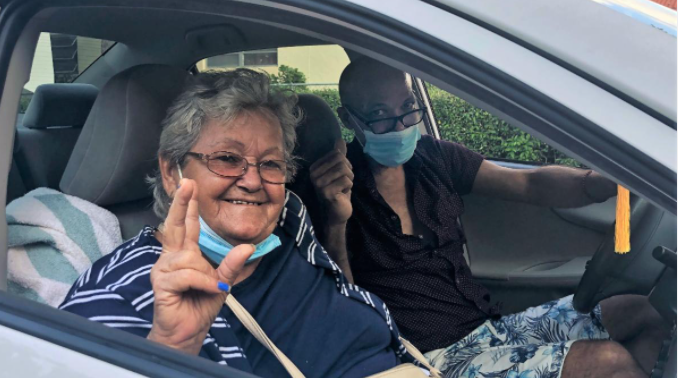 As we complete our fiscal year and begin the second half of 2021, we share the impact your support had on individuals and families throughout Palm Beach, Broward, Miami-Dade and Monroe Counties.
From July 1, 2020 – June 30, 2021, Feeding South Florida and its network of community partners did the following:
With a surge in COVID-19 cases, eviction moratoriums expiring and increased cost of living, South Florida families continue to need assistance making ends meet.
Because hunger is a symptom of a larger issue and needs don't exist in isolation, Feeding South Florida remains focused on not only providing immediate access to nutritious food, but also providing wrap-around services and expanding innovative programs that address the root causes of hunger and poverty and improve health outcomes for children, seniors and families.
Thank you for helping us change lives one meal at a time.
Thank you for #FeedingSouthFlorida!
FOOD IS MEDICINE
Feeding South Florida's Mobile FARMacy
With the support of Humana Inc., Aetna, and Quantum Foundation, we are proud to announce the launch of our Mobile FARMacy! This one-aisle, air-conditioned grocery store operates under the idea that food is medicine.
The Mobile FARMacy provides access to fresh produce, protein, dairy, and healthy staple items for food insecure individuals with a goal of improving health outcomes for at-risk individuals.
After years of research with health care partners, community needs assessments, Feeding South Florida program analysis, and evidence-based feedback from Feeding South Florida's client services team, Feeding South Florida developed the Mobile FARMacy to address food deserts, lack of transportation and social isolation.
SAVE THE DATE


September is Hunger Action Month!
For many, a daily meal is a simple choice of what to eat. But for people facing hunger, a daily meal poses a very different type of choice. It's often an impossible choice between food or other crucial needs, such as electricity, childcare or medicine.
Make the choice to participate in Hunger Action Month this September!
Learn how to take action, here.
WORKFORCE TRAINING PROGRAM
Congratulations, Graduates!
The inaugural class of our Culinary Training Program celebrated graduation last week, as did the second cohort of our Warehouse Training Program!
We are grateful for James Beard Nominated Chef, Lindsay Autry (second from left) for designing the Culinary Training curriculum, which included knife skills; introductions to cooking with different food groups (grains, meats, fruits and vegetables, etc.); resume writing, and more.
Learn about our Culinary Training Program, here. | Learn about our Warehouse Training Program, here.
Hunger Heroes in Action
Many extraordinary people help us change lives once meal at a time: our friendly food bankers, donors, volunteers, and partner agencies. It takes special people to serve and we're humbled and grateful for the dedication of these hunger heroes! Read on to learn more about July's honorees:
FSF team member: Trini Miguel
Volunteers: Cliff and Sandy
Donor: GL Homes
Partner Agency: Hope in Action
View our Monthly Spotlight, here.
MATCHING GIFTS
Double Your Impact! Did you know that thousands of companies match donations made by their employees or employees' spouses? This means that your recent gifts may have double – and sometimes triple – the impact! If you've given to Feeding South Florida this year, visit our matching gift page to see if your company will match your gift to provide more food for families.
Check if your gift can be matched!
We're Hiring!
Feeding South Florida is currently seeking talented and dedicated super stars to join our team of friendly food bankers!
With new programs and the expansion of current ones, we have openings within all departments from communications and development to programs and operations.
Ask about our competitive benefits, growth opportunities, and company culture.
Subscribe to Feeding South Florida's Digital Dish monthly e-newsletter to receive this content in your inbox!