Feeding South Florida's Monthly Spotlight: July 2021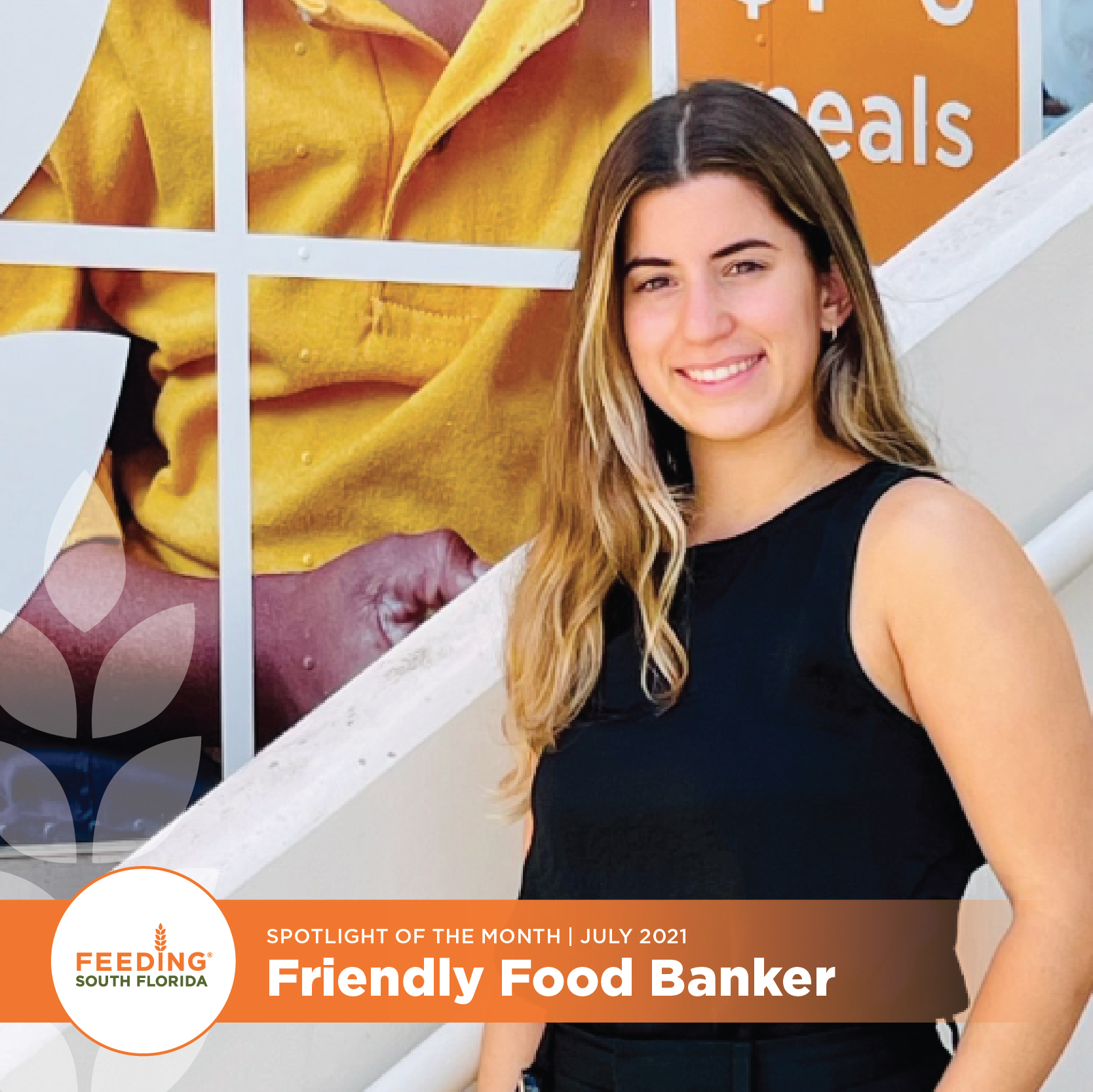 Friendly Food Banker of the Month: Trini Miguel
Feeding South Florida values service above all else. Recognizing that it takes people to serve, it's only fitting that we recognize and honor those outstanding team members who embody Feeding South Florida's values of service, compassion, dedication, integrity, and stewardship.
Our July 2021 Team Member of the Month is Trini Miguel!
Trini became a Feeding South Florida Friendly Food Banker in January 2021, working on our Service Insights initiative, liaising with our partner agencies to assist with their client case management process. Learn more about Trini below.
Birthplace:  Buenos Aires, Argentina
How has your career grown since starting at Feeding South Florida?
I've had the opportunity to work on several projects, starting with Service Insights to the Mobile FARMacy and assisting with our USDA Senior Grocery Box Program, CSFP.
How does your role collaborate with others?
My role typically interacts with client services and agency relations. I get to work with our wonderful partner agencies and assist them with data collection in our case management system.
How would you best define Feeding South Florida's culture?
The culture at Feeding South Florida is friendly and hardworking! Everyone is very supportive and understanding. Our team here at Feeding South Florida puts our families first and works hard to do so.
What is your favorite thing about working at Feeding South Florida?
There are so many wonderful things! My favorite thing would be, being a part of an organization that shares my values. I feel very fortunate to be able to do meaningful work every day.
What do you want people to know about Feeding South Florida?
Getting food out to our communities is not as easy as it may seem. Feeding our families takes a village! Teamwork is our strong suit.
---
Partner Agency of the Month: Hope in Action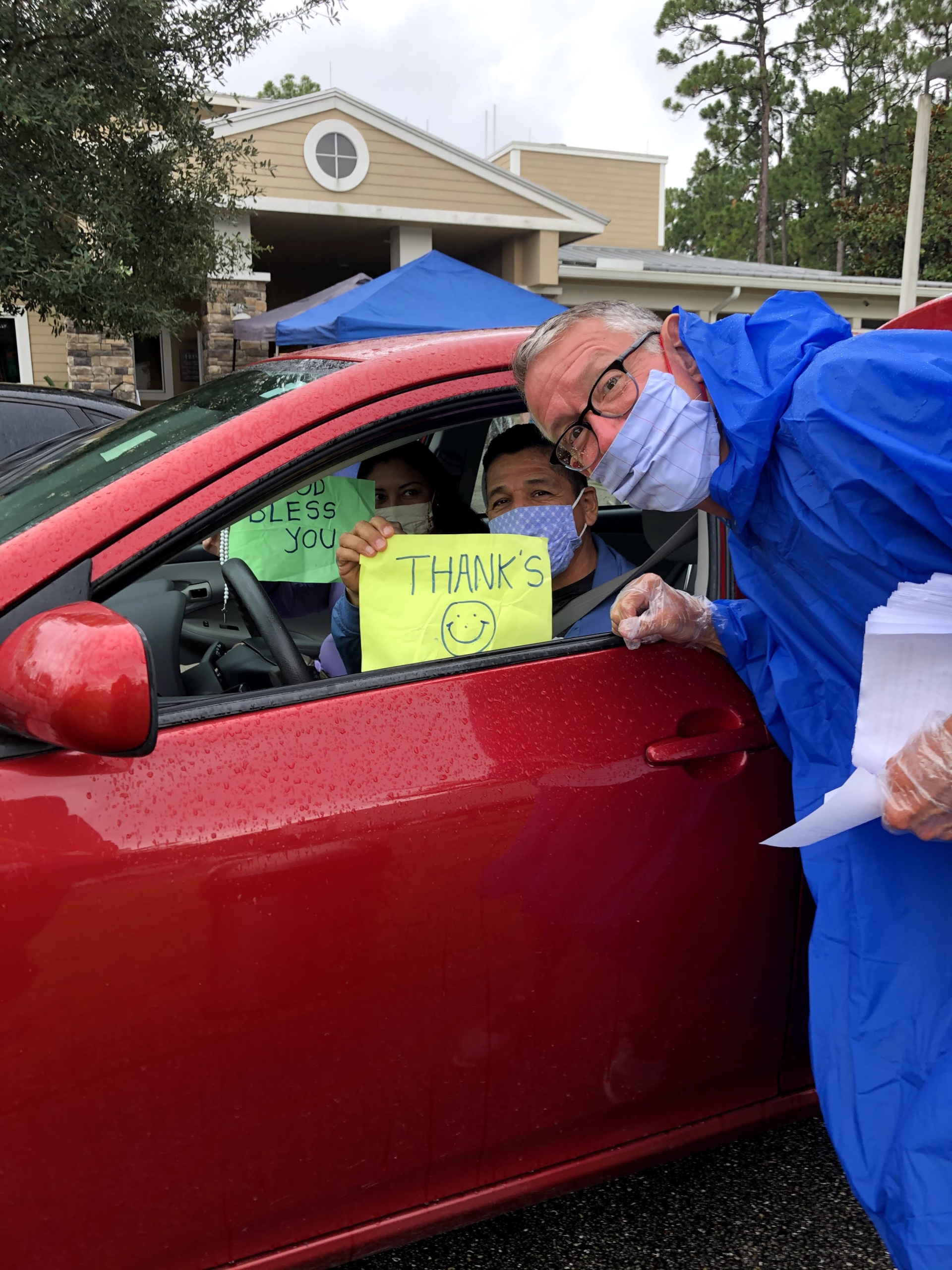 Hope in Action Pantries have been a Feeding South Florida partner agency for over 20 years. We had the chance to speak with Stacey Willson, Director of Missional Engagement at Community of Hope Church, who runs their two pantries, one in their East and one in their West location in Palm Beach County.
At the onset of COVID-19 in March 2020, Hope in Action began drive-thru distributions with Feeding South Florida's assistance. Typically serving on their West campus, the pandemic highlighted the increased community need and inspired them to do more. By December 2020, they were serving over 100,000 individuals.  During this time, Hope in Action also began activating their Senior Delivery Program, serving homebound seniors with medical conditions.  Currently, they continue serving the community at their East campus by way of drive-through, however, out West, they have moved back indoors and are distributing through their Complete Choice Pantry, a model supported by Feeding South Florida.
"We know the food we provide allows seniors to get their prescriptions, or pay off their electric bill, or pay rent and have food on the table. We often see that many people have to make difficult choices, but food shouldn't be an impossible choice."
"It's a blessing to see when people don't return, you always hope that it means they don't need our assistance anymore."
"I've been involved with Feeding South Florida, back when it was Daily Bread, about 20 years ago. So, a very, very long time. We definitely couldn't do what we do without Feeding South Florida providing everything for us."
Feeding South Florida is grateful for dedicated community partners like Hope in Action. It takes an entire network to serve South Florida families and we appreciate the long-standing commitment to families. Thank you to Stacey and Hope in Action pantries at Community of Hope Church for helping us change lives one meal at a time. Together, we're Feeding South Florida!
---
Volunteer Spotlight of the Month: Cliff and Sandy Steffen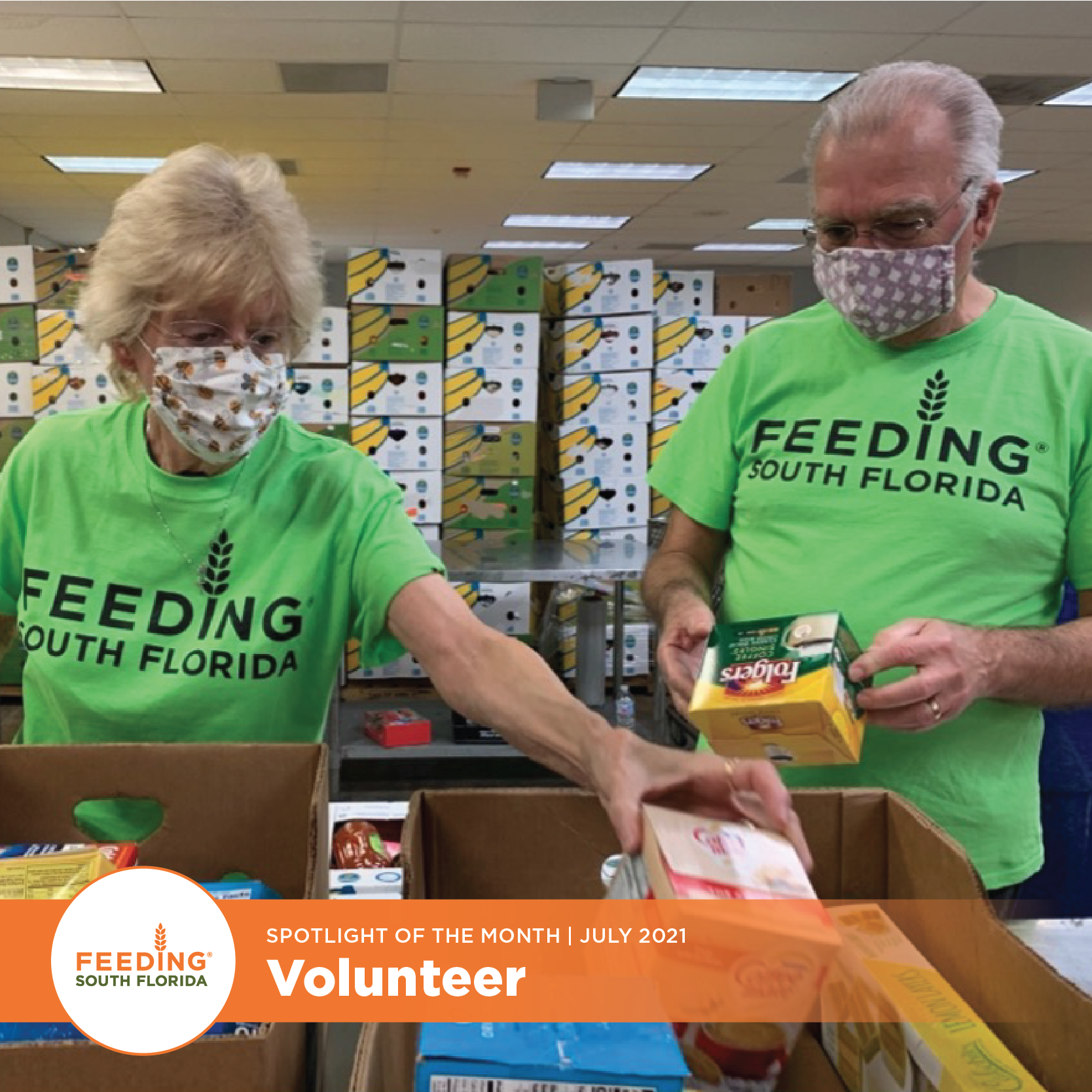 Cliff and Sandy started volunteering in March 2020 and have since volunteered over 100 times with an impressive total of 534 hours since then! The Steffens realized the need for Feeding South Florida's increased COVID-19 response and thus the need for more volunteers. From packing family meal boxes, inspecting donated food to ensure safety, and representing us at events, the pair have approached their time at Feeding South Florida with persistence and enthusiasm.
"Come and give it a try!" they shared. "There are all kinds of things people can do!"
Thank you, Cliff and Sandy! Feeding South Florida's first core value is service above all else and it's heartwarming when our volunteers espouse those same values. Together, we're Feeding South Florida!
---
Donor Spotlight of the Month: GL Homes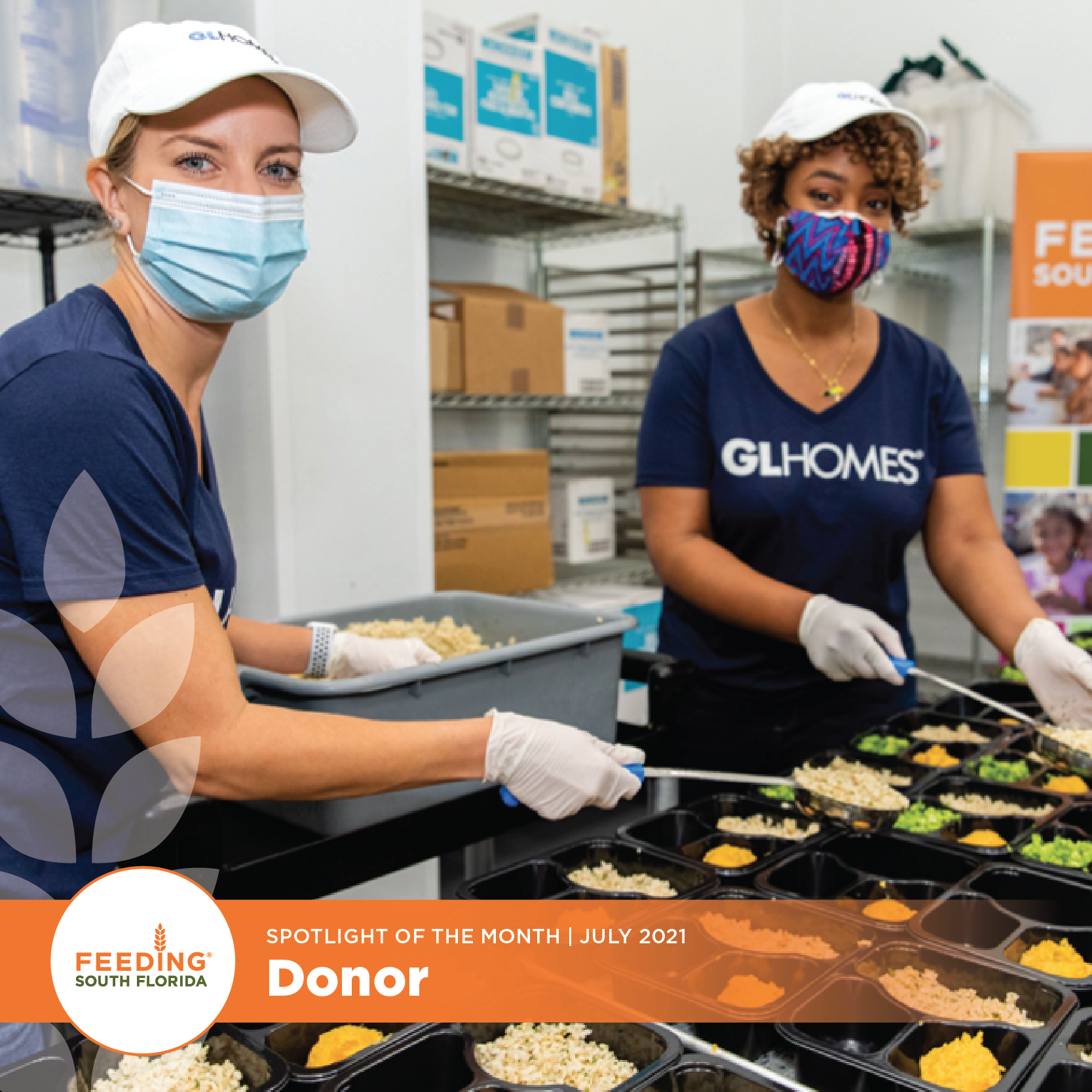 GL Homes is known for their expertise in building luxury homes, 55+ communities, and family-oriented neighborhoods on Florida's east and west coasts. GL Homes is one of the largest builders in the nation and with that largesse, comes a strong philanthropic presence.
Since the beginning of COVID-19, GL Homes has stood alongside Feeding South Florida ensuring that South Florida families had the food they needed to get through a devastating time for our community.
Over the last year and a half, they have sponsored multiple drive-thru distributions in Palm Beach County and as part of their "Summer of Service" volunteer program, they have volunteered their time in our Community Kitchen. GL Homes has donated over $50,000 to Feeding South Florida, one of the first corporate partners to provide support for our pandemic relief efforts.
"Our Summer of Service initiative reminds us that hunger is a year-round issue, and the Pandemic has only intensified the need for those struggling to put food on the table."
Thank you, GL Homes, for helping us address the issue of hunger and highlighting how together, we're Feeding South Florida.