Coronavirus: South Florida food pantries fight for survival amid food and volunteer shortages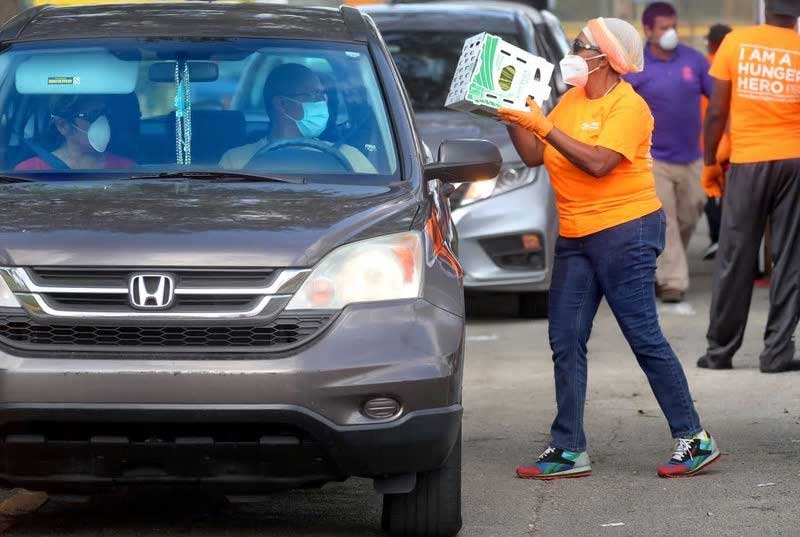 Outside The Soup Kitchen in Boynton Beach, a last refuge for the hungry, Robert Matteo and his daughter, America, queued up in line Tuesday morning just as a delivery truck rumbled into the parking lot.
Matteo lost his job in road construction on Sunday. Since Monday, before virtual school, both have waited outside the soup kitchen for emergency food they never needed before the new coronavirus started ravaging South Florida's economy.
A soup kitchen volunteer wearing a blue face mask waved them inside, where 10 volunteers, each with gloves and masks, heaped into their outstretched arms plastic bags filled with bread loaves, organic tomatoes, day-old Publix sugar cookies and Styrofoam containers of soup so thick with veggies that volunteers call it "soup you can chew."
"If we didn't have this kitchen, we wouldn't be able to afford anything at the store," says America, of Boynton Beach, translating for her Guatemalan father, who is 34 and doesn't speak English. "My dad doesn't want to get us infected. Our health and God are what matters now.
As unemployment surges in the wake of the COVID-19 pandemic, Robert Matteo is part of the growing numbers of laid-off local workers suddenly waiting in lines for emergency food.
As demand for hunger relief surges, donations from the usual sources have slowed. Grocery stores, thanks to unprecedented levels of consumer hoarding, have cut back food pantry donations of fresh meat, produce and nonperishables. Restaurants, typically big donors to soup kitchens and pantries, are fighting for survival and have curbed donations to stay afloat.
On top of that food pantries are closing due to a lack of volunteers, many of them older and staying home to protect themselves.
But all food pantries are seeing an unprecedented surge in new food recipients. Like Matteo, most are workers laid off from "nonessential" businesses in the wake of the pandemic, says Paco Vélez, president and CEO of South Florida's biggest food bank, Feeding South Florida.
"It's laid-off hotel workers, restaurant workers, which is ironic," he says. "The people that help put food on everyone else's table are the ones now struggling to put food on their own table." 
On the Feeding South Florida website, searches for the food bank's 300 hunger-relief charities shot up 700 percent since the pandemic started, he says. At the same time, 25 percent of those pantries have shut down due to volunteer shortages.
"A lot of partner agencies are run by older volunteers, and they're staying home," says Vélez. "You take a hurricane and a government shutdown and combine them and it doesn't compare to this pandemic. Every time there's a round of layoffs, we see a spike in aid like never before. The lines are backed up for miles."
Those lines include people like Jose Lara of Fort Lauderdale, who was recently laid off from his job at Fort Lauderdale-Hollywood International Airport. He waited nearly two hours on Tuesday for his second food distribution in the past week, full of concerns about how the coronavirus pandemic would continue to affect the community.
"The situation is very hard on everybody," Lara said. "I'm very worried about it."
Denise Lasarte, community liaison for Cooper City, said the city plans on either hosting a food drive or distribution every week.
"I'm desperately trying to reach the vulnerable population," Lasarte said. "These are the people we didn't think about before that are now a vulnerable population. We'll continue as much as we can."
No meat, fewer volunteers
On Monday morning Enrique Zuanetto, 75, watched as volunteers sorted through the day's grocery-store donations on the refrigerated delivery truck parked outside The Soup Kitchen in Boynton Beach.
Then it dawned on him: There was no fresh meat.
Then Tuesday's delivery came. Still no meat.
"I was shocked," says Zuanetto, since 1997 the executive director of The Soup Kitchen. "This is the first time in 22 years this has happened. We'll have to switch to whatever's left in the freezer. If we don't figure out something soon there won't be any meat this weekend."
With an arsenal of 300 volunteers, the Soup Kitchen has for years served 800 hot meals a day, seven days a week, out of the Caridad Center free health clinic on West Boynton Beach Boulevard. Now Zuanetto is making do with just 15, after sending most of his elderly volunteers home.
His work at The Soup Kitchen, open since 1984, has shown him what it means to be a reliable lifeline for the desperately hungry. He takes pride that 140 hot meals a day, bundled at his soup kitchen, make their way to disabled and homebound seniors under the Meals on Wheels program. But the meat was a "wake-up moment," he says, a signal that Target, Walmart, Publix and BJ's and his other regular donors are holding back on vital donations.
"It's a sad situation," Zuanetto says. "People are losing their jobs and coming here. They're calling me and asking what documents to bring, and I say, 'No, no, we ask no questions. Come for whatever you want.' How can we keep doing that when there are shortages?"
Most newcomers show up on Sundays, when the lines are four times as long, says Diane Perry, 65, a soup kitchen regular who takes the Palm Tran public bus here three times a week.
"I wouldn't make it without this place," says Perry, of Lake Worth, who is disabled with lingering back issues but takes care of her 32-year-old son with mental illness. "I don't have anyone to shop for me. Even $30 is a lot of money to me."
About 17 miles southeast from Boynton, food pantry Boca Helping Hands has witnessed a 30 to 40 percent increase in traffic in recent weeks. Bill Harper, its director of food and warehouse operations, said most of the new traffic has come from new registrations.
Judy C., a Boca Raton resident who did not want to give her full name, was one of those new faces. She said it was the first time she's received assistance from a food pantry. Judy, who works in the medical field, said her hours have been reduced by half in the wake of Florida Gov. Ron DeSantis halting elective surgeries nearly three weeks ago.
"It's not easy," she says. "Because I don't even know what to expect."
Harper said their typical inventory would usually last them six weeks. Now, he worries about Boca Helping Hands' depleted shelves lasting through Thursday.
"It's definitely a concern of ours," Harper says about running out of food. "We've found in the past when times get tough like this, the community rallies around us, and we always get food in a timely fashion.
Although we are a little worried, we also have some confidence we'll be able to see this through."
In Pembroke Park, Feeding South Florida's main distribution warehouse is a bastion for the hungry, loaded up with donations from 500 local retailers from four counties. Vélez estimates 50 families per week visited before the coronavirus. But lately they've been so snarled with walk-ups – 400 a day – that the food bank's fleet of delivery trucks had trouble entering the parking lot.
Now the food bank has pivoted to drive-thru appointments only, with gloved and masked volunteers loading two bags of frozen meat, milk, eggs and nonperishable cans into trunks, no personal contact needed.
From March 14 to April 3, donations from local retailers – many grocery stores – plummeted 75 percent compared to the same period a year ago, Vélez says.
"It's alarming," Vélez says. "When families go shopping at a grocery store, if they don't have what they need, they can always come back a different day. But if Feeding South Florida doesn't have enough food for our families, they just don't eat."
As a result, when supplies run low – and they have – the food bank's partner charities have started issuing vouchers to hungry visitors to come back next week.
But the true test of Feeding South Florida's ability to keep its food inventory replenished will come this summer as South Florida's growers wrap up harvest season, he says. At local farms right now there is an avalanche of fruits and vegetables, originally bound for local restaurants and schools, that's now being re-routed by the truckload to local food banks. But not much local produce is grown during the summer, Vélez says.
If the COVID-19 pandemic stretches into the summer, Vélez is concerned the slump in donations will force Feeding South Florida to start buying food direct from distributors. It costs roughly $281,000 a week to feed 10,000 families, he says.
"It's going to get pretty expensive real quick," Vélez says. "People are hurting, our growers are leaving, and we have to figure out new places to get our produce."
Back at The Soup Kitchen, Francisco Colon knows tougher times are ahead as more jobs are lost amid the pandemic. A big-rig driver who once made $85,000 a year, the Lake Worth man lost his job six months ago, then lost his house. Now he's homeless and relies on the kitchen's daily hot meals.
"I go to employment agencies and no one is hiring," Colon says. "It's in God's hands. If I believe in him, I know in my heart he will keep me safe."
—
By: Phillip Valys
Originally published on April 8, 2020 by South Florida Sun Sentinel. View original article, here.
Staff writer Khobi Price contributed to this report.
Photo credit: Mike Stocker