Contract Switch Will Disrupt Charitable Food Response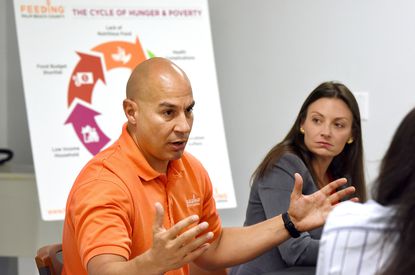 An impending change in the distribution of government food aid in South Florida is prompting warnings that vital help for people who rely on food pantries to feed their families could be disrupted.
The new distributor, according to a range of Broward and Palm Beach County officials, doesn't have the infrastructure — people, warehouse space and trucks — to carry out the job.
"People are going to go hungry," said Broward Mayor Steve Geller.
U.S. Rep. Debbie Wasserman Schultz, D-Weston, said she is concerned that "you are going to have people who are food insecure who are not going to have their nutritional needs met," adding, "the consequences are significant."
The potential impact on people who need food aid has caused an unusual political uproar. It could have implications for the 2022 campaign for governor.
A range of Democratic elected officials is demanding action from Agriculture Commissioner Nikki Fried, the only statewide elected Democrat in Florida, who this week announced she is seeking her party's 2022 nomination for governor.
Her department awards the distribution contract. The elected officials — including Fried supporters — from Broward County, the biggest Democratic county stronghold in the state, want her to reverse the decision that awarded the food distribution work to Farm Share, headquartered in Homestead.
They want the longtime provider, Pembroke Park-based Feeding South Florida, restored.
Complaints have been the loudest and most public from Broward. But the issue affects Palm Beach County as well. The concern is bipartisan.
"The ones who are going to pay the price are the poor," said state Rep. Mike Caruso, a Palm Beach County Republican. "It's going to be less food for the poor."
Stephen Shelley, CEO of Farm Share, strenuously objected to assertions from Feeding South Florida and its elected official-supporters that his organizations couldn't do the work. "There will be no disruption in food distribution," he said in a statement provided by a public relations firm.
The issue concerns which of the nonprofits gets the contract to run the federally funded Emergency Food Assistance Program.
The term emergency in the program's name refers to the situation faced by a family that needs food, not to an emergency such as a hurricane or pandemic. (The organizations with the contracts can be mobilized to distribute additional food in disaster situations, and Feeding South Florida mobilized and provided much more food than usual during the first 12 months of the pandemic.)
The program supplies food to low-income households and food banks, soup kitchens and food pantries, plus organizations that prepare food to serve to people in need.
In the current federal fiscal year, it amounts to 29.3 million pounds of food in Broward County and 19.6 million pounds in Palm Beach County. By comparison, in the last fiscal year before the pandemic, it was 10.4 million pounds in Broward and 8.8 million pounds in Palm Beach County. Fully loaded, an 18-wheel tractor trailer can hold as much as 40,000 pounds of food.
Early this year, Fried's agency asked for applications for the distribution contracts. It decided Farm Share, not Feeding South Florida, would get the Broward and Palm Beach county contracts for the federal fiscal year that begins Oct. 1. Farm Share has the current Miami-Dade County contract and will get it again for the next term.
Feeding South Florida and Farm Share said the amount of the contracts isn't yet clear. One reason is the territory in state-designated regions has changed. A representative for Feeding South Florida said the Broward contract could be between $300,000 and $1 million.
Each applicant was evaluated on multiple criteria by multiple evaluators. The maximum score was 150 points, and the results were exceedingly close in each of the three South Florida counties:
Broward: Feeding South Florida, 138.8; Farm Share, 140.2.
Miami-Dade: Feeding South Florida, 133.4; Farm Share, 134.2.
Palm Beach: Feeding South Florida, 133.8; Farm Share, 140.
"Our department employees are experts in evaluating federal grant applications to maximize taxpayer investment, and we are confident in our outstanding, transparent process for all publicly-funded programs and initiatives," Franco Ripple, communications director for the state Agriculture Department, said in a statement. Because the matter could end up in court, Fried's office declined to discuss specifics about the issue.
"Clearly there's evidence of errors in the bidding process and a lack of transparency," Caruso said. Wasserman Schultz said "something went awry" with the scoring. "It appears that there were some pretty significant errors."
Caruso and Broward County Commissioners Lamar Fisher and Nan Rich said Feeding South Florida's experience in Broward and Palm Beach counties, relationships with dozens of local food distribution agencies, and warehouse space and truck fleet make it the only entity capable of doing the job.
"They have the infrastructure. They know how to handle the magnitude of what they're facing," Rich said.
Geller and Caruso said Farm Share is familiar with rural areas and specializes in obtaining surplus crops from Florida farms and distributing them.
The statement from Farm Share CEO Shelley specifically addressed Broward where the outcry has been the loudest. "Any assertion that there will be a gap in TEFAP food in Broward County is false," he said. TEFAP refers to The Emergency Food Assistance Program.
In a letter to U.S. Rep. Frederica Wilson, D-Miami, seeking to enlist her support in the dispute, Shelley told her Farm Share is working on leasing warehouse space in Broward and "possibly" Palm Beach County.
Like Feeding South Florida, Farm Share is playing hardball. In his letter to Wilson, Shelley wrote that Feeding South Florida "is fighting the decision and providing misleading information to elected officials and media outlets."
Food allocations are determined by the U.S. Department of Agriculture, Shelley said, so "the narrative disseminated by the current provider [Feeding South Florida] that Broward County will not receive the same amount of food if they are not retained is false. This misleading messaging is causing fear and panic among those persons who rely on food banks to feed their families and does not reflect the reality of the situation."
Disputes over government contracts aren't unusual. Disputes over government contracts aren't unusual. And it isn't unusual for entities that want government contracts to enlist political allies, lobbyists and public relations consultants to press their case.
Public pressure, with political overtones, is unusual.
Vélez appeared Tuesday before the Broward County Commission to support a resolution from Fisher that asks Fried to reconsider and rescore the applications. It passed unanimously.
Supporters ranged from Geller, a friend and supporter of Charlie Crist, who is Fried's opponent in the Democratic primary for governor, to Rich, who isn't a Crist fan.
Rich said she called Fried "to ask her to consider a review and rescoring of the applications, and she declined to do it."
Wasserman Schultz also said she wants Fried to order rescoring. If that doesn't happen, Vélez said Feeding South Florida may go to court.
Fried's name was mentioned three times in the 2½ page County Commission resolution, but the elected Democrats said they don't want the issue to get involved in the politics of their party's gubernatorial primary — something that may be impossible to avoid.
"Commissioner Fried has done great things for the state of Florida. This is in no way, shape or form to discredit her in any way," Fisher said.
Geller said it's not political.
"I don't believe there was any ill intent on the part of Nikki. She doesn't make unforced errors," he said. "Someone in her office made a mistake. Do I blame Nikki? No. Should she fix it? Yes."
---
By: Anthony Man
Originally published by South Florida Sun Sentinel on June 5, 2021. View original article, here.
Photo credit: Taimy Alvarez / South Florida Sun Sentinel