Feeding South Florida's TEFAP Statement – June 4, 2021
BACKGROUND and OVERVIEW
The Florida Department of Agriculture and Consumer Services (FDACS), led by Commissioner Nikki Fried, revised its contracted regions for The Emergency Food Assistance Program (TEFAP) and rebid the contract in what appeared to be a competitive bid process in February 2021.
As a result of the new process, Palm Beach, Broward, Miami-Dade and Monroe Counties were split into four separate regions, with Palm Beach County receiving 21.4% less food. Palm Beach and Broward Counties were removed from Feeding South Florida and given to the Intended Contract Recipient (ICR). The removal of Feeding South Florida was the result of glaring scoring errors.
After reviewing the TEFAP scoring sheets by the five FDACS evaluators, it's clear that the process did not have a formal scoring rubric and there was no oversight or final review given the presence of numerous scoring errors. These scoring errors resulted in the contract being awarded to another organization based on a 1.4 point margin in Broward County and 0.8 points in Miami-Dade County, out of a possible 150 points. 
Just two examples of the many scoring errors are below. In Figure 1, the reviewer scored Feeding South Florida all "excellents" but awarded 7/10 points. The same reviewer scored the ICR 7 "excellents", 2 "moderates", and 1 "good" but awarded a full 10/10 points.

In Figure 2, 4/5 reviewers scored all "excellents" but one reviewer inexplicably deduced 1 point. The 5th reviewer scored an unacceptable.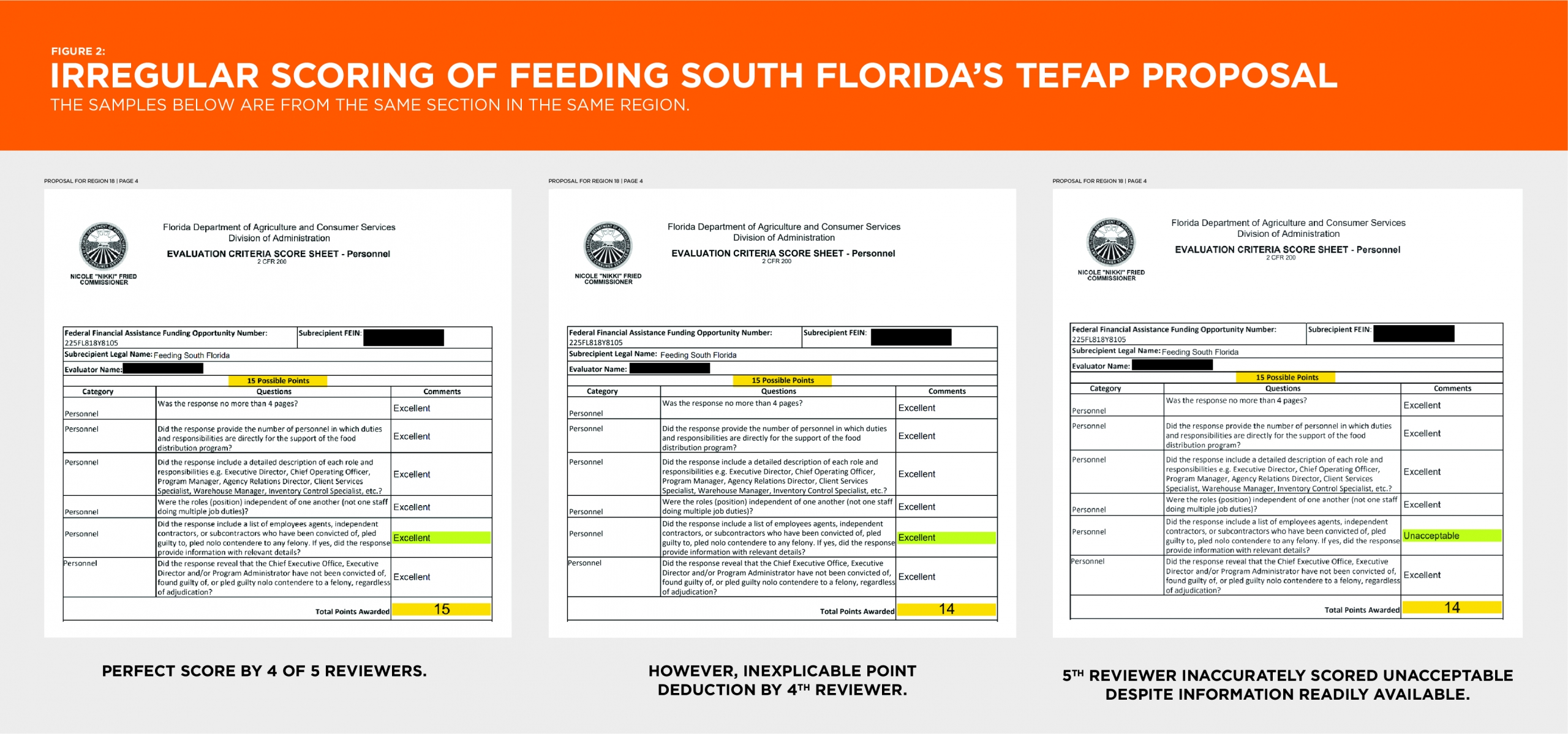 Points were also deducted for items that were clearly provided such as vehicle lists and agency lists. In multiple instances, 3/5 reviewers or 4/5 reviewers scored "excellents" for items and marked them as strengths, whereas 1/5 or 2/5 reviewers gave "unacceptables" and cited it as weaknesses. There was no consistency in scoring and an obvious failure to review the scores internally before releasing them to the public.
WHAT IS TEFAP?
TEFAP is a U.S. Department of Agriculture (USDA) food distribution program that provides nutritious, high-quality emergency food assistance to low-income households at no cost. Food is distributed through participating food banks to food pantries, soup kitchens and other feeding sites and provided to individual households, or served as prepared meals in a congregate setting for eligible recipients. TEFAP is the largest source of federal support for emergency feeding organizations. TEFAP also incorporates bonus commodities, which are distributed at USDA's discretion throughout the year to support farmers using separate budget authority. TEFAP is also the program supported by the CARES Act and American Rescue Plan; there is no other federal funding for food banks other than through the support of TEFAP.

BY THE NUMBERS
Since the COVID-19 pandemic began in March 2020 – February 2021, Feeding South Florida distributed 183 million pounds of food to just four counties, 52 million pounds of which were TEFAP commodities in Region 8 (Palm Beach and Broward Counties).
The chart below illustrates Feeding South Florida's historical and consistent commitment to distributing as much food as possible to those who need it most.  While the Regular TEFAP Entitlement stream is a formula-based food stream that is provided to any region no matter the contract holder, without Feeding South Florida's efforts and infrastructure, South Florida families will lose food.
Although Feeding South Florida was allocated 17.6% of the state's TEFAP resources, it maximized the additional bonus streams of food and drew down almost 37% of the state's TEFAP pounds, more than double the amount of food that was allocated to the region. Put another way, no other contractor in Florida, including the ICR, distributed more than 110% of their allocated amount. Feeding South Florida distributed 224% of its allocated amount to meet the increased need in the community.
With support from TEFAP, Feeding South Florida has consistently and historically maximized its efforts to serve South Florida families, growing by at least 10% year over year, with spikes in service after Hurricane Irma, the government shutdown, and most recently, the COVID-19 pandemic. The chart below shows the different streams of food provided to Palm Beach and Broward Counties for the past fiscal years (July 1 – June 30).

It's clear that removing Feeding South Florida as a TEFAP contract holder would cause a huge deficit of food for South Florida families.  Removing TEFAP from Feeding South Florida means removing its ability to receive additional food during hurricanes, government shutdowns, pandemics and other emergencies. In times of crises, South Florida will lose food.
WHY IS THIS AN ISSUE?
South Florida will have a true crisis on its hands by removing Feeding South Florida as the TEFAP contract holder, particularly in Broward County where no other organization has the infrastructure necessary to handle a contract of this magnitude.
In Broward County, Feeding South Florida serves 83 active partner agencies, 49 of whom receive weekly deliveries from Feeding South Florida via an online ordering system that provides choice and variety to a culturally diverse community. Because of Feeding South Florida's investment in its 26 vehicle fleet of refrigerated tractor/trailers and box trucks, which are all located in South Florida, agencies will not have the transportation necessary to pick up product from the ICR.  These agencies, which are predominantly supported by volunteers age 65+, shouldn't have to rent trucks, expend volunteer time, energy and fuel driving to remote warehouse locations waiting for food on a first-come, first-served basis that they're only allowed to receive once or twice per month.
According to many Broward County partner agencies, the burden this decision places on them will result in the closure of pantries and will therefore result in less food on the table for families who need it most. And what's most concerning is that hunger already disproportionally affects people of color and this decision will amplify the issue. Over 60% of those served by Feeding South Florida identify as Black or African American and over 20% identify as Hispanic or LatinX.

Another issue of concern is capacity, which is relative to the scoring errors; the ICR's statewide assets were erroneously viewed from a local perspective. FDACS viewed the ICR's assets as though they were dedicated to each region they serve. However, a fleet, generator and personnel can't be active across the state at the same time. The ICR wasn't just awarded Palm Beach and Broward Counties for the first time, but as a result of similar scoring errors, they were also awarded other regions throughout the state. This is relevant to capacity ability because the ICR has the same amount of refrigerated trucks to serve the entire state as Feeding South Florida has to serve its four counties. Having the proper capacity is also why Feeding South Florida distributed 176 million pounds of food across four counties and the ICR distributed 120 million pounds across the entire state.
By considering assets from other parts of the state for a local contract, reviewers erred in assessing infrastructure capacity to handle the large volume of commodities in Florida's three largest counties.
WHERE WE ARE CURRENTLY
Despite the factual truth that Commissioner Fried has the sole authority to review and accurately rescore the applications, she continues to assert that there's nothing she can do.
The Department of Administrative Hearings (DOAH) has determined that Commissioner Fried has the ability to review the errors, accurately rescore and re-award the contract.
What's most concerning is that even when presented with these obvious scoring errors, Commissioner Fried not only has refused to review the errors, her legal counsel has also threatened Feeding South Florida to pay her legal fees.
Although Feeding South Florida always has, and continues to be committed to providing food to those in need of assistance, this decision severely impacts Feeding South Florida's ability to serve the community during a time when it needs the most support.
A federal contract of this magnitude, with life-altering implications, and inclusive of numerous blatant scoring errors, deserves oversight and review. That's why Feeding South Florida implores Commissioner Fried to correct these mistakes by reviewing, accurately rescoring, and re-award this contract. More than 1 million food insecure South Floridians are counting on Commissioner Fried to look out for their well-being and do the right thing.
FDACS has stated several times that this was a transparent process. However, the department has awarded the contract in a way they say is not appealable and refuses to review and accurately rescore the errors.
FAQs
Q: Is Feeding South Florida closing?
A: Feeding South Florida is absolutely not closing and is more committed than ever to serving Palm Beach, Broward, Miami-Dade and Monroe Counties. While this contract for TEFAP (USDA) commodities removes Feeding South Florida's ability to access federal commodities, it does not impact other food streams.
Q: This decision was made in March, why is Feeding South Florida just sharing this information now?
A: As evidenced in the timeline below, Feeding South Florida tried to exhaust all procedural options and was working diligently to provide our community with a different outcome.
Q: Why is Feeding South Florida focusing its communication on Commissioner Fried? 
A: The Commissioner is the head of the department, she chose to re-bid this contract during a pandemic, and has stated there's nothing she can do, despite having the sole ability to review the scoring errors. That's why Feeding South Florida is asking the community to contact the Commissioner and ask her to review, rescore and re-award.
Q. If the contract isn't reviewed, rescored correctly and re-awarded, what happens next?
A: Feeding South Florida will need the community's financial support more than ever. Losing access to bonus streams of federal commodities shifts the need for support to county government and additional funds from private donors.
Q: What can supporters do to help?
A: Contact Commissioner Fried and let her know she must review all the scores and verify the back-up materials provided to ensure that federal guidelines have been met by awarding the TEFAP contract to the organization who can best meet the needs of the community, and the contract.  You can e-mail Commissioner Fried at Nikki.Fried@FDACS.gov or call 850.617.7770.
TIMELINE
On January 25, 2021, FDACS advertised on the State's Vendor Bid System a "Request for Applications," advertisement number: 225FL818Y8105.
On March 26, 2021, three days after the stated posting date, FDACS posted its "Agency Decision" via a Tabulation Sheet on the Vendor Bid System.
On March 31, 2021, FDACS posted a "Revised Tabulation Sheet" via the Vendor Bid System, at which time the scores were changed, but the awardee did not.
Feeding South Florida (FSF), via Feeding Florida (FF), immediately made a public records request for all scoresheets in Regions 17, 18 and 19.
FSF submitted its intent to petition for Regions 17, 18, and 19 to FDACS within 72 hours of scores being released.
FDACS responded by saying that this wasn't a competitive bid and therefore not subject to reviewing or an appeals process.
On May 5th, FSF's counsel met with FDACS general counsel to share the glaring scoring errors and implore the department to rescore. General counsel shared they couldn't make any promises and said they would take it back to staff for review.
On May 12th FSF's counsel shared that FDACS opted not to respond and forwarded our petition to the Department of Administrative Hearings (DOAH), per FSF's request.
The intended contract recipient submitted their intent to intervene.
On May 14, FSF was informed that DOAH assigned a judge.
On May 21, FSF was informed that FDACS and the intended contact recipient submitted their almost identical motions to dismiss.
On May 25, FSF's counsel was advised that if it proceeded with filing an amended petition, FDACS would seek legal fees from FSF.
June 1, the Administrative Law Judge with DOAH first heard the case.
June 3, DOAH determined that the authority to make decisions about this contract rests solely with the Commissioner of Agriculture. As such, and as stated on the request for applications, Commissioner Fried has the authority and ability to rescore applications.