Commissioner, Feeding South Florida distribute food to 1,000 residents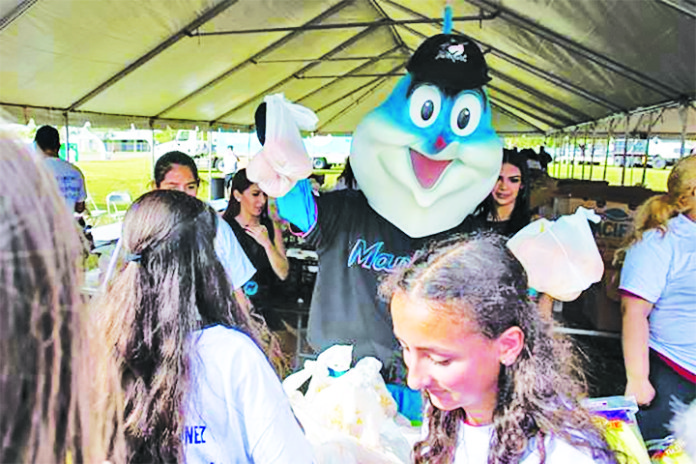 Residents lined up at Tamiami Lakes Park on Dec. 14 to receive nutritious goods courtesy of Miami-Dade County Commissioner Joe A. Martinez and Feeding South Florida.
Commissioner Martinez partnered with Feeding South Florida to distribute food packages to residents in Miami-Dade County. Among the goods distributed were a variety of proteins, vegetables, milk, fruit and bread. Food was distributed to 1,000 residents.
"We are fortunate to partner with Feeding South Florida, whose support makes this food distribution possible and gives us the opportunity to help our residents," Commissioner Martinez said.
Several County departments, community organizations and local businesses were also present to provide residents with information on their services. Residents also were able to exchange used light bulbs and showerheads for more energy-efficient and lower-consumption models.
The following Miami-Dade County departments and organizations were present: Police; Fire; Transportation and Public Works; Parks, Recreation and Open Spaces; Public Library System; Elections; and Special Transportation Service. McGruff the Police Dog, the Hispanic Coalition and Piag Museum were also there.
Commissioner Martinez's office thanked sponsor Publix and Empanada Harry's Bakery and Cafe for their support.
Feeding South Florida is the largest, most efficient food bank serving Miami-Dade, Monroe, Broward and Palm Beach counties. More than 98 percent of all donations are put back into the community.
By Marie Holborow
Originally published on December 30, 2019
communitynewspapers.com
Billy the Marlin helps with the food distribution.
(Photos by Armando Rodriguez/Miami-Dade County)