Cars line up for hours at the food pantry. How the pandemic ravaged South Florida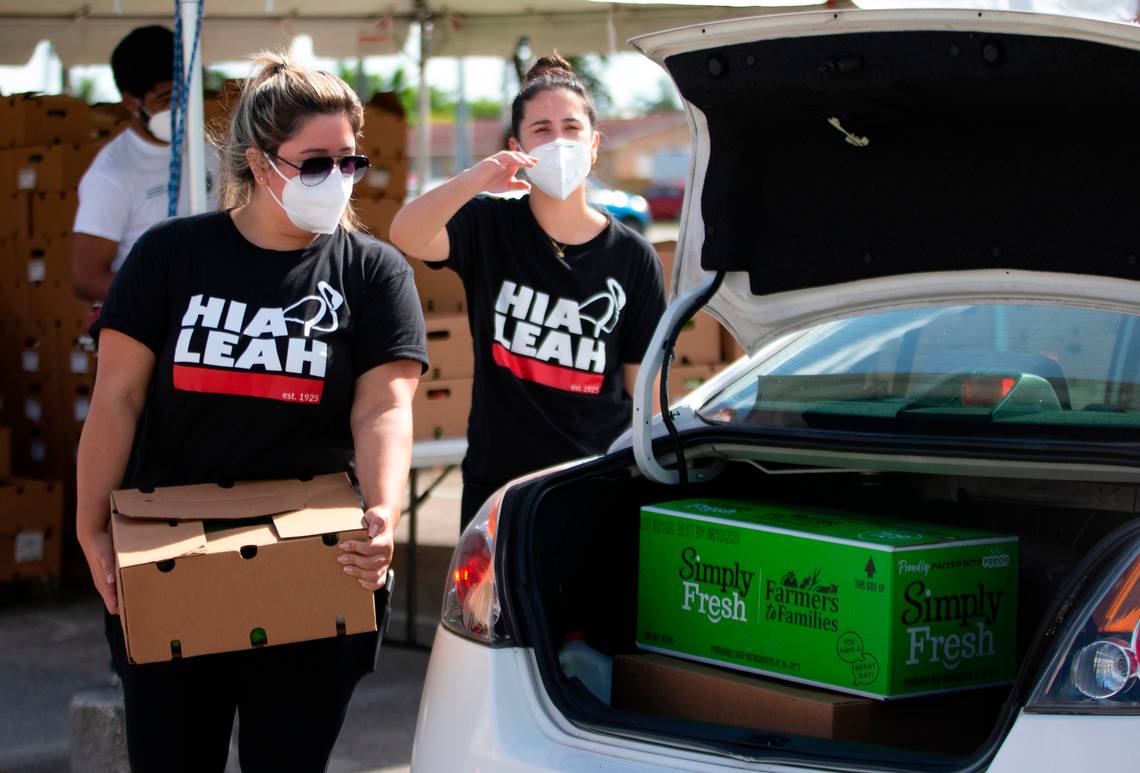 Three seasons have passed since COVID-19 first began menacing South Florida and the number of cases has been inching upward as the fall and flu season begin.
More than 800 cars recently lined up before dawn for a Feeding South Florida food distribution at Amelia Earhart Park. Once inside the park, they slowly advanced toward white tents with their hatches and trunks open, ready to receive liquid eggs, cottage cheese, milk, a brick of cheese, yogurt, tomatoes, 10 pounds of potatoes, bananas, cereal, five pounds of rice, black beans, sour cream, diced chicken and apples that many would stretch out to cover meals for an entire week.
"Sometimes we get as many as 1,000 cars, and we regularly turn away 30 to 40 cars because we run out of food," said Deallo Johnson, a Miami-Dade regional parks manager who was overseeing the food distribution at the Hialeah park. "Sometimes people come on bicycles and scooters for the handicapped and we also have people sitting in their cars waiting at 3 a.m. I'm just grateful we get to help people."
The park is one of more than 40 locations in South Florida where Feeding South Florida distributes food on a weekly or biweekly basis.
Not only has South Florida been a hot spot for the pandemic, but the metropolitan area's demographics and economic structure make it particularly vulnerable to the economic ravages of the coronavirus.
South Florida is built on a service economy, highly dependent on tourism, retail and trade with a large number of small businesses that have found it difficult to hang on as people stayed close to home and were wary of travel.
"We do rely a lot on external stimuli, folks coming from elsewhere," said Paco Vélez, president and CEO of Feeding South Florida. "[The pandemic] has affected almost every industry. Small businesses and entrepreneurs had extended themselves in terms of following their dreams by renting equipment and space. Now they're really struggling to pay those rents and leases."
HIGH LEVELS OF POVERTY
Before the pandemic took hold, 13.5 percent of the population in the Miami Metro area, which covers Miami-Dade, Broward and Palm Beach counties, and 15.8 percent of those 65 years and older already were living below the poverty line, according to 2019 estimates from the U.S. Census Bureau. Nationally, 12.3 percent of the population lives in poverty.
For Miami-Dade County alone, the American Community Survey estimated that in 2018, 18 percent of the population was living below the poverty level. The county also has one of the widest income gaps in the nation.
Even before pandemic-related job losses swept away health insurance for some workers, 15.4 percent of the Miami Metro population had no medical coverage, compared to 9.2 percent nationally.
Median household income locally also lags the national average, and an estimated 20.1 percent of Miami Metro households took in less than $25,000 in 2019.
As a result of economic challenges spawned by the COVID-19 pandemic, Florida International University's Metropolitan Center estimates that 14.4 percent of residents in the Miami Metro area are living in households without enough to eat.
FEEDING SOUTH FLORIDA 'OVERWHELMED'
For Feeding South Florida's first pandemic-related food distribution in Miami months ago, the nonprofit had planned on distributing meal packages to 500 to 700 families. "More than 3,000 families showed up. We were overwhelmed," said Vélez.
But the food pantry Feeding South Florida quickly adjusted, working with local farmers and companies to meet the needs of hungry families in Miami-Dade, Broward, Palm Beach and Monroe counties.
In the previous fiscal year, Feeding South Florida distributed 61.5 million pounds of food in South Florida. For the fiscal year that ended in June, it distributed 119 million pounds of food, including 60 million pounds from March to June alone.
In recent weeks, Vélez said, the demand for food is "stabilizing somewhat, but it is not going down. We're still seeing a lot of families that need help."
During the growing season, Feeding South Florida depended heavily on the generosity of local farmers, but now with fields just planted, Vélez said the nonprofit will have to dip into scarce funds to buy food until crops are once again being harvested.
Vélez said he expects the extra demand for food to persist even after the pandemic begins to subside.
"We have people going back to work, but they still have to make up their rents from maybe three or four months when they weren't paying. They need to save money for that and still feed their families," he said.
BIG JOB LOSSES IN SOUTH FLORIDA
Since the pandemic began, the Metropolitan Center said, more than 256,000 jobs have been lost in South Florida and the region has accounted for 35 percent of the unemployment claims in the state.
Among the hardest-hit sectors: education and health services with 26,400 jobs lost in South Florida between March and August due to the pandemic; retail, where there were 17,200 COVID-related jobs lost; food services and accommodations with 81,200 lost jobs; and the administrative and waste services sector where 22,000 jobs disappeared.
"A lot of these jobs may not come back. The pre-COVID economy was already at a tipping point," said Ned Murray, associate director of research at the Metropolitan Center. Already, he said, more than double the jobs have been lost than disappeared during the 2008-2010 recession.
In those four sectors alone, 384,654 South Floridians applied for unemployment benefits for the first time between March and August. In September, there were 35,297 new claimants.
"Our understanding is that these numbers can get worse in coming months," said Murray.
Not included in the statistics are contract, temporary and gig workers. Undocumented immigrants, which number about 450,000 in South Florida, also aren't eligible to file for state unemployment benefits.
The economic downturn is also impacting Hispanics and Blacks at higher rates.
A nationwide survey by The Commonwealth Fund, a private foundation that seeks to improve the healthcare system, shows that 49 percent of Latino respondents and 38 percent of Black respondents reported they had used up all or most of their savings during the pandemic.
HOUSING IS ONE OF THE KEY ISSUES
Affordable housing is one of the most critical issues. Roughly half of Miami-Dade households rent. With a median sales price for a Miami-Dade home of $425,000 in August, housing costs are also high for many who pay mortgages.
"It's kind of a double hit. In South Florida, we're very constrained in terms of land so housing costs are high, and our economy is so dependent on the service sector — restaurants, hotels that have been among the hardest hit," said Andrea Heuson, a professor of finance at the University of Miami. "People were right on the margin to begin with in terms of housing costs and now they're losing their jobs as a result of the pandemic."
—
Author: Mimi Whitefield
Originally published on November 2, 2020 by The Miami Herald. View original article, here.
Photography credit: David Santiago