Volunteers Fight to Stop Hunger All Day and All Night with 24-Hour Sort-A-Thon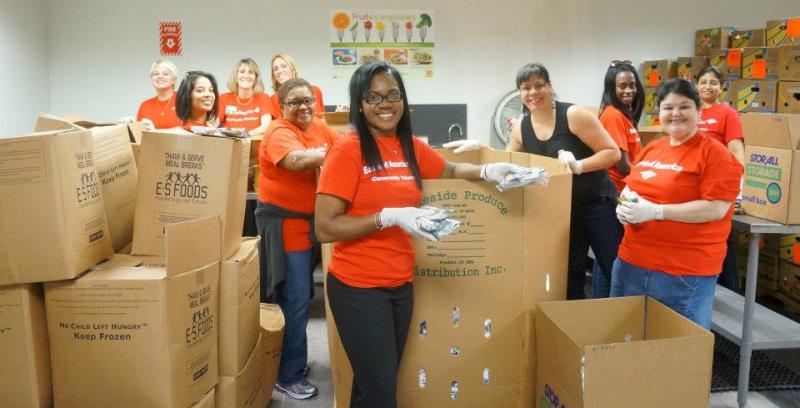 It is estimated that more than 870,000 South Florida residents, including more than 287,000 children aren't sure when their next meal will be and nationally, 1 in 6 Americans are at risk for hunger. On Sept. 13, Feeding South Florida's largest annual group of volunteers, including many from Bank of America, will gather for the organization's 24-hour Sort-A-Thon. These hunger-fighters will roll up their sleeves to sort through thousands of food donations and help load trucks that will distribute meals for the hungry.
The event will coincide with Hunger Action Month and the national Give A Meal campaign, where volunteers all over the U.S. will join the fight to help relieve hunger for millions of Americans. South Florida residents now have a chance to help end hunger in their community or around the nation. For every $1 donated the Bank of America Charitable Foundation will give $2 more. Through this matching program, donations to Feeding South Florida will have the chance to be tripled up to $75,000, and Feeding America has the opportunity for its donations to be tripled up to $1.5 million.
Donate now at: www.bankofamerica.com/give.
WHEN: Saturday, Sept. 13, 8:30-11:30 a.m.
WHERE: Feeding South Florida
Main Warehouse
2501 SW 32 Terrace
Pembroke Pines, Fla. 33023
WHO: Maria Alonso, Bank of America's market manager for Miami/Fort Lauderdale can speak about Bank of America's active involvement in serving the hungry and the company's longstanding partnership with Feeding South Florida. Interviews can be coordinated in advance.
Sari Vatske, vice president of community relations for Feeding South Florida is also available to speak about the growing challenge of hunger in South Florida and the significance of the Sort-a-Thon.
Additional Background
The increased demand for hunger relief amidst declining financial support and reduced food donations is an issue around the country and in our community. Feeding South Florida is excited to partner with Bank of America and Feeding America to work toward a solution to this problem through initiatives like the Give A Meal campaign. Alleviating hunger is a critical first step in helping people to achieve economic stability, ultimately leading to long-term success.
Feeding South Florida (FSF) is part of the Feeding America network consisting of 202 food banks. FSF has the largest service area in Florida, serving 30% of the state's food insecure population. FSF is part of Florida Association of Food Banks, the state organization for Feeding America, and leader of Farmers Feeding Florida. FSF is the leading domestic hunger relief organization in South Florida, serving Palm Beach, Broward, Miami-Dade, and Monroe Counties through a network of nonprofit partner agencies, including soup kitchens, food pantries, homeless shelters, group homes and other emergency food service program