Paco Vélez Featured in Ultimate CEO Roundtable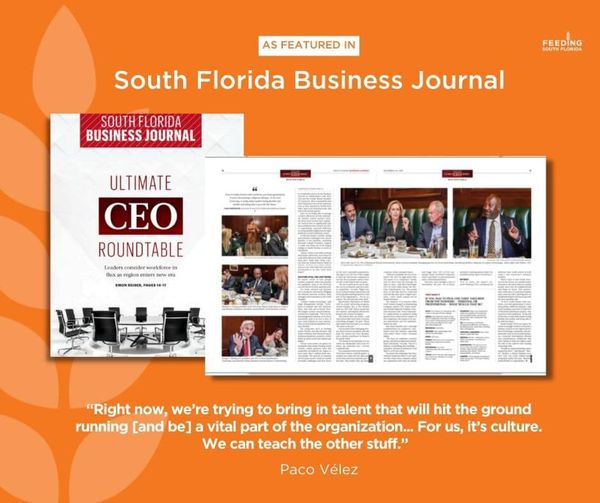 South Florida executives consider a workforce in flux as region enters new era
The Business Journal recently gathered some of the region's top CEOs for a roundtable discussion on the intricacies of leadership since the advent of Covid-19.
More than a dozen chief executives, named South Florida Ultimate CEOs over the past two years, participated in the conversation, titled "Leadership in Challenging Times." SFBJ Editor-in-Chief Mel Meléndez moderated the Nov. 9 discussion.
Panelists enjoyed dinner at Joe's Stone Crab in Miami Beach prior to the conversation, which marked the first roundtable solely consisting of South Florida Ultimate CEO honorees.
Launched eight years ago, the South Florida Ultimate CEO Awards annually recognizes 15 men and women who, due to their extensive business acumen, leadership skills and community involvement, help shape the region and advance the local economy.
The 2021 Ultimate CEO Awards was presented by Comcast Business, with corporate sponsors the Florida International University College of Business, GCI Worldwide Corp. and Regions Bank. Associate sponsors were the Business Development Board of Palm Beach County, the Greater Fort Lauderdale Alliance and the Miami-Dade Beacon Council.
---
Company leaders are at the mercy of an ever-growing list of challenges that seem out of their control as they face the Great Resignation during a pandemic with seemingly no end in sight.
When asked how to avert these obstacles, South Florida CEOs urged their peers to take unexpected routes as they find their footing in a work climate that's anything but business as usual.
Their advice: Top executives must become better followers as they lead, especially with regard to what their teams demand in a world forever altered by Covid-19.
This strategy was among the chief takeaways from "Leadership in Challenging Times," a Nov. 9 roundtable the Business Journal hosted at Joe's Stone Crab in Miami Beach.
Moderated by Editor-in-Chief Mel Meléndez, the panel featured 14 South Florida Ultimate CEO Awards honorees who shared their insights on leadership and the issues that will impact their ability to do business in the coming years.
Leaders from a variety of sectors said South Florida had bounced back from pandemic slowdowns and stood out as a key place to move companies, families and investments. But uncertainties remain because inflation has weighed down the economy, living costs have soared and a lack of willing labor has hit the most vulnerable industries.
The only way to come out on top, they agreed, is to let employees' wants and needs in the workplace guide their steps forward.
"All my life, I believed leaders should lead. And now I believe that leaders should follow," said Neisen Kasdin, Miami office managing partner of Akerman LLP. "This is the first time in my career where we are going to have to see what's going to emerge and adapt to it."
The remote work divide
Bosses often want their offices to be the picture of pre-pandemic life. In most cases, employees don't get their vision. So companies that don't choose their battles wisely when it comes to back-to-the-office policies might lose the talent war, panelists said.