Ultimate CEO Paco Vélez on providing food and training to the region's population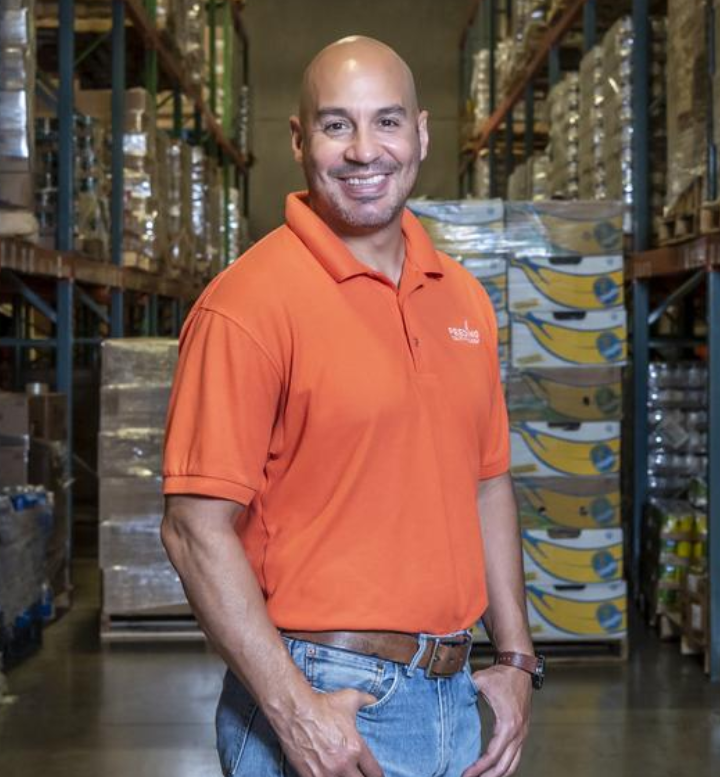 South Florida Business Journal
Paco Vélez
President and CEO, Feeding South Florida
Residence: Hollywood
Age: 46
When Paco Vélez joined Feeding South Florida as president and CEO in 2012, the shelves were bare and the organization was at risk of closing.
It served a million people, but was seven figures in the red. Within two months, Vélez cut its workforce from 96 people to 42.
"And that was just to keep the doors open," he recalled. "That was one of the most difficult things in my career."
Today, the organization's budget is $13.5 million and it annually distributes more than $207 million worth of food donated by – and, since the pandemic, purchased from – Florida farmers, manufacturers, retailers and food drives. The volume of food has grown from 29 million pounds in 2012 to 119 million today, with 1.3 million people served by Velez's staff and volunteers.
"Being eight figures in the black and having a team that makes decisions for me and really cares about the constituents they serve has been my greatest accomplishment," he said.
How has your leadership style changed? You have to make sure you have the right team in place. You should, because they showed you something, that spark and connection, in the interview. Then you guide them and let them move forward. I usually walk around to get updates from team members. That's impossible now. We've been able to schedule daily calls. My calendar is littered with video calls with different parts of the team: operations, government relations, distribution. It's been a transition. But it's working well.
What's been the biggest takeaway for you from the Covid-19 pandemic? One of the biggest takeaways for me is we've always been here in times of crisis. February will be 40 years [of the organization's existence]. We responded to Hurricane Irma, and we sent staff to the panhandle after Hurricane Michael. Then we responded to the government shutdown. Fast-forward to March 2020, and we had to cut our volunteers. Once again, the community stepped up and, because of the health risks, we had to cap it at 40 volunteers per shift. The demand to serve was there. It's been an amazing thing to see. Never underestimate the compassion of our neighbors to help other neighbors.
What's your advice to your 21-year-old self? When I was getting out of college, there were a lot of things I thought I could control. That's what I would tell myself: Learn not to waste that negative energy on things you cannot control, but figure out how to respond to things outside your control. And I would give myself the lottery numbers.
How do you keep innovation alive in your organization? That's part of our mission statement, being innovative. We're always looking at continually learning and implementing some of these innovative programs. We do research projects with Humana and Aetna about how food affects the food-insecure population coming out of clinics, or how the school pantry affects schoolchildren. We're providing workforce training in food service, warehouse and commercial driver's licenses to help make the individuals more marketable to get a higher-paying job. For us, it's about moving people from a place of dependency to self-sufficiency.
How do you ensure your goals are audacious enough? To make sure we stay audacious, I share my plans with folks. If they look at me like I'm crazy, then I know it's audacious.
What current CEOs inspire you? It depends. With some CEOs, it's about their philosophy. And there are those who are about teams, or goals and objectives. Locally, it would be people like Mike Fernandez and Tony Argiz, who are always looking for that next opportunity.
If I weren't a social services executive, I'd be … A dog trainer. I always had dogs growing up. With dogs, you have four basic primal emotions: fear, protection or anger, happiness and sadness. It's easy with dogs. They're easy to understand and easy to work with.
What trait has most evolved in you during your career? Patience and understanding, and being more aware of a global view. This can be good or bad. Sometimes, it paralyzes your decision making. But looking at things from multiple perspectives, how something I do or say can impact an organization or even a community.
Originally published by South Florida business journal. View original article, here.