TooJay's Donates $10,000 to Feeding South Florida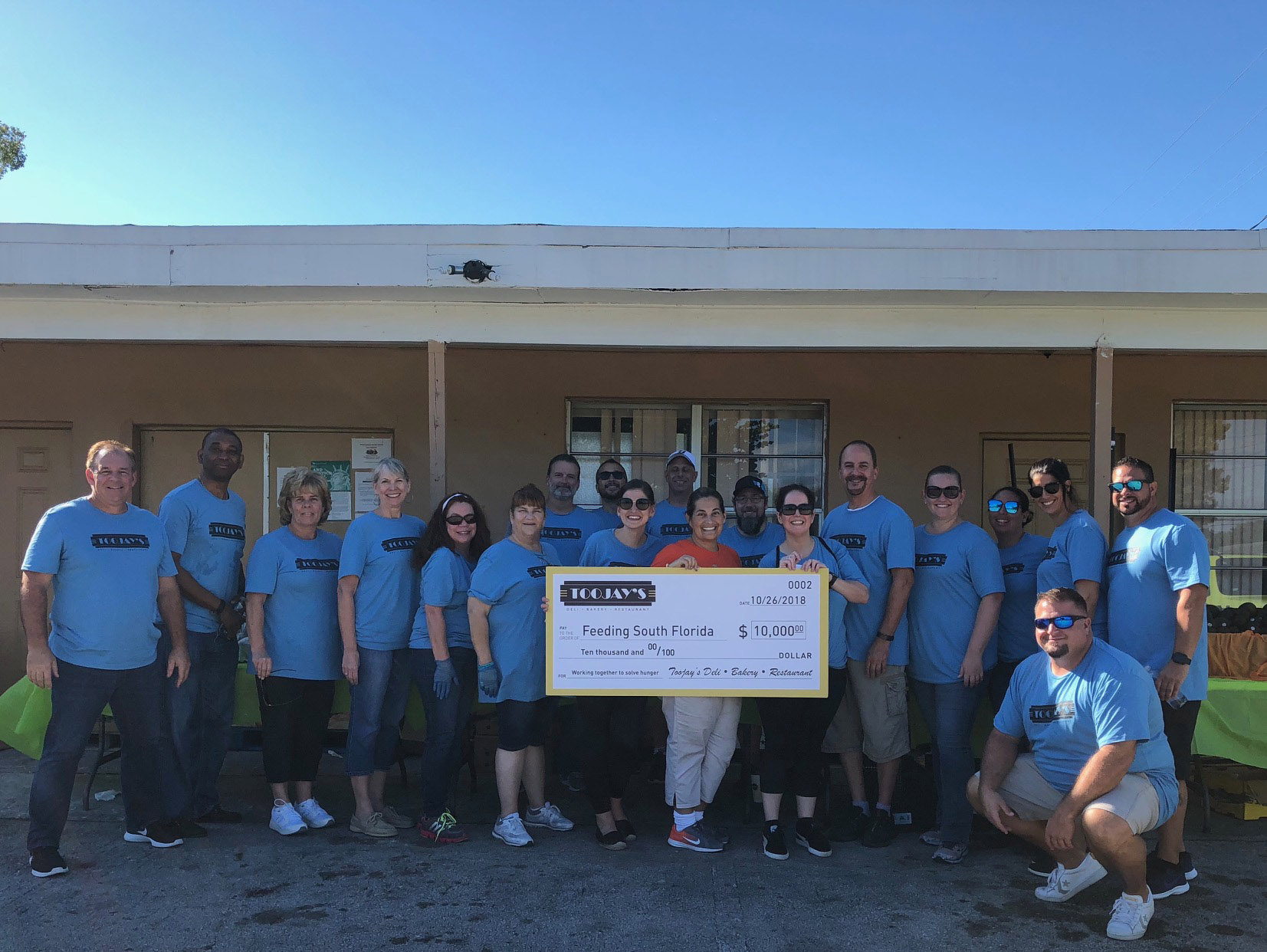 TooJay's Donates $10,000 to Feeding South Florida
WEST PALM BEACH, Fla. (October 29, 2018) – Thanks to TooJay's second annual "Too+You" campaign in September, the West Palm Beach-based restaurant company donated $10,000 to Feeding South Florida, the Feeding America food bank serving Palm Beach, Broward, Miami-Dade, and Monroe Counties.
This donation is a portion of $25,000 that TooJay's recently donated to Feeding Florida, a statewide network of Feeding America food banks providing a healthy, adequate and consistent food supply to those in need. In September, $1 of every cake slice sold was donated to Feeding Florida. Guests also made donations by rounding up their checks throughout the month.
"We are pleased to partner with and support Feeding Florida as a part of our commitment to give back to the local communities where we do business," said Max Piet, President and CEO of TooJay's. "Thanks to the efforts of our team members and guests, we surpassed our fundraising goal for this amazing cause." TooJay's team members across its 28 locations also got involved by collecting enough canned food to provide an additional 2,500 meals.
"With TooJay's headquarters in South Florida's service area, we're incredibly grateful for this partnership. Thanks to their support, TooJay's donation will provide more than 60,000 meals to South Florida families," said Paco Vélez, President and CEO of Feeding South Florida.
Founded in 1981, TooJay's currently serves guests in Palm Beach and Broward counties, the Treasure Coast, the West Coast of Florida, the Orlando area, The Villages, and Polk County. Three new restaurants are expected to open in Naples, Fort Lauderdale and Dania Beach during the first half of 2019.
TooJay's received the 2018 and 2017 Dining Award for Best Deli from Orlando Magazine, two Foodie Awards for Best Deli and Best Take-Out from the Orlando Sentinel, the 2016 Best of South Florida Award for Best Deli from the Sun Sentinel and ranked eighth in the country for Family Dining by Consumer Reports.