Super Bowl 54: Football stars, celebrity chefs fire up for Taste of the NFL in Hollywood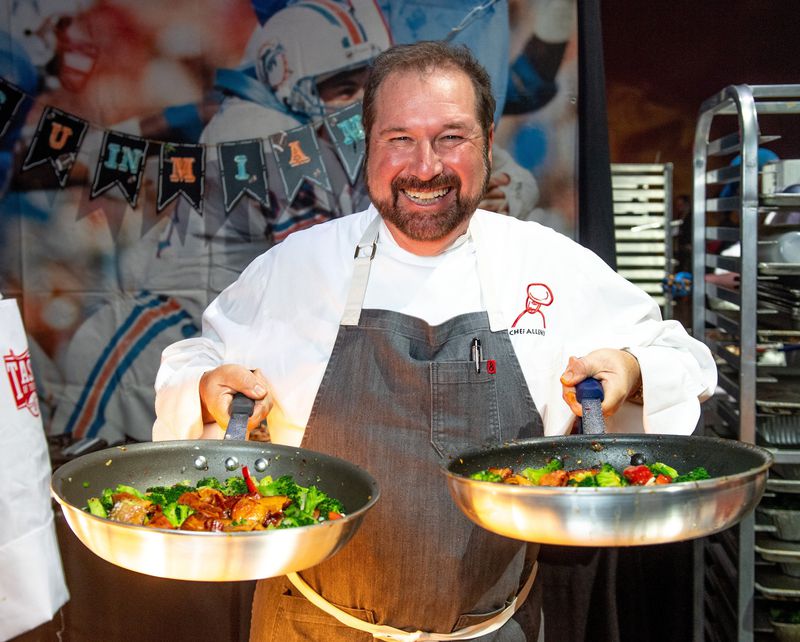 It's been a decade since Party with a Purpose was held in South Florida.
That's because Taste of the NFL conducts the fundraiser every year on the eve of Super Bowl Sunday in the host region, and the last Super Bowl in South Florida took place in 2010.
"The fact that South Florida has long been, and continues to be, one of the culinary hotbeds of major cities accentuates the success of this event," says founder Wayne Kostroski, a restaurateur who lives in Edina, Minn., and was James Beard Humanitarian of the Year in 2010.
The Diplomat Beach Resort in Hollywood will host the 29th annual event on Feb. 1. The evening pairs 32 of the nation's top chefs — one from each NFL city — with a current or alumni player from each NFL team to cook up a culinary extravaganza.
"It's really the best restaurant you'll eat at in one night," he says. "The vast majority of the chefs put out a dish that is representative of where they are from, giving a sense of dining out at the most popular restaurants in the country. A lot of our chefs are James Beard winners or nominated. It's the who's who."
The net proceeds go to each team's hometown food bank partner through the Kick Hunger Challenge, including 10 percent for Feeding South Florida, according to Kostroski.
"Everyone's there for one purpose, and that's what makes it extra special. This is an amazing piece of donation and volunteerism," he says. "It's really hard to understand the depth. It's not the greatest party of all time, but there is a lot of excitement because we're all one family for one night. You're giving a hug to someone in need and helping out families."
Over the years, the nonprofit Taste of the NFL has raised more $26 million for the hungry, according to Kostroski.
"Every dollar can create up to eight meals; $26 million has created 208 million meals. That is staggering," he says. "Maybe you can skip two lattes and make a donation. We want to impact people's thinking for a neighbor in need."
This will be the fifth Taste of the NFL in South Florida, averaging up to 2,000 attendees.
"Being at The Diplomat is amazing, and we can present a stunning event. It's a gorgeous and elegant property," Kostroski says. "They've turned into one of the most wonderful partners that we've run into in 28 years. They truly understand hospitality, and that's what this event is all about."
Among the nearly 40 food stations will be local restaurants new to the event, such as Burlock Coast Seafare & Spirits, Lona, Even Keel Fish & Oyster, and Temple Street Eatery.
Attendees can expect to see Pro Football Hall of Famers Bobby Bell, Paul Krause, Tom Mack, and Miami Dolphins legends Don Shula, Dick Anderson, and John Offerdahl.
"Out of our players matched up, we'll have about 15 to 18 Hall of Famers, plus half a dozen walking around and at stations signing autographs," Kostroski says. "It's a very interactive event. It's not a stuffy black-tie event sitting at a table and listening to a speech. It's probably the most fun you'll have during Super Bowl weekend."
On the elite chef side, Beau MacMillan will hail from Elements in Arizona, Carrie Nahabedian from Brindille in Chicago and Robert Del Grande from The Annie Café & Bar in Houston. Even a duo of brothers is coming: Kevin Rathbun from Rathbun's in Atlanta and Kent Rathbun from Imoto in Dallas.
"There is no voting on your favorite, but these chefs know the company they are in, so they always want to do outdo each other," Kostroski says. "They plan their dishes months in advance. Their magic is on display."
Only two chefs and two players have participated every year, Kostroski says chef Allen Susser and Dick Anderson from Florida and chef Jack McDavid from Philadelphia and Jerry Sisemore, a former Philadelphia Eagle.
"No matter how old you are, you're going to recognize someone. It's quite a lineup. I'm even impressed with it myself," Kostroski says. "I think we're going to get a number of surprise celebrities showing up because we're in South Florida. It's going to be a higher level to rub shoulders with than what we've seen in previous years. That's what I'm most excited about."
Silent and live auctions will feature bidding on Super Bowl game tickets.
General admission to the fundraiser, at 7 p.m. at 3555 S. Ocean Drive, is $700, and VIP tables of 10 are $10,000 at TasteOfTheNfl.com.
"We always sell out by mid-January," he says. "But even if you can't go, remember that you can still contribute."
Photo Credit: South Florida Chef Allen Susser, pictured here at Taste of the NFL's Party with a Purpose in Atlanta last year, is one of only two chefs who have participated every year of the event since 1992. (Tom Donoghue / Courtesy)