Recipes | Crab Cakes with Remoulade Sauce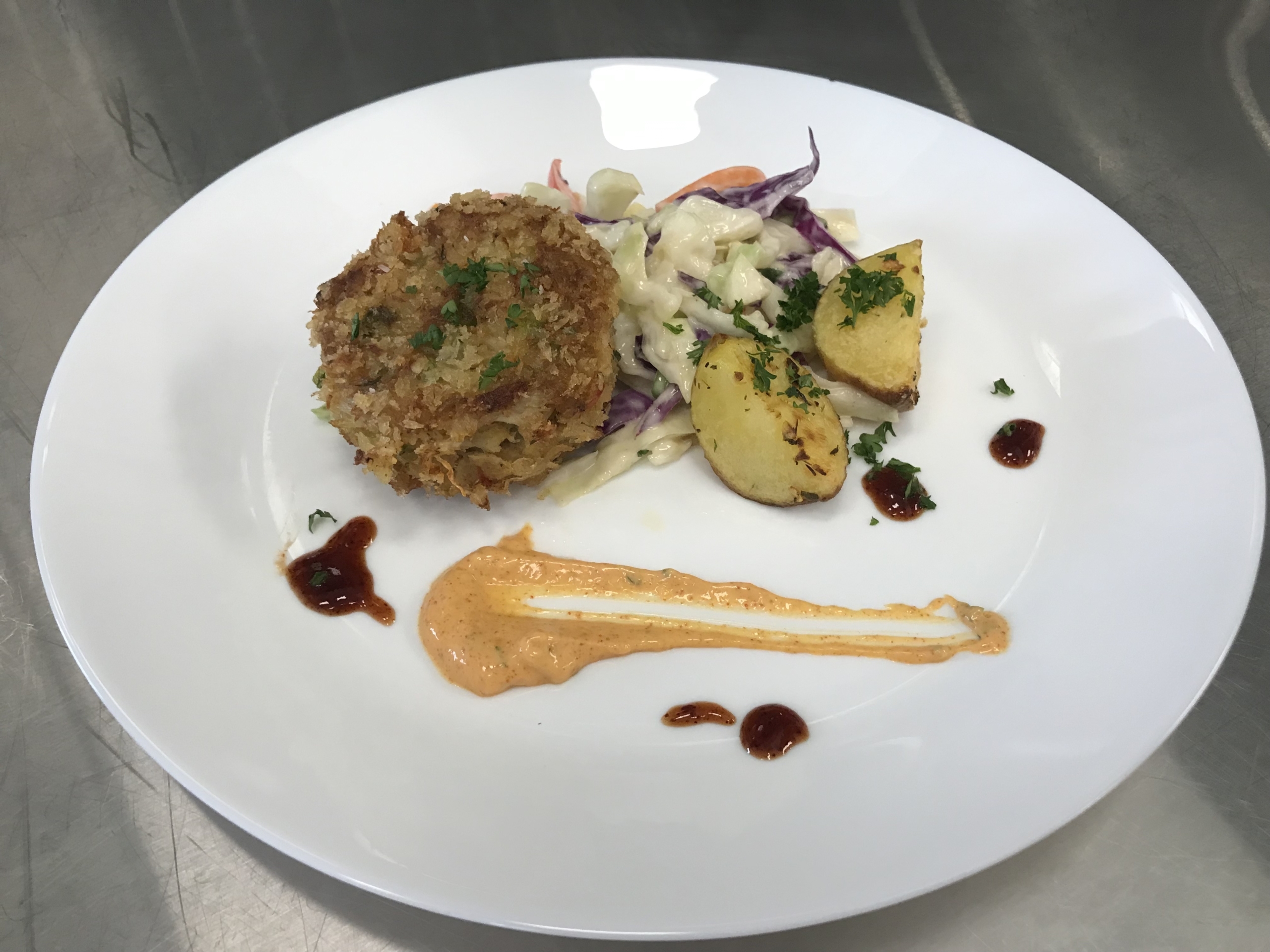 Ingredients:
1 tbsp Olive Oil
½ cup Red & Green Pepper, small dice
½ cup Celery
2 tbsp Parsley, chopped fine
¼ cup Mayonnaise
2 tsp Dijon Mustard
1 Egg
½ tsp Old Bay Seasoning
Cayenne Pepper to taste
Salt & Pepper to taste
¾ cup Panko Bread Crumbs
1 lb Crab Meat, special
4 ea Lemon Wedges
Vegetable Oil as needed
Instructions:
Sweat peppers and celery in olive oil. Remove from heat and put in a bowl to cool. Add parsley, mayonnaise, mustard, egg, Old Bay, cayenne, salt and pepper. Mix well.
Add ¾ cup of panko and mix in. Add crab meat and gently fold in.
Shape into cakes and use panko to dust top and bottom. Over medium heat pan fry in vegetable oil until golden and crispy. Serve with remoulade sauce* and lemon wedge.
Remoulade sauce:
1 c Mayonnaise
1 tbsp Dijon Mustard
2 tsp Paprika
1 tbsp Parsley, chopped fine
1 tsp Horseradish, prepared
½ tsp Lemon Zest
1 tsp Lemon Juice
1 tsp Capers, chopped fine
1 clove Garlic, grated
½ tsp Worcestershire Sauce
Hot Pepper Sauce to taste
Salt & Pepper to taste
Combine all ingredients except salt, pepper and hot sauce in a bowl. Mix well and season. Refrigerate.