Outrun Hunger 5K: A Huge Success!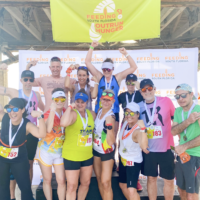 We did it! Our Outrun Hunger 5K was a huge success thanks to the incredible support of our sponsors, groups, and individual runners. We are humbled by the outpouring of generosity from our South Florida community, and we couldn't have done it without you.
The energy was electric as runners took off from the Feeding South Florida® starting line, determined to make a difference in the fight against hunger. We saw friends and families running together, corporate teams cheering each other on, and individuals pushing themselves to reach new personal bests. It was a true testament to the power of community and the importance of coming together to make a difference.
Check out these amazing photos from the event and relive the excitement! We want to thank each and every person who participated in the Feeding South Florida Outrun Hunger 5K, whether you ran, volunteered, donated or sponsored the event. Your support means the world to us and helps us provide food to those who need it most.
And don't worry, the fun isn't over yet! We're already gearing up for our next 5K in September, and we can't wait to see you there. Let's continue to Outrun Hunger together!