North Miami First to Open Government Funded Food Pantry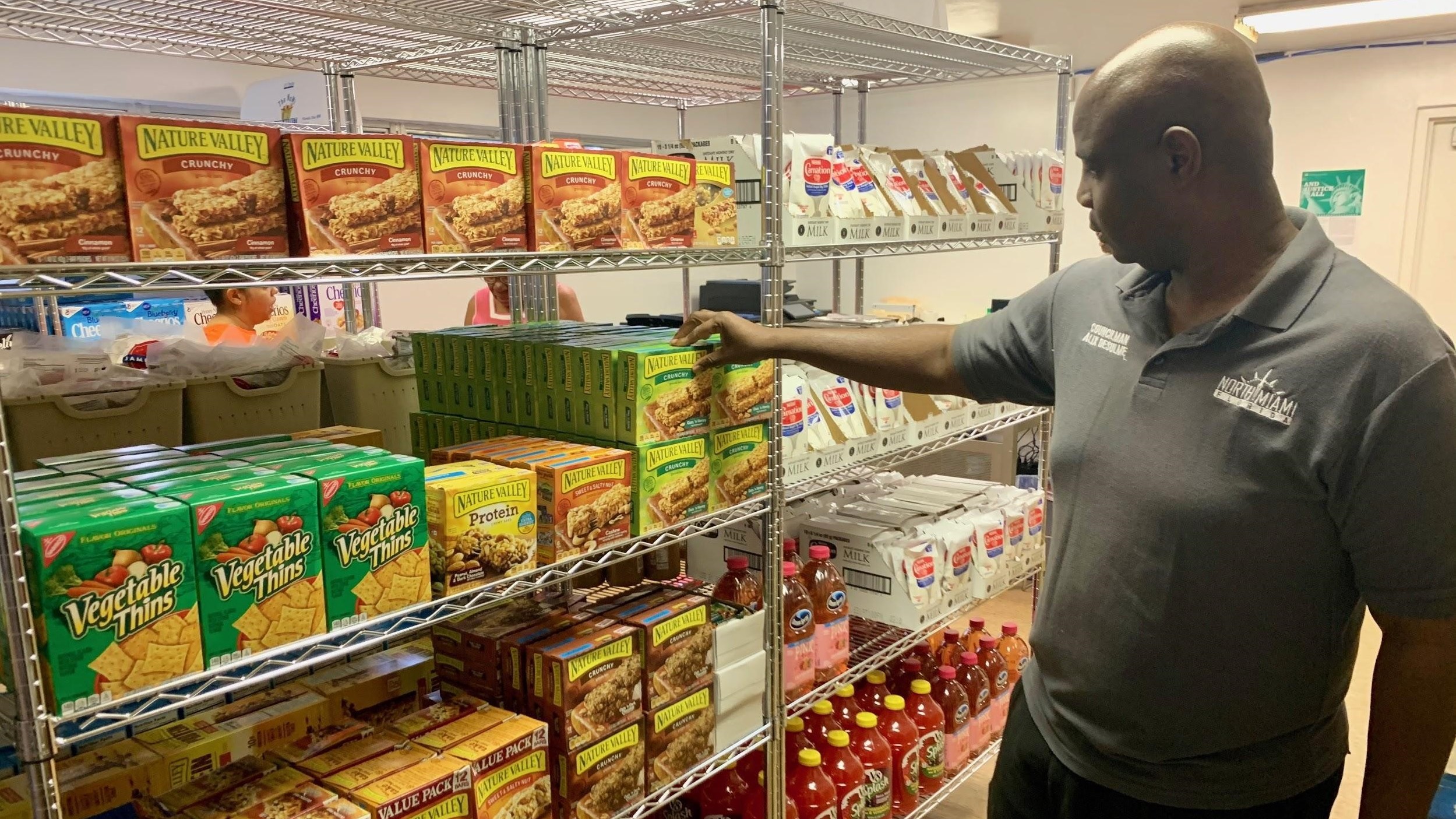 North Miami is working to eradicate hunger by opening among the first-ever government-funded food pantry within a city, and the response from residents has been overwhelming.
Since the NoMi Food Market began operating on Oct. 25, staff have been working to keep up with the demand from residents, said Councilman Alix Desulme.
"The people have been calling — they're so happy, they're thrilled. Everybody is excited but now there are issues [because] for you to get in, you have to have an appointment and there is a process," he said.
Desulme described the market as a tiny Winn-Dixie stocked with pasta, dried milk, and canned goods. It also has dairy, meat and fresh fruits and vegetables. The pantry is open to residents on Mondays, Wednesdays, and Fridays by appointment only.
The new program was made possible through the assistance of multiple organizations. Feeding South Florida, a hunger-relief non-profit, received funding from the Florida Blue Foundation to select a city where it could help decrease food insecurity. Feeding South Florida chose to open the food pantry in North Miami after meeting with Desulme and receiving support from City Manager Larry Spring, said Sari Vatske, the executive vice president of Feeding South Florida.
"Given that this is a great new area of need and there was that community support for it, we felt like this location was one of the ones that made sense," she said.
But what sets this food pantry apart from other community pantries is that the state government has invested $50,000 into the project. The city has also invested $50,000 into the program, as well as provided space, equipment, and technical assistance needed. In early June, the city unanimously voted to allocate funding to the market. With the help of the sponsors and funding from the state and city governments, Desulme said the pantry's yearly budget is around $400,000.
The market will be staffed by one full-time employee from Feeding South Florida and a part-time employee hired by the city. A group of volunteers from Feeding South Florida will also be lending a hand in the running of the pantry, said Vatske.
This program is the first of its kind, and it's still working out some kinks, said Desulme. To handle the volume of residents wanting access to the pantry, he said they hope to open another pantry on the east side of the city. Feeding South Florida is also keen to expand its investment in municipal food pantries eventually.
"We are looking at this as a pilot program, and so with any pilot, there are things to work out and refine in the first year. So we are really looking at this as an opportunity to do just that, so when we expand it, we have a more perfect model," said Vatske.
The city's aim isn't only to feed the community, they also hope to educate residents on nutrition, said Desulme. One of the reasons residents have to book an appointment to visit the pantry is because a staff member works one-on-one with the shopper to talk them through the food options and how to create a balanced and nutritious diet.
The city also hopes the food pantry provides residents with more freedom with their money, said North Miami Mayor Philippe Bien-Aime. "North Miami families will now have access to much needed healthy food options, at no cost to them. These savings will allow them to use the money they would normally spend on groceries for other household necessities," he said in a press release.
NoMi Food Market is located at 12500 NW 13th Ave. Residents can book appointments by calling (305) 953-3053.