No small feat: Paco Vélez leading South Florida's largest food bank through the pandemic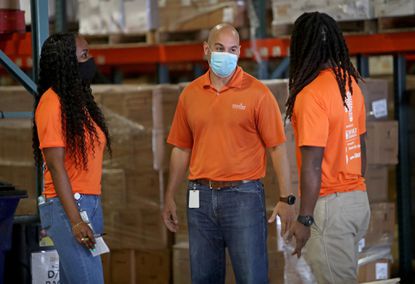 Paco Vélez never imagined what awaited him in South Florida when he arrived eight years ago from San Antonio, to become the president and CEO of Feeding South Florida, the largest nonprofit organization that distributes food to needy households in the region.
Vélez, after guiding the group through financial, distribution and organizational improvements, is now leading one of the largest food banks in the state through massive demands from the COVID-19 pandemic in one of the most contagious areas in the country.
In the first half of 2020, the food bank saw its service double in relation to the 2019.
"Last year Feeding South Florida distributed 61.5 million pounds of food in the four-county area: Palm Beach, Broward, Miami-Dade and Monroe, and so far in 2020 we have distributed 118 million through June 30. We have doubled service in South Florida," he said.
Amid the pandemic and job crisis, hundreds of cars are lining up and waiting hours to receive free food from Feeding South Florida. Milk, eggs, chicken, and vegetables are offered under safety regulations from the Centers for Disease Control and Prevention to avoid the spread of the coronavirus.
"Last year we offered service to 706,000 people, and if we continue as we have done so far we will serve more than 1.3 million people in the area," said Velez, 46, of Hollywood.
"What we are experiencing is something that you do not anticipate. I never thought that something like this would happen."
Through a network of about 400 partner nonprofit agencies and direct-service programs, Feeding South Florida puts food on the tables of thousands of people who struggle daily in the pandemic that has increased the food insecurity crisis. And the service increased last Sunday, when Feeding South Florida virtually launched its new community kitchen in Boynton Beach.
"The kitchen will serve as a food production site, a culinary training program, corporate social catering, and a training and development space for program graduates and to offer healthy cooking classes," Velez said before the opening.
Although the kitchen is located in Palm Beach County, it is intended to provide meals to nearly 1.3 million people in the four counties that Feeding South Florida serves, the organization says.
The kitchen is part of Feeding South Florida's mission to end hunger in South Florida by serving up to 10,000 meals per day for summer and after-school programs for children, senior meals, and medically personalized meals. The kitchen also will provide critical meals during disaster response.
"This community kitchen is a vision that Feeding South Florida has had for quite some time, and we are very excited to finally present it to the community," said Velez. "This is just the beginning, because the kitchen will serve the community by providing meals, workforce training, catering as social innovation, an incubator for community support, and family cooking classes."
Live to serve
"When the pandemic started, the first thing that crossed my mind was: 'What can we do as an organization since we have the responsibility to serve the community more than ever?'" Vélez said. "I also thought about how to serve without putting our team and volunteers at risk. But they themselves told me that we had no choice. We had to serve the community. This is our job. This is our mission."
A mission that was clear to Velez from a young age, growing up in the small border town of Eagle Pass, in southeast Texas.
"I love to serve. As a young man I served as an altar boy in church every day, and it was something I really enjoyed. I did it for four years," Vélez said. "And when I graduated from college, I started working at Walmart in customer service and I loved helping people find what they were looking for … until later I realized that serving was really what I was called to do, it was my destiny, my role in life.
"This work not only allows me to impact the community and serve our families, but to help our volunteers have the opportunity to get involved with the community and serve," he said.
Through all his work, he says he is proud of his Hispanic roots.
"It wasn't until I moved to Florida that I realized the sense of pride in being Hispanic," he said.
He enjoys, he says, the variety of dialects that exist. "There are Cubans, Colombians, Puerto Ricans, Mexicans, Cubans … it is beautiful, and Spanish, although it has many dialects, is what unites us," he said.
In the town he grew up in, he recalls, most — "99.9%" —were Hispanic.
"Where I grew up there were doctors, lawyers, the mayor … they were all Hispanic. It was normal for there to be many Latinos in positions of authority," Vélez said. "Going to college in San Antonio, Texas, I realized that not everything was like the town where I grew up."
That is why the new Feeding South Florida kitchen is so important to Vélez, because it promises to give new opportunities to those who need it.
Feeding South Florida is a member of the Feeding America food bank network and the leading national hunger relief organization serving Palm Beach, Broward, Miami-Dade and Monroe counties. More information on food pick-up locations and volunteer opportunities can be found at feedingsouthflorida.org/covid19.
By: Yvonne H. Valdez
Originally published on July 14, 2020 by South Florida Sun Sentinel. Click here to view original article.