Feeding South Florida's Monthly Spotlight: December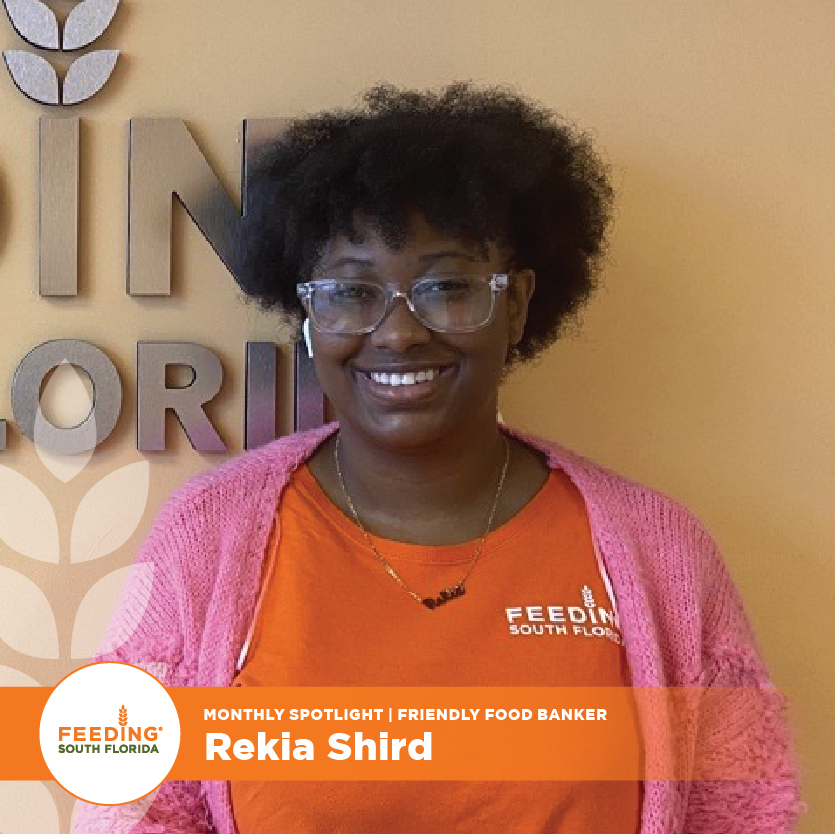 Friendly Food Banker of the Month: Rekia Shird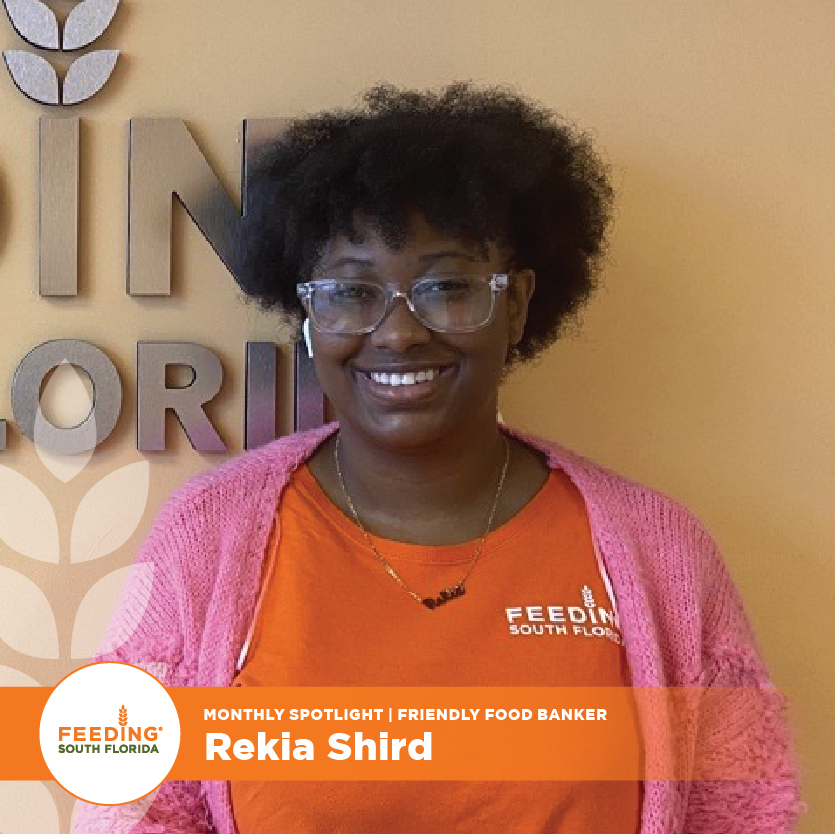 Hometown: Fort Lauderdale, FL 
What is your role at Feeding South Florida? Donor Relations Coordinator! 
How long have you been with the organization? 11 months. 
How has your career grown since starting at Feeding South Florida? My degree is in Computer Science and Business, but I've always had a passion for nonprofits. I've volunteered and been part of many organizations, so working here seemed like a natural fit. Coming here, everyone was so flexible and willing to help me build this role into something that suits me. I've been able to grow substantially and work on a lot of larger scale projects.
What do you want people to know about Feeding South Florida? When I first came here, I thought Feeding South Florida was just a food bank. Since working here, I see how much more we as an organization do: advocating for healthier food choices, investing in career development programs, opening our community kitchen, implementing our after school and senior programs, etc. I just want everyone to know how much more we're doing here.
Is there a mission moment or story that sticks with you that reminds you why Feeding South Florida's role in the community is so critical? When I first started working here, a woman called me and wanted to donate $2,000. I pulled up her account and saw that she had donated before, but only in smaller increments. When I asked her what made her want to donate, she shared that two years ago she was laid off and homeless and she came to us for assistance. Now that she was back on her feet, she saved up money to donate it back. It was such a full-circle moment, for her to go from needing our assistance, to being someone who helps us assist others was just a really special moment.
What is your favorite thing about working at Feeding South Florida? This is my first job post college. I was so nervous coming in, but the first day everyone was so welcoming and kind. The tight knit culture and comradery between everyone in the organization was immediately felt from day one. Not only are we close with each other, but we're so close with the community as well.
Anything else you want to add? Questions about donating or wanting to donate? Give me a call!
Volunteer: Jeanne Stinchcomb 
Our Volunteer Coordinator refers to our December Volunteer as a "Beacon of light in our Community Caring Center." Each day she volunteers, Jeanne brings a passion for serving the community and demonstrates Feeding South Florida's core values of service, compassion, dedication, integrity, and stewardship with each and every client she assists.
Jeanne started volunteering with Feeding South Florida in April of 2020 and has donated 473 hours since then. "When COVID hit, the original organizations I volunteered with shut down. I asked myself who could still be operating during COVID, and I realized that people always need food regardless of the pandemic. I had been a donor of Feeding South Florida forever and I wanted to do more to help."
When she started volunteering, we had switched to a contactless shopping experience in our pantry. Jeanne was instrumental in the functionality of it, ensuring that people still received what they wanted when coming to Feeding South Florida.
Giving back to the community at Feeding South Florida has become a vital part of Jeanne's life. "We're not here to see how much we could do for ourselves, we're here to do good for others. I would tell someone who was thinking about volunteering with Feeding South Florida to just go for it! There is nothing better than doing something for someone else. I feel like I get so much more out of this experience than I give," she said.
Thank you, Jeanne, for your endless contributions to our organization!
Partner Agency: Health in the Hood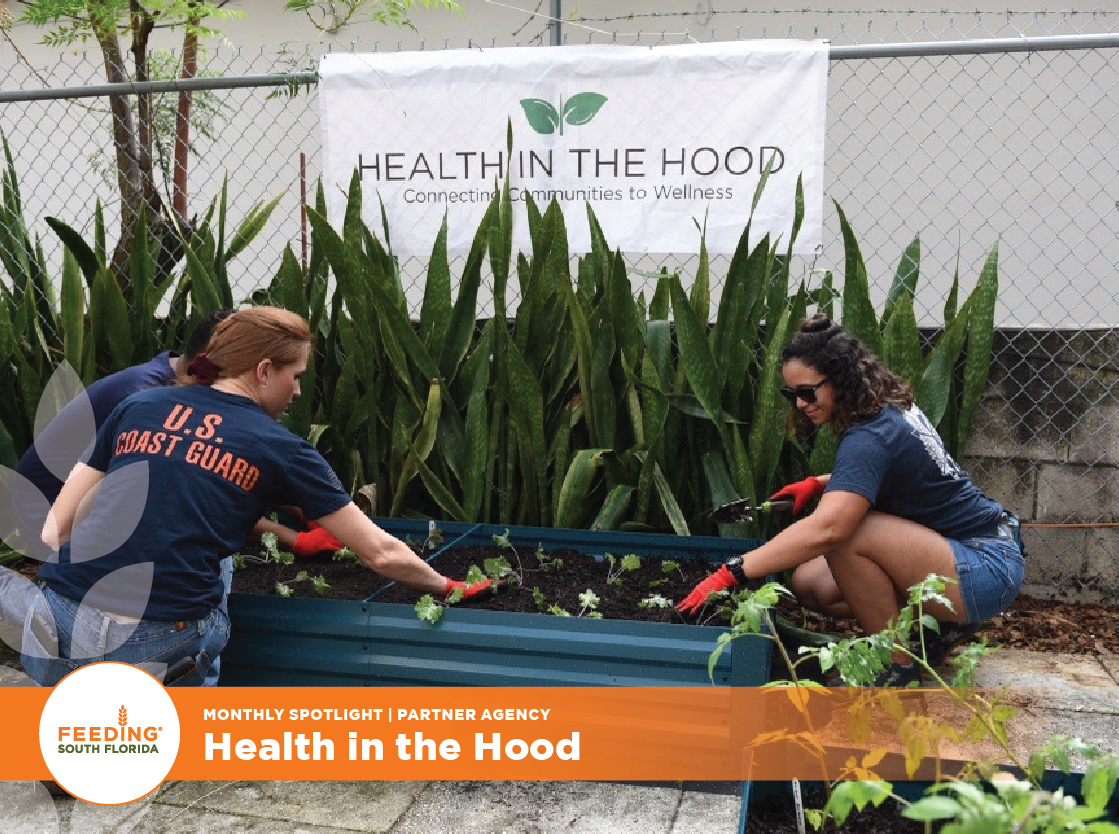 In April of 2020, at the height of the pandemic, Health in the Hood became a Partner Agency of Feeding South. By supplying access to fresh food and health education in low-income neighborhoods, Health in the Hood works to put children on the path to a healthy future, give parents useful information and create environments that make healthy choices easy.
We recently spoke with SheIby Salley, a volunteer turned full time Director of Distributions for Health in the Hood. "For me personally, working with Feeding South Florida directly, has been so helpful. Y'all are very on top of things and very willing to help! There's been times that I'm trying to figure out a solution or answer a question and everybody I've come into contact within those scenarios have been very easygoing and helpful."
Serving over 500+ households a month, Health in the Hood has developed numerous new ways to put food into the community. Every Tuesday Shelby receives food from Feeding South Florida that is given to the Opa-Locka community in a drive-thru distribution. Through these, Health in the Hood connects with a vast senior population to ensure they have access to healthy food choices each week.
At each distribution, Shelby experiences moments that remind her of the importance of our mission. "When you put food in the car and look people in the eyes, you can see them start tearing up with gratitude. I've had many people say that they just don't have the means to pay the bills and buy food because everything adds up. They are full of gratitude for helping them provide meals for their family."
Donor: Ryder System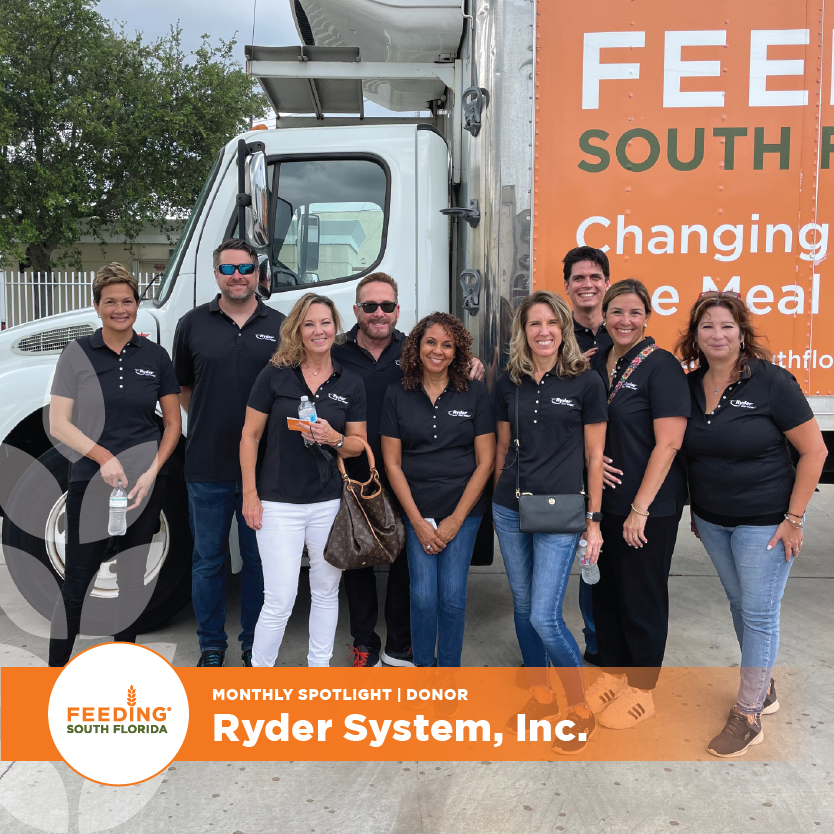 Ryder Systems relationship with Feeding South Florida began in 2020 just as the pandemic was starting to really impact the community. While Ryder has had many employees volunteer with Feeding South Florida over the years, because of our response to the COVID-19 pandemic, they wanted to increase their involvement.
We recently interviewed Kitty Dumas, from Ryder Systems, to get their perspective on why they continue to be strong supporters of our mission.
Can you speak on Ryder's relationship with Feeding South Florida? Feeding South Florida's response to such widespread need was probably the best, most incredible example of what this organization is all about. It was a crisis like nothing we had ever seen before, with long lines every day, new safety protocols, and an underlying fear about the future. Feeding South Florida was able to meet those needs with compassion, efficiency, and a tremendous amount of hard work. We are proud to be a supporter.
What originally led you to donate to Feeding South Florida/why have you continued to give? Our employees have really led the charge with their passion for this organization. Over the years, they have given their time and money, and we want to support their efforts and this community. Stephanie Wicky, Vice President of Marketing for Ryder, is a dedicated board member and advocate for Feeding South Florida.
In addition to employee involvement, we continue to give because of the organization's track record including during the pandemic. Its leadership has been recognized time and again for their management and commitment.
Do you have a specific memory with Feeding South Florida that sticks out to you?All of us at Ryder remember 2020 and the images of long drive-thru lines as people in need received food from Feeding South Florida. Feeding people who need help is what Feeding South Florida does every day, but these images were particularly powerful.
What do you wish other people knew about Feeding South Florida? I wish other people knew how innovative this organization is in its effort to better serve this community and eliminate hunger. One way they're doing that is through effective job training to address one of the underlying causes of hunger.