Miami Dolphins and UnitedHealthcare Sack Hunger in South Florida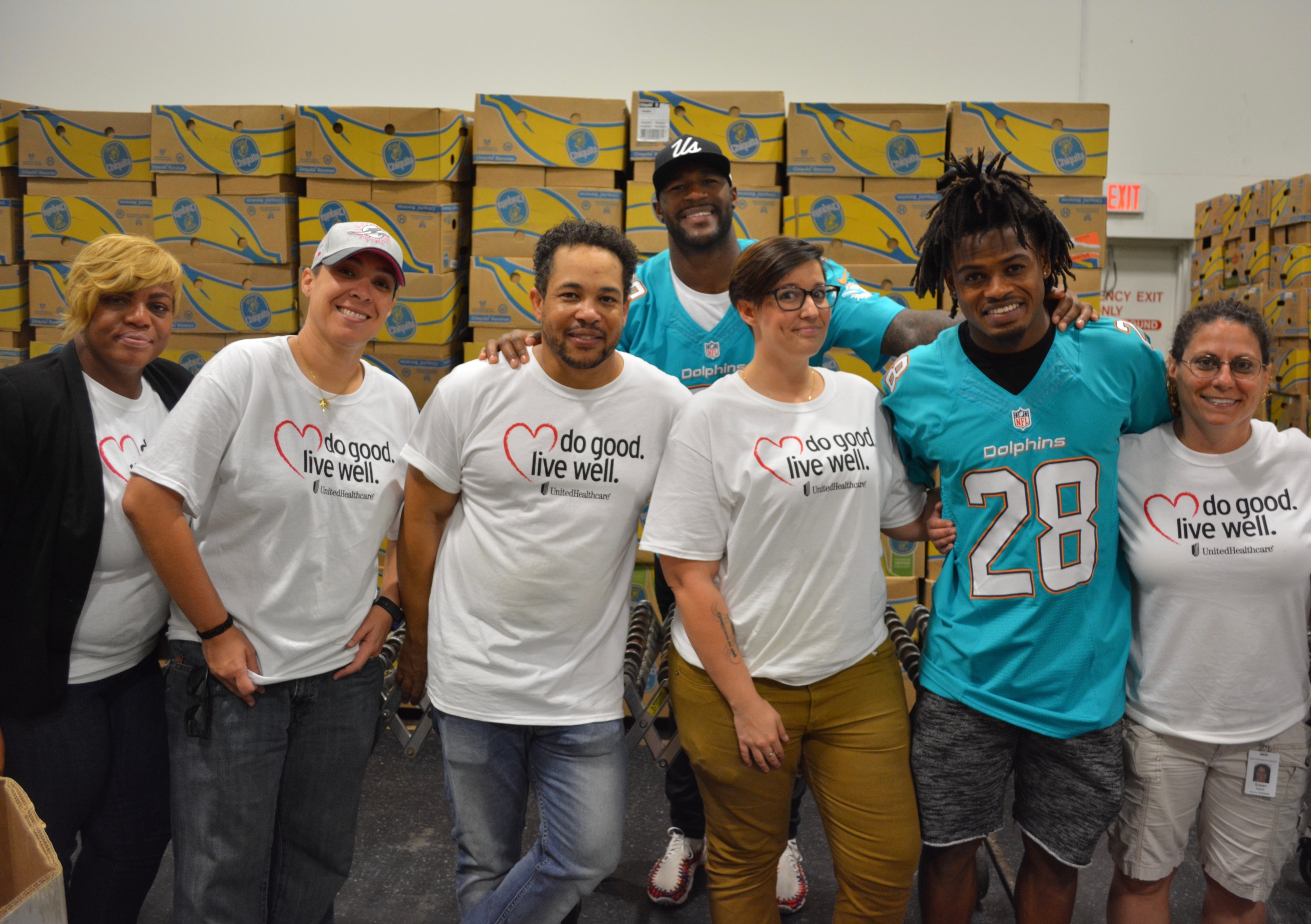 Miami Dolphins players and UnitedHealthcare employees will volunteer at Feeding South Florida's Sort Room as part of Sack Hunger partnership

PEMBROKE PARK, Fla. (Oct. 11, 2016) – On Tuesday, Oct. 18, Miami Dolphins players and 100 employees from UnitedHealthcare will volunteer at Feeding South Florida's Sort Room from 1 to 4 p.m.
The project will celebrate the fourth annual Sack Hunger campaign, in which UnitedHealthcare donates 1,200 meals to Feeding South Florida for each sack made by the Dolphins defense during the 2016-2017 season.
"I know how important the services of Feeding South Florida are in this community, and I'm excited to once again partner with UnitedHealthcare as part of the Sack Hunger campaign," said Jelani Jenkins, Miami Dolphins linebacker and campaign spokesman.
Feeding South Florida rescues 44 million pounds of food per year from various sources to prevent it from being wasted. Before the nonprofit can distribute it, the product needs to be inspected and sorted to ensure the food is safe for consumption. Volunteers will work to inspect, sort, categorize and clean the food during this three-hour volunteer project.
"UnitedHealthcare's support enables us to provide food items and fresh produce to the working families, children and older adults who are in need of food assistance," said Paco Vélez, president and CEO, Feeding South Florida.
"UnitedHealthcare is grateful for the opportunity to work with the Miami Dolphins to ensure people have access to fresh, healthy food and to help build healthier communities in South Florida," said Nicholas Zaffiris, CEO, UnitedHealthcare of South Florida.
This project is the latest in UnitedHealthcare's "Do Good. Live Well." program, an employee-volunteer initiative aimed at preventing hunger and obesity, inspire service and encourage volunteerism. For more information about the benefits of volunteering and to find local opportunities to get involved, visit www.DoGoodLiveWell.org. Follow @DoGoodLiveWell on Twitter or "like" Do Good. Live Well. on Facebook.
UnitedHealthcare serves more than 3.2 million people in Florida with a network of 225 hospitals and other health facilities and more than 45,000 physicians and other care providers statewide.