Miami Dolphins Feed More Than 8,500 Throughout South Florida With Thanksgiving Meals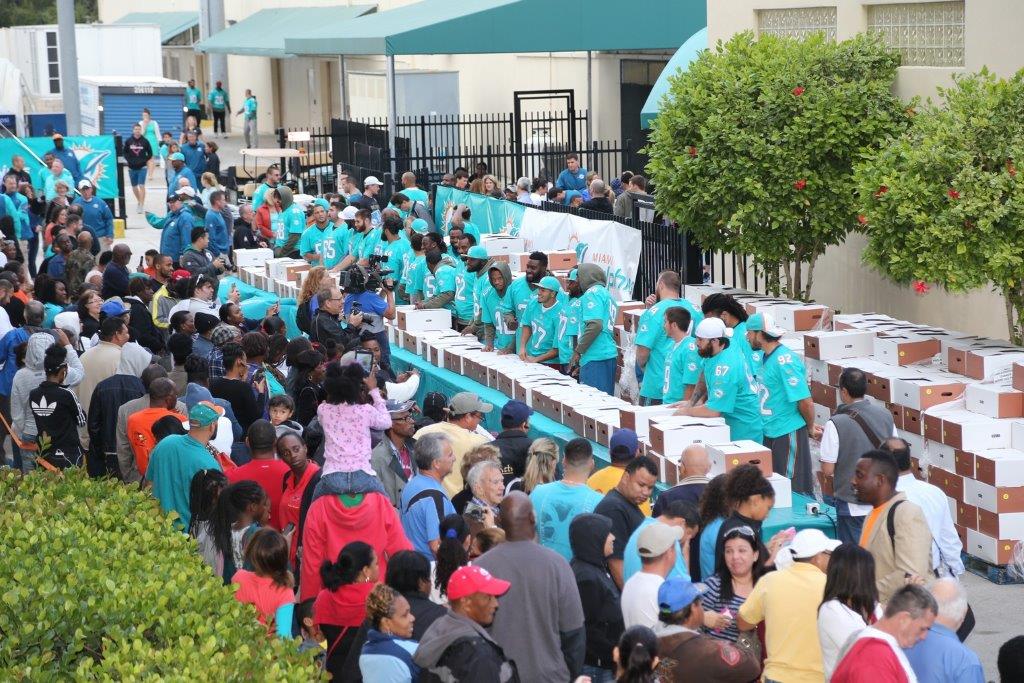 The Miami Dolphins continued their longstanding tradition of assisting the community and those in need during the 2019 season. Players, cheerleaders, alumni, and staff collaborated to feed more than 8,500 members of the South Florida community throughout November.
"We look to impact and unite the South Florida community in ways that are meaningful and engaging throughout the year and always seek opportunities to give back during the holiday season," Miami Dolphins Senior Vice President of Communications and Community Affairs Jason Jenkins said. "We have committed leadership in Stephen Ross, Tom Garfinkel and Chris Grier who recognize our role as stewards in the community to make this Thanksgiving enjoyable for everyone."
Miami Dolphins Thanksgiving distribution events included:
As part of the Miami Dolphins FOOTBALL UNITES™ Bigs in Blue program, Dolphins rookies joined youth from Big Brothers Big Sisters of Broward, Big Brothers Big Sisters of Miami and local law enforcement officers to participate in the Dolphins Kids Cook-off presented by Publix on Tuesday, Nov. 12. The group gathered for an evening of fellowship and bonding through an interactive cooking class and the students received $100 Publix gift card to help with groceries for the upcoming holiday season.
In partnership with Miami-Dade Mayor Carlos Gimenez and Miami-Dade Commissioners, the Miami Dolphins distributed turkeys and gift cards to more than 600 families throughout Miami-Dade County. The distributions kicked off with Dolphins' alumni, Youth and Community Programs Manager Troy Drayton along with Youth Programs Ambassador Twan Russell, cheerleaders and Dolphins staff distributing 50 turkeys to the students of Mater Elementary with Commissioner Jose Diaz on Monday, Nov. 18. Miami Dolphins alumni Troy Drayton, Senior Vice President of Special Projects and Alumni Relations Nat Moore and Twan Russell joined Miami-Dade County Mayor Gimenez later that afternoon to distribute 100 additional turkeys to Curly's House of Style in Liberty City, Miami.
Miami Dolphins alumni Elmer Bailey and Larry Ball, cheerleaders and the Dolphins met with students of the Leadership Learning Center at St. John Bosco and distributed 50 turkeys on Friday, Nov. 22.
The Miami Dolphins and Dolphins cornerback Xavien Howard provided Thanksgiving meals to 20 local youth and their families at Hard Rock Stadium on Monday, Nov. 25. The Publix meal boxes included a turkey and sides and were distributed to pre-selected families from Generational Cure, a FOOTBALL UNITES™ community partner.
Miami Dolphins defensive tackle Davon Godchaux and teammates hosted the first-ever Chauxdown for Thanksgiving dinner in collaboration with Publix for 70 youth from FOOTBALL UNITES™ partnering programs 5000 Role Models, Big Brothers Big Sisters of Broward County, Boys & Girls Club Miami, the Palm Beach Sheriffs' Office, Pridelines, North Miami Police Athletic League (PAL), North Miami Beach PAL, Trayvon Martin Foundation, The Mavuno Project, Urban League of Broward County and YWCA on Monday, Nov. 25. Additionally, each child went home with a Publix gift card to help with groceries for the upcoming holiday season.
Miami Dolphins Head Coach Brian Flores, players Kevin Cone, Kenneth Farrow, Anthony Fasano, Matt Haack, Trent Harris, Jonathan Ledbetter, Raekwon McMillan, Avery Moss, Anthony Moten, Nik Needham, Francis Owusu, Eric Rowe, Jake Rudock, Jason Sanders, Andrew Van Ginkel, J'Marcus Webb and Jomal Wiltz along with T.D., the Miami Dolphins Women's Organization and staff in collaboration with Feeding South Florida lined up to distribute 500 Thanksgiving meals from Publix to local families in the South Florida area on Tuesday, Nov. 26. Purchased through player donations, the traditional meal kits were capable of feeding a household of 6-8 people and consisted of a turkey, fresh produce and sides.
Miami Dolphins defensive tackle Christian Wilkins teamed up with the Fort Lauderdale Police Department to surprise families throughout Fort Lauderdale and deliver Publix Thanksgiving meal boxes on Tuesday Nov. 26.
Miami Dolphins alumnus Donald Brown, cheerleaders and staff followed up by picking up and delivering 50 turkeys to Commissioner Rebeca Sosa's District Office in West Miami on Tuesday, Nov. 26.
With the support of the Miami Dolphins, defensive tackle Davon Godchaux, defensive tackle Kendrick Norton and wide receiver Albert Wilson hosted additional turkey distributions throughout the South Florida community with Godchaux's distribution providing 200 turkeys, Norton's distribution with 100 turkeys and Wilson's event distributing 50 turkeys.
These events are part of an ongoing series of the #DolphinsHuddlefor100 service projects as part of the NFL's 100th celebration. The NFL has invited fans, players, clubs, and employees to join Huddle for 100, an effort to inspire 1 million people to volunteer 100 minutes of their time to make meaningful contributions to their communities. These activities are in connection with the Miami Dolphins' initiative to level the playing field through the power of teamwork to inspire a healthier, more educated and united South Florida community.
For more information on the NFL Huddle and to see volunteer opportunities with the Dolphins, visit https://www.miamidolphins.com/community/specialteams.