Miami Dolphins Distribute 500 Meals for Thanksgiving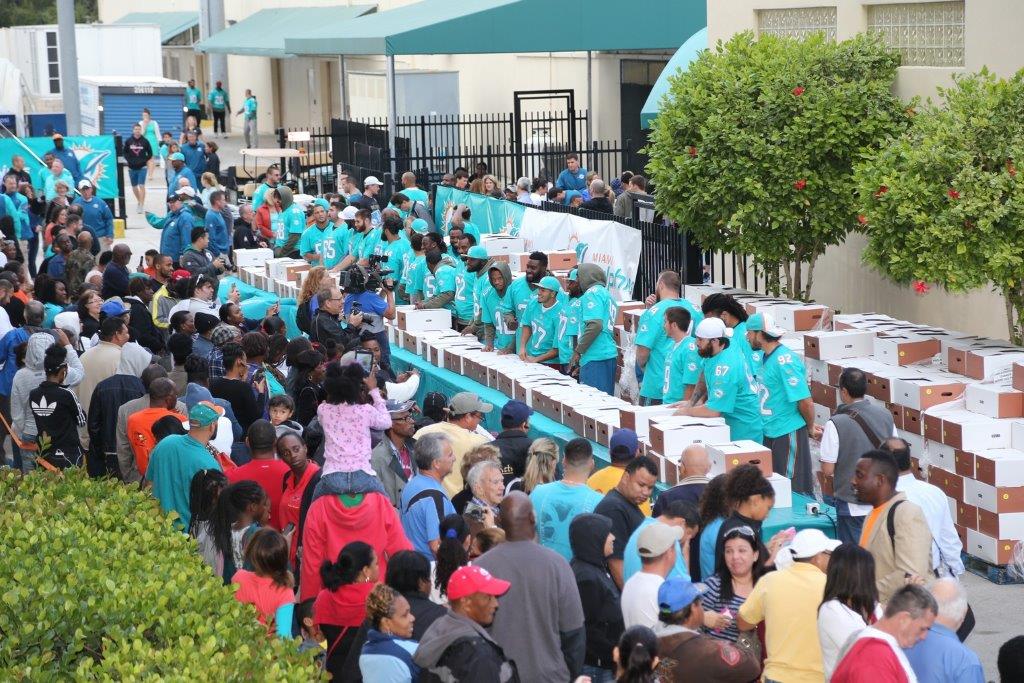 Davie, Fla — Miami Dolphins players, coaches, mascot T.D. and Miami Dolphins Women's Organization members (MDWO), in partnership with Publix, distributed 500 Publix Thanksgiving Dinners to 50 nonprofit partner agencies selected by Feeding South Florida.
"Feeding South Florida is grateful for the ongoing support of the Miami Dolphins throughout the year, but especially during the holidays. Thanks to the players, coaches, wives and team for helping serve 500 families struggling to put food on the table," said Feeding South Florida Vice President of Community Relations Sari Vatske.
Coach Joe Philbin kicked off the event welcoming families to Doctor's Hospital Training Facility at Nova Southeastern University. Members of the Miami Dolphins family were there to greet families when they arrived, escort them through the distribution line, then assist in taking the meals to the families' cars.
"It's great that Publix is involved, Feeding South Florida and the players just do a fantastic job as well as the coaches and staff that are generous giving both their financial support and their time to people who are less fortunate in the community. Thanksgiving is a special holiday for everybody, for families. And that we can make a small difference in the lives of these families is great", said Coach Philbin.
The meals, which include a turkey, mashed potatoes, stuffing, turkey gravy, cranberry orange relish and a marshmallow delight, feed a family of 7-10 members. The meals were funded by Miami Dolphins players and coaches.