Marlins Partner with Feeding South Florida for Thanksgiving Meal Giveaway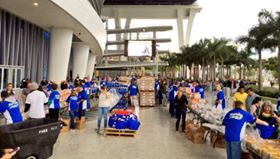 MIAMI (WSVN) — The Miami Marlins and other committed organizations stepped up to the plate Friday to help feed thousands of less fortunate South Floridians this Thanksgiving.
The day of turkey giveaways got started in Miami's Overtown neighborhood, where the Overtown Neighborhood Enhancement Team and Miami Mayor's Office joined forces with nonprofit Curley's House at Williams Park. People standing in line at couldn't contain their excitement. Two spirited women even danced for 7News cameras.
Some of the turkey recipients expressed their gratitude. "I'm a single dad, I have a 3-year-old son and a 2-year-old daughter. I'm trying to get them a turkey for Thanksgiving," said Keith Williams.
"I'm happy that they're giving out turkeys, cause unfortunately I'm unemployed, and I'm homeless, so thank God for what they did," said Virginia Faison.
At the Little Haiti Soccer Park, Cash Money Records brought their New Orleans turkey giveaway tradition to South Florida for a third year in a row. Some of the record label's artists passed out turkeys to Little Haiti residents who waited in the rain to be able to feed their families. "It's raining a lot of time since 11 o'clock … but on the end [there's a] payoff," said Philip Johnson.
In Downtown Miami, some found refuge under tents, where they also found turkeys, thanks to the Miami Police Department and its partners.
The biggest crowd, however, gathered at Marlins Park in Little Havana. The Marlins hosted their fourth annual event together with Feeding South Florida. "Seeing all these happy faces knowing they're going to have filled tummies for this holiday season is a good thing," said Marlins President David Samson.
Partner organization identified families in need. "You know, it was something surprising that they called me today, and it's something that is very necessary; a lot of people need it," said Jennifer Palma.
In total, the home team helped feed 1,000 families with all the traditional Thanksgiving fixings. "A turkey, stuffing, cranberry, bananas, everything," said Melissa Charleus as she listed the contents in her bag. "It's a great thing that they're doing, giving back to the people of the community. I'm thankful and grateful that they're here for us."
Samson got so much into the spirit of the season that he handed 7News reporter Eugene Ramirez and his camera operator orange baseball caps with the new Marlins logo.
To view the original post, click here.