Hunger Common Among Older Adults in South Florida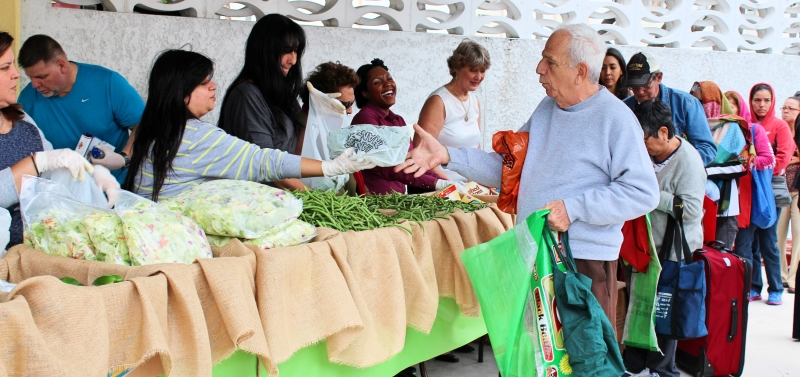 By Carla Hall, Lisa Marsh Ryerson
South Florida is the land of sunshine, but for too many of its residents, a dark cloud obscures their brightest hopes and dreams. It's the cloud of hunger, of the simple, basic need to have food on the table every day.
Hunger knows no boundaries. It affects all ages and races in cities, towns and rural areas across the U.S. In our great land of plenty, it's been a problem for far too long. But hunger is not an insurmountable problem here in South Florida or elsewhere in America. The solution lies in the collective efforts of communities.
Feeding America has estimated that each year, roughly 152.7 million meals are missing from the tables of those at risk of hunger in South Florida. And in Miami-Dade County alone, 384,390 people — 15.3 percent of the county's population — don't know where they'll get their next meal.
The way we see it, any conversation that brings attention to hunger in any community across the country is valuable. That's because every time hunger is discussed, we raise awareness and come one step closer to finding a potential solution for feeding those in need. But while many studies and news stories have shined a light on hunger among certain important groups like children, they have shied away from other potentially vulnerable populations — particularly, America's older adults.
In South Florida, one in seven older adults faces the choice between paying for rent, medication or food.
Across America, more than 10 million older adults are at risk of hunger. AARP Foundation has estimated that over the past year, a whopping 40 percent of low-income people aged 50 and older have had to cut down on, skip meals or eat less nutritiously because they couldn't afford to do otherwise.
One of the great misconceptions about hunger is that it means simply not getting enough to eat. But for Miami's older adults, hunger can lead to a myriad of other problems. Food insecurity in older adults is linked to lower nutrient intake and an increased risk for chronic health conditions like diabetes, hypertension and depression. To give you an idea, food insecure seniors are 60 percent more likely to experience depression than their food secure counterparts.
So what can be done about it?
This Friday, we'll be participating in a meal-packing activity to benefit Feeding South Florida  on the exhibit floor of the Miami Beach Convention Center. If you can't make it, give back to your community and give back often. Volunteer at a local food bank, food pantry or community kitchen. Help a loved one or a friend sign up for food assistance. Create a food drive at a local school or in your neighborhood. Consider donating to AARP Foundation for its Drive to End Hunger initiative or one of the many Miami-based nonprofits that fight the growing problem of hunger.
Chef Carla Hall is co-host of ABC's "The Chew," and Lisa Marsh Ryerson is president of the AARP Foundation.
To see the original story, click here.