Mobile FARMacy bringing grocery store on wheels to food-insecure neighborhoods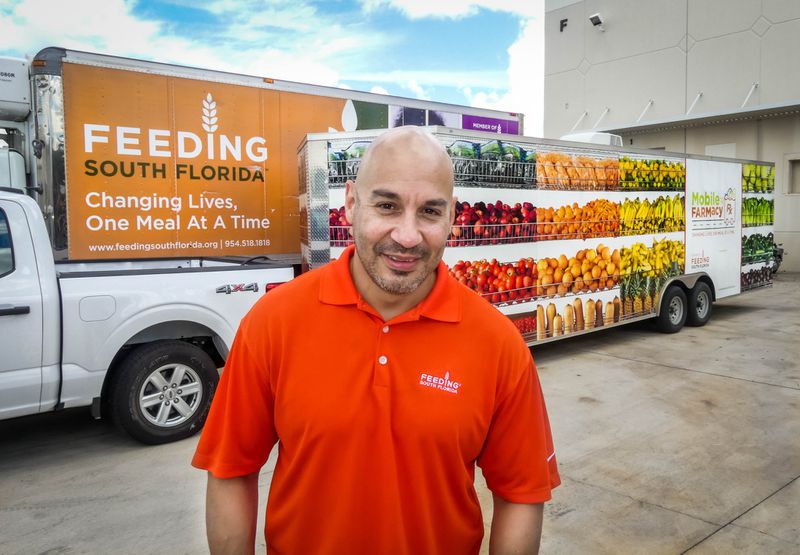 For anyone experiencing food insecurity, help may be on the way to a neighborhood near you. Thanks to the new Mobile FARMacy, a pickup truck-pulled trailer from Feeding South Florida, seniors and transportation-compromised residents of Broward and Palm Beach counties will have much quicker access to a mini grocery store stocked with fresh, healthy food.
Now, because of an innovative approach to food delivery, those in need won't always have to go to a distribution center to pick up goods.
The Mobile FARMacy is a one-aisle, air-conditioned mobile grocery store that transports a mixture of donated items, farmers' market for-sale items, and an educational unit to neighborhoods.
Seniors and transportation-compromised residents of Broward and Palm Beach counties will have much quicker access to a mini grocery store with fresh, healthy food.
The new food trailer operates under the idea that food is medicine, which guides the philosophy of what kind of nutrition is needed by residents. It also lets people choose what kinds of food works best for themselves and their families, rather than just having to take whatever is provided to them.
Paco Vélez is president and CEO of Feeding South Florida, a Pembroke Park- and Boynton Beach-based domestic hunger-relief organization. He said he is passionate about the idea of removing blocks to communities of people receiving the healthiest food possible.
"The Mobile FARMacy is a way to get the convenience of fresh, healthy produce, frozen proteins, dairy, eggs, and other food items out to areas where families and individuals can come in and shop in a mobile grocery store," he said. "Ordinarily, they wouldn't be able to shop for those kinds of items. The mobile unit eliminates the need for customers to have transportation."
Vélez said that the food trailer is their first attempt at this idea. Most of their food trucks can't go to neighborhoods because they're too big to maneuver.
"We wanted to do something small enough to prove the concept and see how it works," he said. "The families that we serve don't really have fair and equitable access to healthy food."
Vélez points out that it's not just about access but also about choice.
"Instead of going into the store and telling them, 'Here's what you're going to eat,' they are able to go into the Mobile FARMacy and choose what food they want based on their cultural preferences. The folks that we're serving are pretty diverse. Some also have religious restrictions or allergies in their household."
The food stays cool in the truck because the unit is powered by a generator, and there's even a refrigerator inside.
"It's similar to creating a store," Vélez said. "You have to think about everything involved, including power, air conditioning and even making it digitally-equipped to take SNAP benefits."
While she doesn't take credit for inventing the idea, Executive Vice President Sari Vatske brought the idea for the Mobile FARMacy to Feeding South Florida from her meetings with their national partner Feeding America.
Vatske has worked with Feeding South Florida for 10 years and has been executive vice president for the last three years. She's now the leader of strategy and everything external with the organization.
"Back in 2017, we started working with Humana to look at how we can help improve the health of Broward County," Vatske said. "We did a trial looking at how food insecurity affects the number of unhealthy days, as defined by the CDC. We found that transportation is a consistent barrier to access, whether it's for kids or whether it's for older adults."
Health is often looked at from a disease standpoint, but wellness generally takes into account that nutrition is a key element, according to Vatske.
"The FARMacy is a natural part of the solution," she said. "It addresses multiple issues. It allows us to deal with food deserts and transportation. This way, we can bring a grocery store into any community."
Although the development of the trailer is a big deal, Vatske said it's just the start.
"The FARMacy is a pilot program and, based on first indicators, both clients and the community are responding well to it," she said. "We hope to be able to expand it and maybe have one unit per county."
The future for the mobile unit may have a larger potential, not just in reach, but also in the vehicle itself.
"For the future, we're looking at a larger, converted RV type of vehicle," Vatske said. "It would help with disaster response, plus we can have full cooking demonstrations inside of it. With a larger unit, we would have cold storage underneath. We could also have doors that roll out that would hold produce. A bigger vehicle would also help with COVID protocols since right now we're only allowing two people at a time to come through the market. So to be able to scale is something that we would love to do."
The Mobile FARMacy brings produce and other healthy foods at affordable prices to food deserts and low-income areas by eliminating the issue of transportation.
The unit accepts SNAP benefits.
Health care providers and other health organizations prescribe nutritious food as medicine.
The trailer provides food selections that speak to the history, experiences and traditions that serve different ethnic groups of South Florida.
The FARMacy can travel to senior centers and healthcare clinics to meet seniors where they are.
The FARMacy trailer was custom built. With all the electrical and other considerations, the unit cost about $350,000.
Feeding South Florida facts
Feeding South Florida met the needs of over 1 million individuals due to the COVID-19 pandemic during 2020–2021.
During the same year, they distributed 154 million pounds of food or 128.3 million meals.
The organization is celebrating its 40th anniversary.
Feeding South Florida serves Palm Beach, Broward, Miami-Dade and Monroe counties.
In South Florida, over 1 million people, including nearly 300,000 children, don't know where they will get their next meal.
Feeding South Florida is a member of the Feeding America network of food banks.
To donate, visit feedingsouthflorida.org/donate-now.
By: Scott Luxor
Originally published on August 26, 2021 by South Florida Sun Sentinel. View original article, here.
Image credit: Scott Luxor