For 16 straight weeks, a Tuesday food drive happens in Wellington – here's who to thank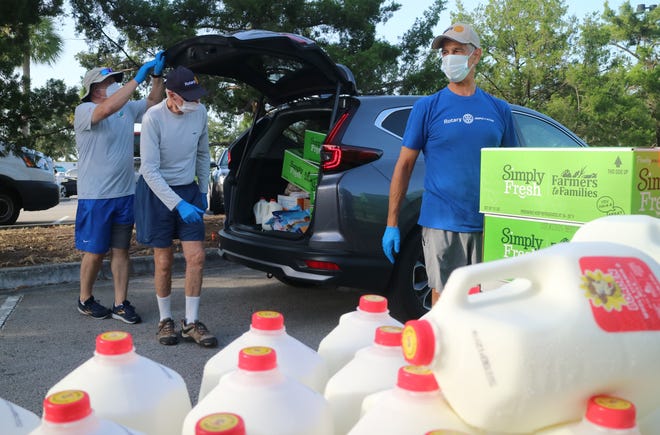 WELLINGTON — A van pulls up to the distribution line, its trunk open, the driver behind the wheel casting their eyes down as they adjust their mask. A "thank you" can be heard through the open lift gate as chicken, beef, fresh vegetables and fruit are loaded into the vehicle.
It's a scene replayed hundreds of times each Tuesday morning since Feeding South Florida opened its drive-thru distribution site at the Mall at Wellington Green to meet the needs of those who have felt the economic effects of the coronavirus pandemic.
It is one of several such sites for the organization, which runs largely on volunteers. And in Wellington, there is no shortage of volunteer power.
Several organizations come out week after week since the distributions launched more than four months ago. The site is now in its 16th week, and it will remain open at least through the end of September, officials have said.
Dozens of Wellington staff from every department plus the Village Council have stood side by side with the volunteers through rain and blazing heat to help provide those in need with a week's worth of food. The events run from 8 a.m. to 10 a.m., or until the day's allotment of 900 vouchers is distributed.
Among the organizations represented are the Crowned Pearls of Wellington, the Wellington Community Foundation, the Rotary Club of Wellington and Christ Community Church.
So far, more than 800,000 pounds of food has been distributed in Wellington by Feeding South Florida, with an average of 42,000 to 45,000 pounds of food loaded into cars each week, a Feeding South Florida spokesperson said.
The Wellington event began with feeding 700 families and now doles out 900 vouchers per week, the spokesperson said.
Volunteers are Feeding South Florida's lifeblood, especially since the COVID-19 pandemic has increased demand, executive vice president Sari Vatske said.
"We could not only serve the community without our partner agencies and city partners like Wellington, we could not do it without the hard work of volunteers who have been out there regularly, regardless of the heat, rain or other obstacles," Vatske said. "We're grateful for the support and sweat equity of each and every volunteer."
There have been some weeks where people line up as early as 4 a.m. outside the Mall at Wellington Green, in the parking lot near the former Nordstrom where Feeding South Florida sets up its operation each week, Wellington community services director Paulette Edwards said.
PBSO deputies arrive around 5 a.m. to direct traffic and help load food into cars, she said.
Jenny Pettis-Hassell is president of the Crowned Pearls of Wellington, a community interest organization of the national Alpha Kappa Alpha Sorority.
The group began as a social organization in 2018, and expanded into community service last year, she said. One of the opportunities that allowed the group to pursue was performing volunteer work with Wellington.
The Crowned Pearls began working in the community last year, and jumped at the opportunity to help with the food distribution events, Pettis-Hassell said.
"We thought it was a great, great thing to do," she said, adding, "We put our heart and soul into it."
Pettis-Hassell and other volunteers noted that they recognize some of the same vehicles pulling through the line each week.
"Your heart goes out to the community when you think about the need that's out there," she said.
The distribution site is an example of the kind of events that are typical in Wellington, said Mickey Smith of the Wellington Community Foundation and the Rotary Club of Wellington.
Smith has volunteered each week with Feeding South Florida in Wellington, and said he has been in awe of how organized the events are, moving from two lines for vehicles to four.
"It's sad and heartwarming at the same time," he said.
While other communities have to issue call-outs for volunteers each week to help with food lines, Wellington has not had that issue, Councilman John McGovern said.
"We couldn't be doing this without our partners," he said, adding, "In typical Wellington fashion, we have had community organization partners that have been with us from the very beginning."
McGovern stood side by side with others at the Aug. 25 distribution in Wellington, as he had eight or nine times previously, helping fill open space in vehicles with boxes of food.
"It's amazingly fulfilling to know we're assisting those in need, on the one hand," said McGovern, who grew up in Wellington. On the other hand, he said he never thought he would see the day when there would be food lines in the Village.
The tents for the distribution site are just a few dozen yards from a busy Palm Tran bus stop. McGovern said people come over and pick up boxes of food to take home.
He lauded Feeding South Florida's work in the region to provide something so essential for so many people who are struggling because of COVID-19.
"It has filled a need that no one could have imagined," McGovern said.
For more information or to get involved, go to volunteer.feedingsouthflorida.org.
By: Kristina Webb
Originally published on Sept. 1, 2020 by The Palm Beach Post. View original article here.