Florida Keys Free Press | Nonprofit, county partner to feed those in need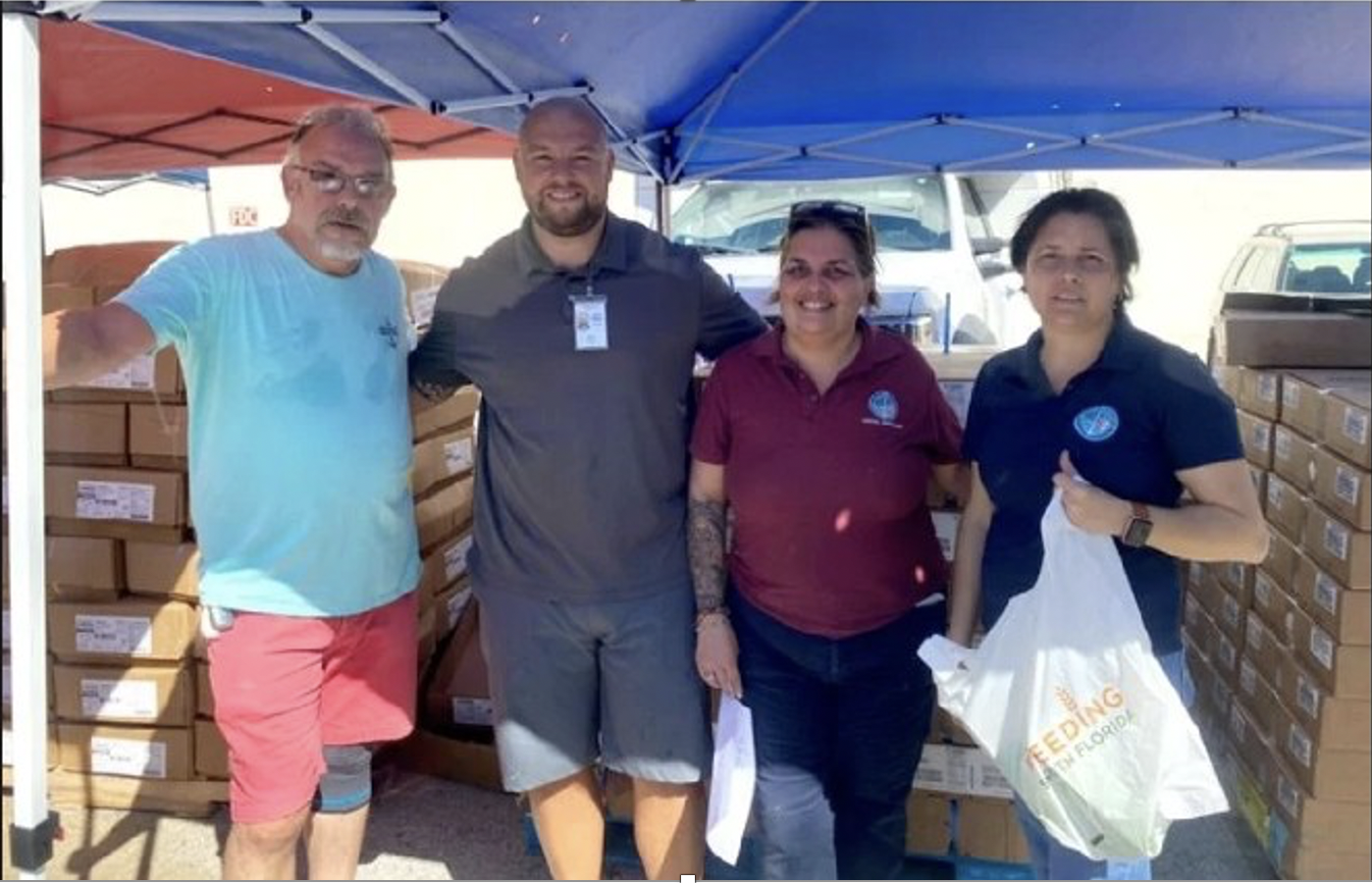 KEY LARGO – Feeding South Florida partnered with Monroe County Social Services to host a free food distribution event Friday, Feb. 2S, at Tradewinds Plaza in the parking lot behind the Monroe County Social Services bui1ding.
The event followed a socially distanced, drive-thru format to ensure safety from COVID-19 of those in need. The safety measures took special consideration to all residents, but are especially dedicated to elderly residents picking up food donations.
"A lot of people are still afraid to go to stores, especially the elderly and homebound," said Monroe County Social Services Upper Keys Lead Case Manager Lisset Bautista.
Starting at 10 a.m., hundreds of residents lined their cars behind the busy Key Largo shopping center. After waiting in line, residents were asked to open their vehicles' trunks so that Monroe County Social Services employees and Feeding South Florida volunteers could then deliver the food items in a safe, socially­ distanced manner.
Monroe County Social Services employees and Feeding South Florida volw1teers were responsible for delivering 34,582 pounds of food to the location and setting up tents and other temporary infrastructure for the Friday morning food drive.
This was the second drive-thru event co-hosted by Monroe County Social Services and Feeding South Florida, with the future goal being to put on the event on the final Friday of each month moving forward.
The reason for this is simple: food stamps and government assistance programs normally conclude at the end of the month.
"We want to provide additional food for families when their benefits run out in addition to what they get from pantries, said Sari Vatske, executive vice president at Feeding South Florida.
Families at the drive-thru were each portioned an equitable amount of hearty, healthy food.
"We make sure it's balanced, and we make sure everyone leaves with a lot of food, at least enough for a couple of weeks," Bautista said.
Each families' portion is divvied based on the number of individuals in the group, so when working the event, volunteers asked residents basic questions such as the size of the family and whether or not they had children.
"For example, if it's a family of four, they would get double chicken, five boxes of cereal, vegetables and pasta," she said.
Included in the nearly 35,000  pounds of food made accessible for families in need at the drive-in were 2,000 pounds of fresh potatoes, 3,172 pounds of milk and vegetables, 3,423 pounds of grape juice,1,600 pounds of leg and quarter cuts of chicken in 10-pound bags, 7,614 pounds of canned pink salmon, black beans and spaghetti sauce, 1,600 pounds of beef and ground beef, 2,942 pounds of cereal, pasta and spaghetti, 2,109 pounds of United States Department of Agriculture-approved bonus cereal, 3,072 pounds of ham and 4,059 pounds of peanut butter, beans and whole chicken.
Bautista estimated that more than 300 families were served at the event.
She noted the overwhelming support that helped make the event possible, including a helping hand from the Monroe County Sheriffs Office.
"We always have great support from the Monroe County Sheriffs Office. They help us move food boxes, and today they brought two tents to provide shade for food boxes," Bautista said.
"We are also fortunate and blessed to do major advertising with the local radio stations and through Facebook," she added.
Feeding South Florida and Monroe County Social Services have worked hand-in­-hand since the aftermath of Hurricane Irma in September 2017, when Monroe County began receiving assistance from the South Florida nonprofit that serves Sunshine State residents stretching from Palm Beach to Key West.
However, the two didn't become official partners until December 2021, as the big move required a fair share of paperwork to be completed by Sheryl Graham, senior director of Social Services, to make sure that Monroe County met feeding South Florida's stringent requirements, with tasks including several applications, sending a pest control log and more.
"We are grateful for the partnerships that allow us to do this such as working with Monroe County Social Services. It takes a village to make things happen, and we're grateful for the partnerships in the Keys that allow us to do this," Vatske said.
"This is a labor of love that we continue to do every day," Bautista said. "We are proud of our staff for serving the community. We have adjusted our work hours to make this possible. This is our baby. And with our new partnership with Feeding South Florida, we're able to double our outreach."
Residents interested in volunteering during future distribution events can reach out to Monroe County Social Services at 305-852-7125. After that, all that is required is some quick paperwork.
"Come help us, you will feel great at the end," Bautista said.
This article was originally published on March 3, 2022, by the Florida Keys Free Press. Click here to view the original article.