Feeding South Florida's Monthly Spotlight: October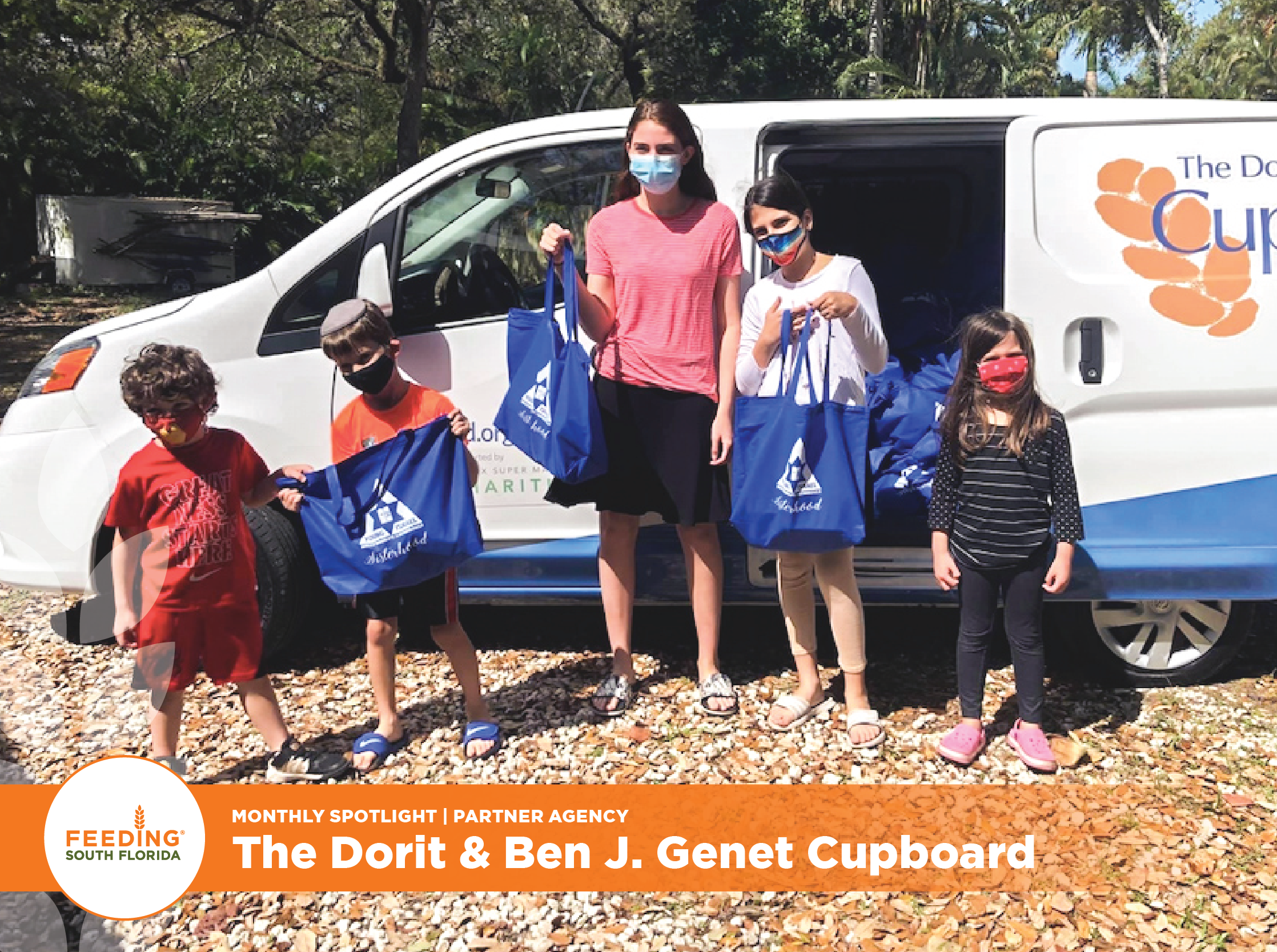 Friendly Food Banker: Edward Winter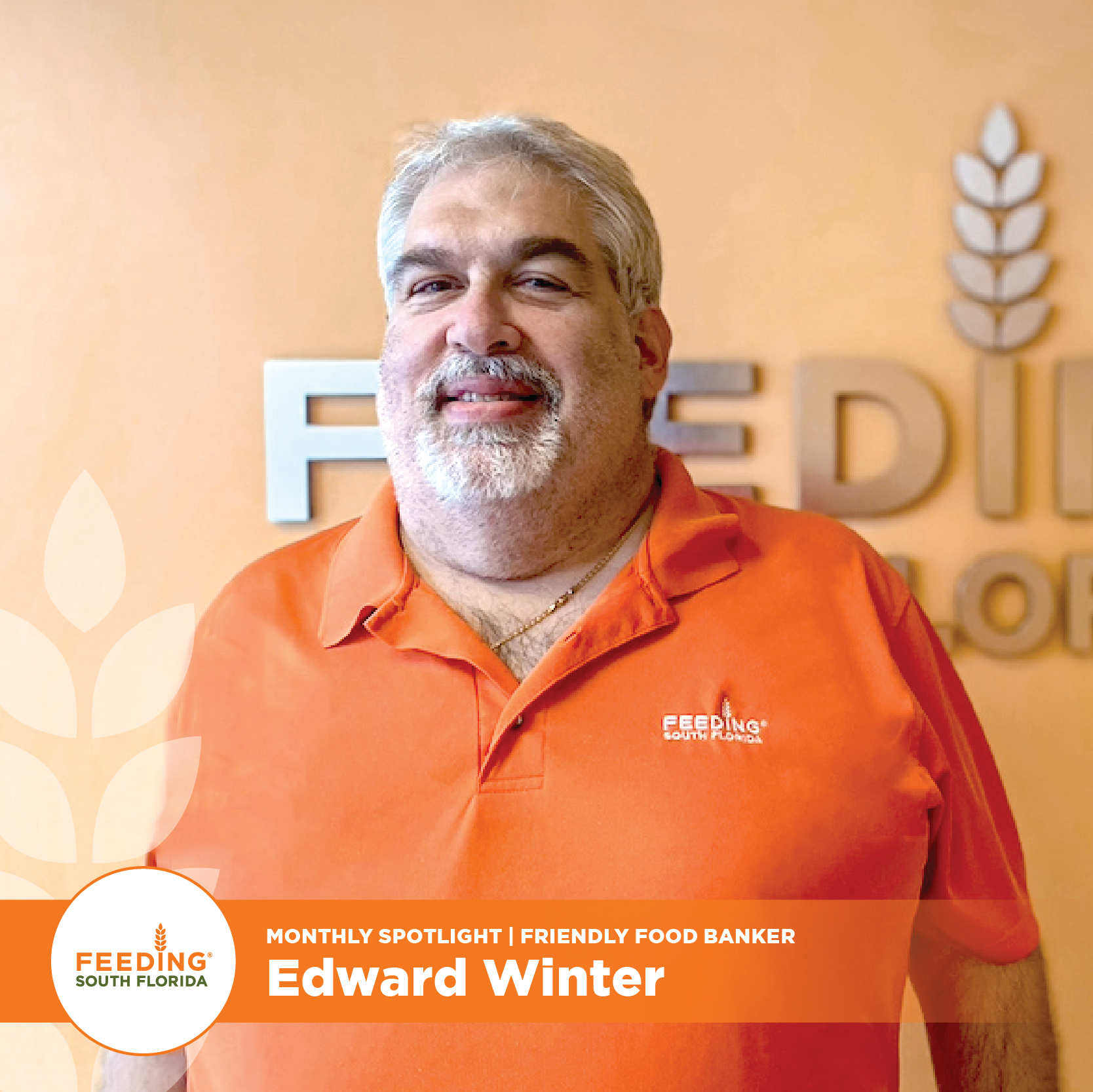 Hometown: Boca Raton, FL
Birthplace: Brooklyn, NY
What is your role at Feeding South Florida?
Accounting Manager. Being a nonprofit entity, there is a heightened fiduciary responsibility to safeguard the company's assets. It is critical to ensure and protect the mission of our organization for the team, executives, board members, donors, sponsors, volunteers, government officials, other stakeholders and, most of all, the public. It is a position of high trust, discretion and confidentiality.
How long have you been with the organization? 13 months and every day has been a pleasure to be at its service.
How has your career grown since starting at Feeding South Florida? I started out coordinating with other team members within finance areas to guarantee the timely delivery of financial information. Now, my role has evolved into interacting with all departments and team members daily.
What do you want people to know about Feeding South Florida?
Feeding South Florida, and those that work here, are the real deal. For most of my career, I have been in more of an enterprise-driven corporate setting. It's difficult to see the added value of your contributions in such an environment where market competition is the motive.  In this organization, you instantly feel a sense of accomplishment and can leave each day knowing that you contributed to the lives of others.
What is your favorite thing about working at Feeding South Florida?
Going back to my "corporate" past, often I felt like a number.  Like any other work experience, I wished I could've viewed my team members and peers as if they were family.  At Feeding South Florida, I can.  Like any other family, we may have our personal differences, but the family bonds are tight here and we work together every day to accomplish our mission.
Is there anything else you'd like to say?
I want to say thank you to everybody for their kind recognition of my accomplishments to the organization so far.  I will not let you down.
We know you won't Ed and we are so fortunate to have you on our team. Thank you for all that you do!
---
Parter Agency: The Dorit & Ben J. Genet Cupboard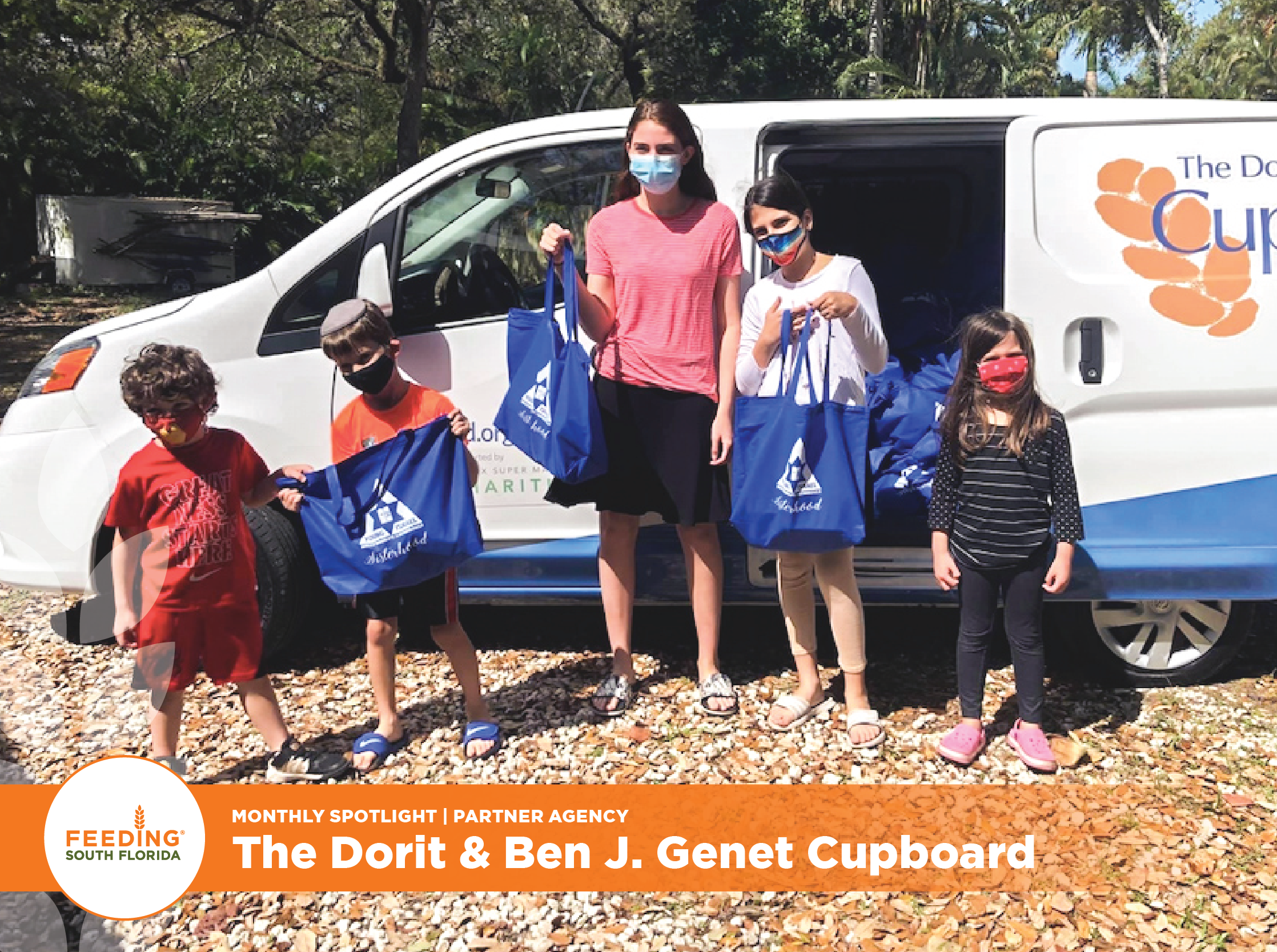 The Dorit & Ben J. Genet Cupboard, a kosher food pantry, opened its doors in 1962 but became a Community Partner of Feeding South Florida in 2017. Since that time, their efforts have grown exponentially – serving 600-800 families each month. With a group of 400 volunteers,, the Cupboard has done much more for the Jewish Community in Broward than just distributing food. We recently had a chance to chat with The Cupboard's Directors, Lourdes (Lu) Fiegler and Ross Adel.
Their mission is to ensure that no Jewish person in Broward goes hungry. The Cupboard's approach is simple: they serve the whole person. Not only do they have their pantry and meal delivery service, but they also assist with financial assistance, free counselling, and domestic violence support.
When asked about how Feeding South Florida helps support their efforts, Lou said, "It's wonderful to have Feeding South Florida as a partner because they're so responsive to all our needs. It's just such a blessing for us to be able to offer all the wonderful items that Feeding South Florida provides us, like the fresh produce. Our clients aren't just getting dry goods and they're so happy because of it. We couldn't feed the families without Feeding South Florida."
As for why they work to support families in Broward County, Ross shared with us a special mission moment from the holidays last year. "I can remember it was holiday season right before Thanksgiving and Chanukah. . We were closing shop for the next four days, so we were trying to distribute as much as we could. A family of eight came in and I knew from the interactions with them over the previous months, they had always struggled."
Ross said that they ensured that family of eight had food, household supplies, and gift cards for the holidays.
"It made sense to make sure that family had a holiday they wouldn't forget. I can't speak for anyone else, but for me it was a wow moment and ensured that all of our efforts in the months prior were worth it."
---
Volunteer: Barbara Kosie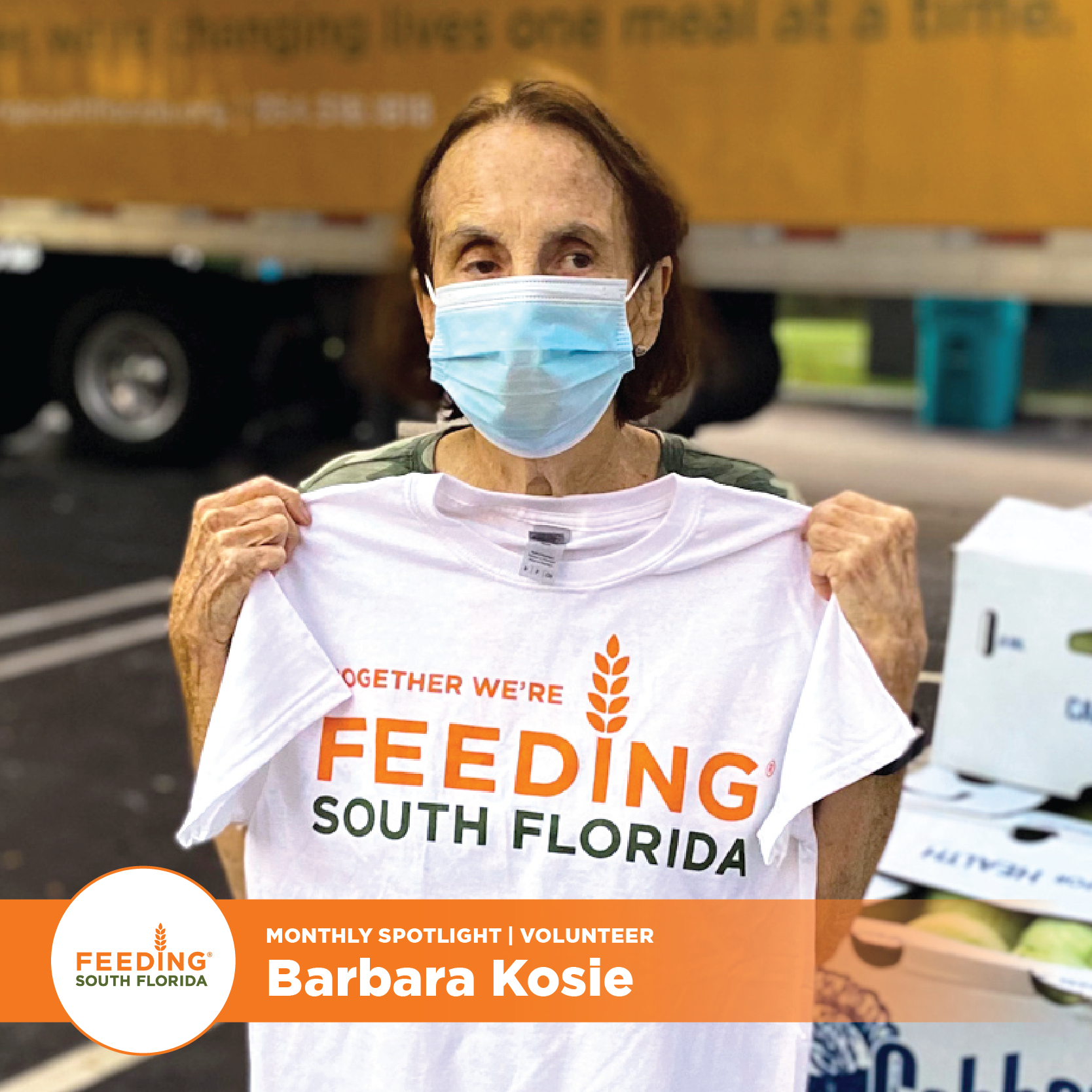 Barbara Kosie has been volunteering with Feeding South Florida since April 2020. She has volunteered at over 110 distributions for a total of 333 hours, making her the perfect person for October's Volunteer Spotlight.
Barbara was looking at her calendar one day when she realized there was a distribution in Delray, where she lived. "I thought, I don't know, I've never done anything like this but, come on! These are my fellow Delray citizens – I have to go out there and at least give it a try. And tried it I did. I loved it, and I've been doing it ever since."
When we asked her about Feeding South Florida's role in the community she said, "I think what you do is fantastic. I don't know where people would be without Feeding South Florida."
Since her start, there have been many mission moments that moved her, but there's one in particular that has stayed with her. "We were distributing food in Delray, the summer before this. We had been doing it for a few months, a man pulled up with his wife, and we started putting things in the car. He said, "This is the first time I've ever been here." As he spoke, his voice broke and he started to cry. It was very moving for me."
Finding the motivation to volunteer can be challenging for everyone, but Barbara shared that on days where she needs that extra push, she reminds herself that so many others depend on her to show up.