Feeding South Florida's Monthly Spotlight: August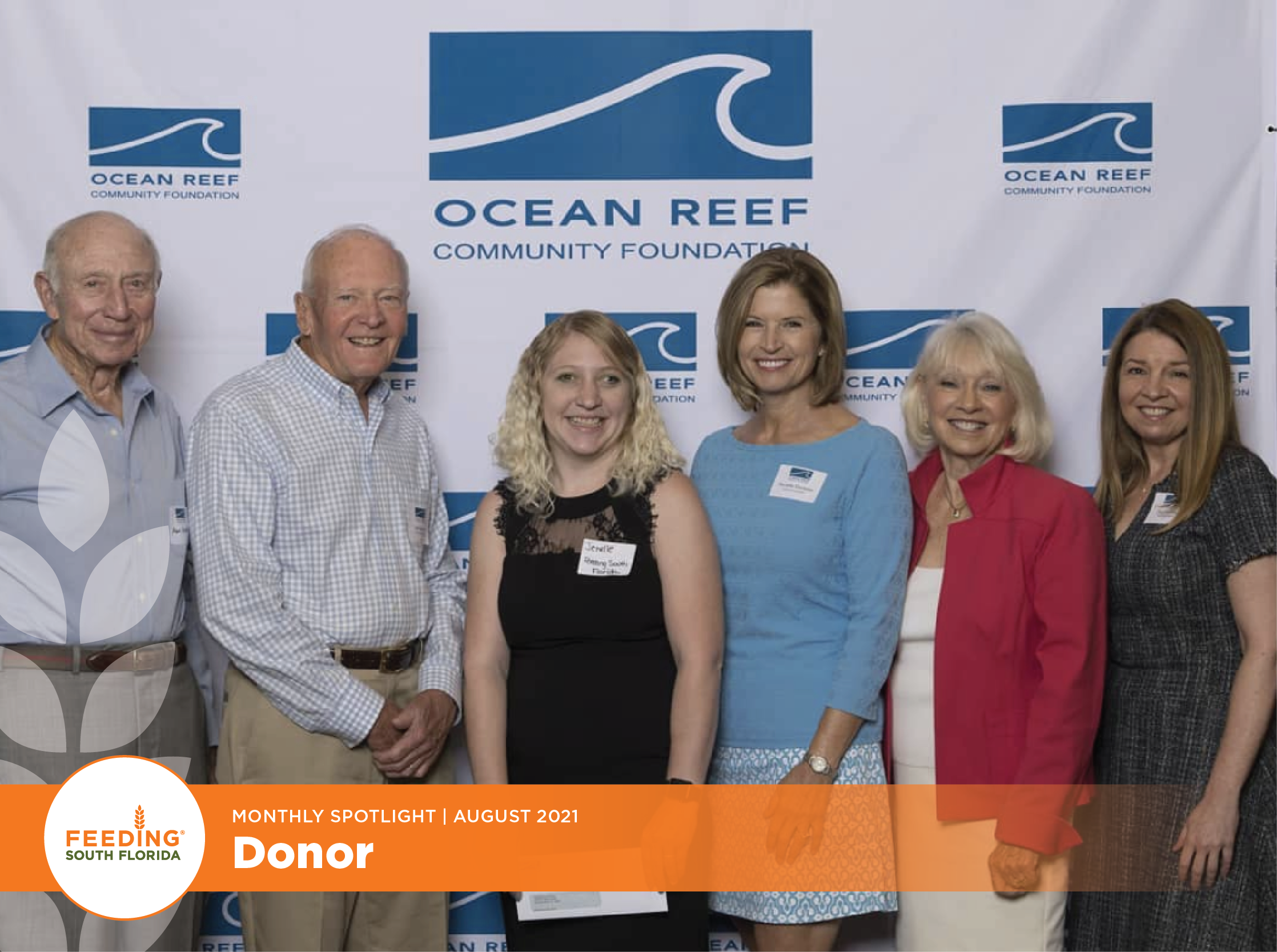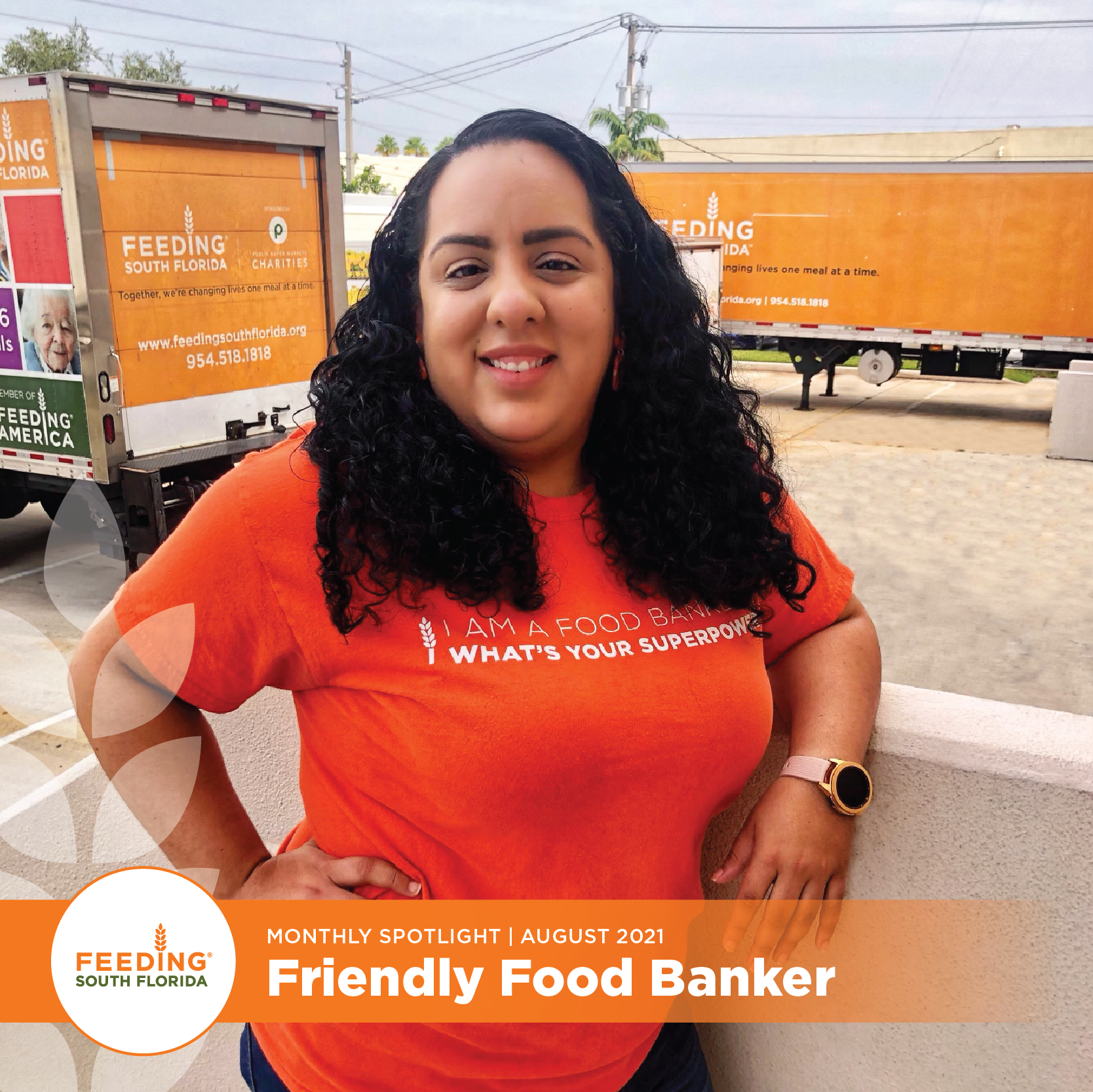 Friendly Food Banker of the Month: Alyssa Villalba
Our August 2021 Team Member of the Month is Alyssa Villalba! Alyssa has been a Feeding South Florida Friendly Food Banker for the past 3 years working as our Agency Relations Coordinator. Learn more about Alyssa below.
Hometown: Aguadilla, Puerto Rico
What is your role at Feeding South Florida? 
Agency Relations Coordinator (ARC) – we serve as the liaison between our Partner Agencies and Feeding South Florida. Our responsibilities include, but are not limited to, Partner Agency training, development and capacity-building, reporting, recruitment, and compliance.
How has your career grown since starting at Feeding South Florida? 
I had no background in transportation, operations, or distribution. I've learned how these integral departments work together in almost everything we do. I've also grown my communication skills significantly – I'm a better public speaker!
Favorite part of working at Feeding South Florida:
The interactions and relationships we develop with our community partners and seeing that final step of food going into client's hands.
What do you want people to know about Feeding South Florida? 
It takes a village! Although we have many staff that are community facing, we have so many more (that work behind the scenes) who ensure our organization continues to assist our community.
---
Partner Agency of the Month: Bridge to Hope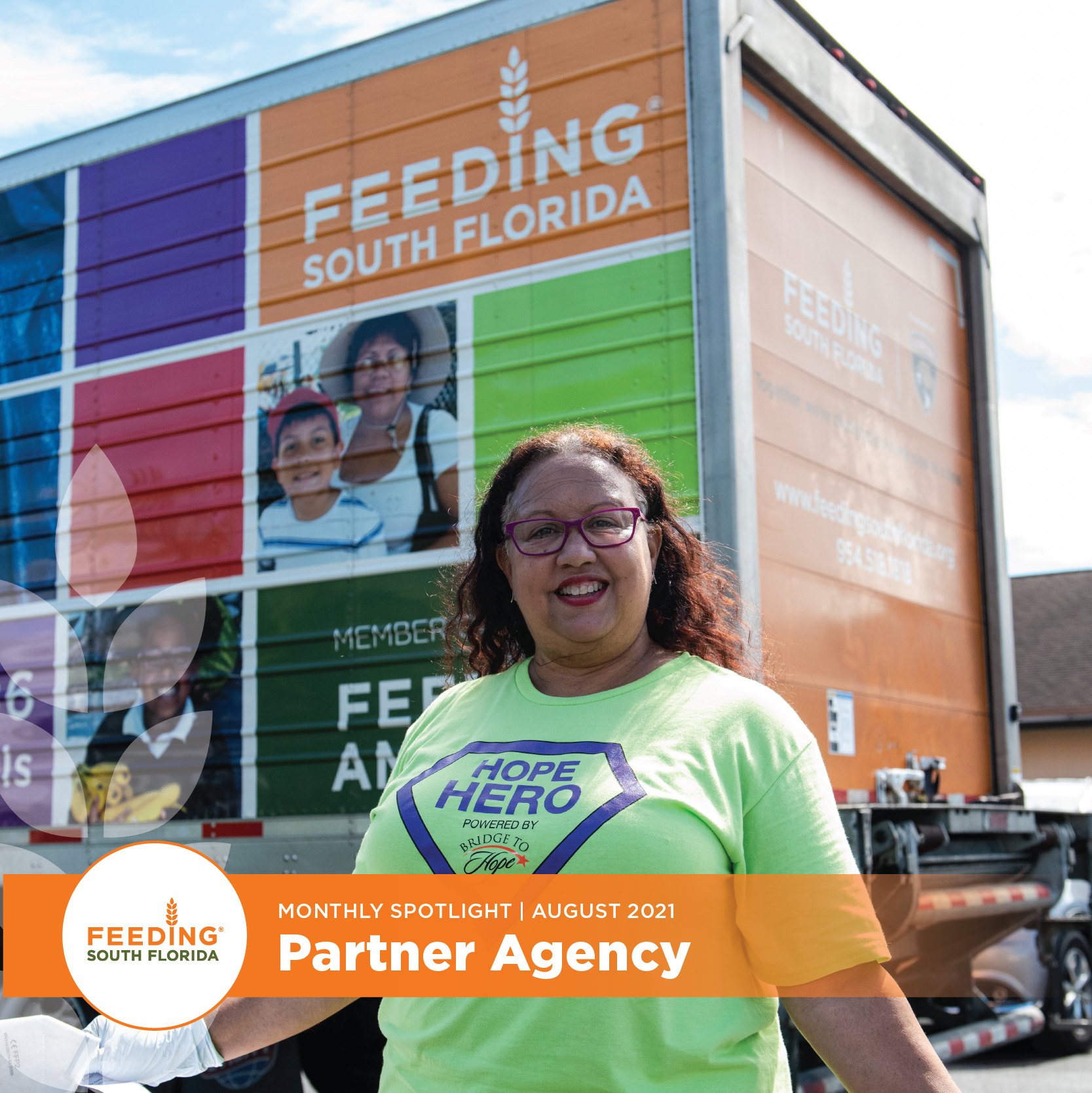 Bridge to Hope has been helping South Florida families put food on the table since 1988 and has been a Feeding South Florida partner agency for over 32 years – dating back to when Feeding South Florida was Daily Bread Food Bank. We recently had the opportunity to sit with Vanessa Tinsley, its co-founder and Executive Director. They began serving 30 families and now serve over 10,000 per month.
She describes Bridge to Hope's early struggles as being very frustrating, recalling making a fateful call to Feeding South Florida and being met by "the most responsive and caring human being."  "It was the beginning of an amazing partnership. Feeding South Florida has paved the way for our growth.  We are who we are because they are who they are", she says.  "Feeding South Florida is my go-to for everything. They really are invested in me. They have so much experience under their belt, and I know I can always call on them for help.  It says so much about who they are as an organization. Every team member really cares about what they are doing. It truly is a family."
At the onset of Covid, Bridge to Hope saw an increase in the amount of food they were serving by 500%, all in a span of 60 days.  Out of concerns for time families spent in those long lines, they came up with their Park and Pop distribution model, where families could register online and book an appointment for contactless service – up to 200 appointments daily. Now, they have added COVID testing and vaccines to their distributions.  According to Vanessa, COVID is still a real threat in the community, and they are seeing more people with COVID than at any other time since the beginning of the pandemic. "This thing is not over, and we need to know Feeding South Florida is getting the support they need; right now, we need our food bank supported so we can continue to serve our community. We all need to roll up our sleeves and do what needs to be done so our neighbors are fed and safe."
We are so grateful for partners like Vanessa and Bridge to Hope for their relentless and selfless dedication to serving our neighbors in need. Together, we're changing lives one meal at a time.
---
Volunteer Spotlight of the Month: Ira Greenberg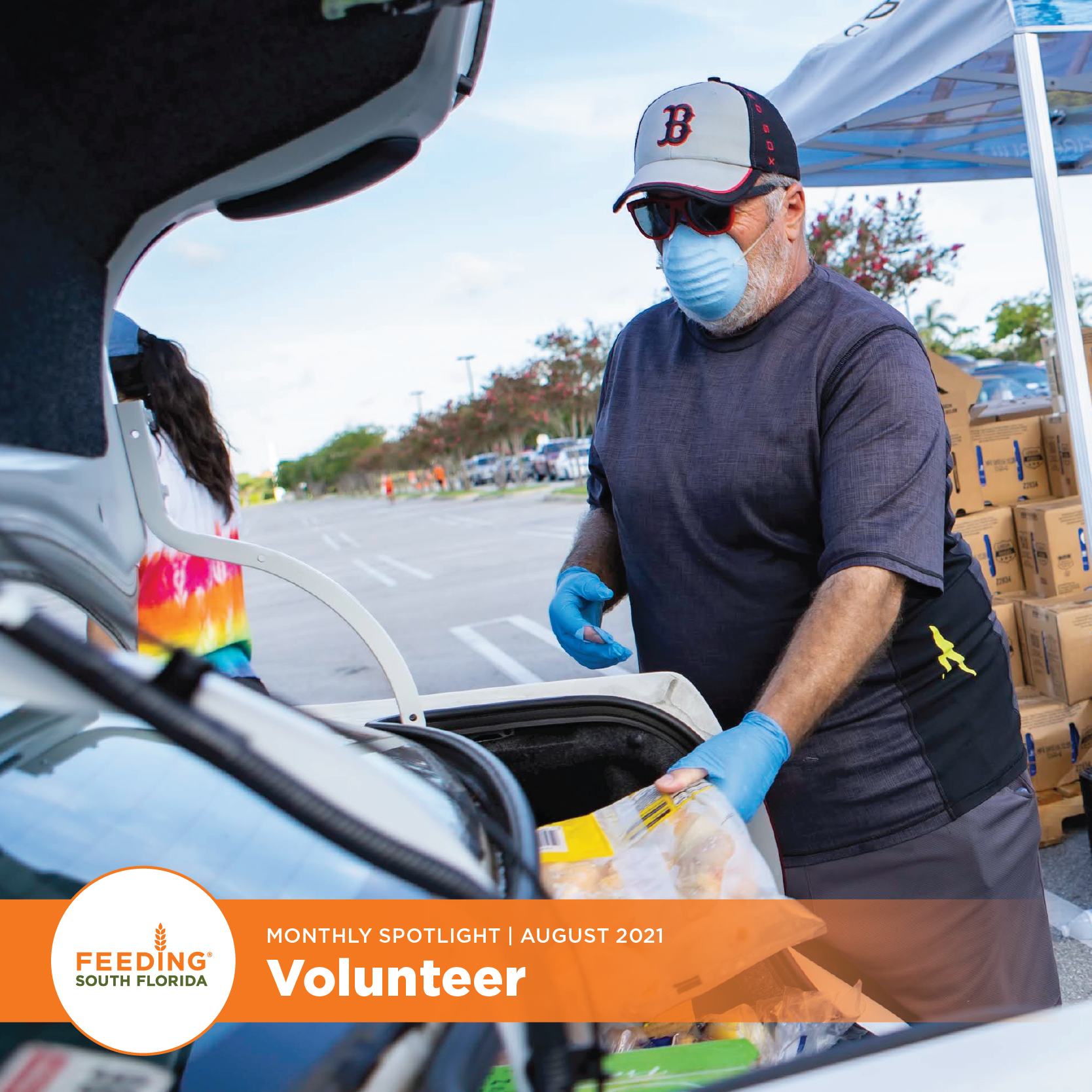 Feeding South Florida connected with Ira Greenberg back in March of 2020, at the start of the Palm Beach County school distributions.  When Ira retired and moved to Boynton Beach from Pompano in Dec 2019, his new neighbors were long-time Feeding South Florida volunteers and was inspired by them to do the same.  Fast forward to 2021, Ira has now volunteered at over 195 food distributions, logging over 685 hours of his time to serve the community during a time when it was most needed. "I can't imagine being in the position of not being able to feed my family. I consider myself very fortunate", he says.  "It's hard to think about the fact that there are people in this country that don't have enough food."
"Once in a while you come across a person who gets really emotional when getting the food, because it's really critical to them. When you see that, it's enough to make your heart want to do this."  When asked what advice he would give to those considering volunteering their time? "Well, there's lot of people in need of help.  But seeing their smiles is my favorite part, and it makes me feel good.  Just get up and do it."
Thank you Ira, for helping us change lives one meal at a time. Together, we're Feeding South Florida!
---
Donor Spotlight of the Month: Ocean Reef Community Foundation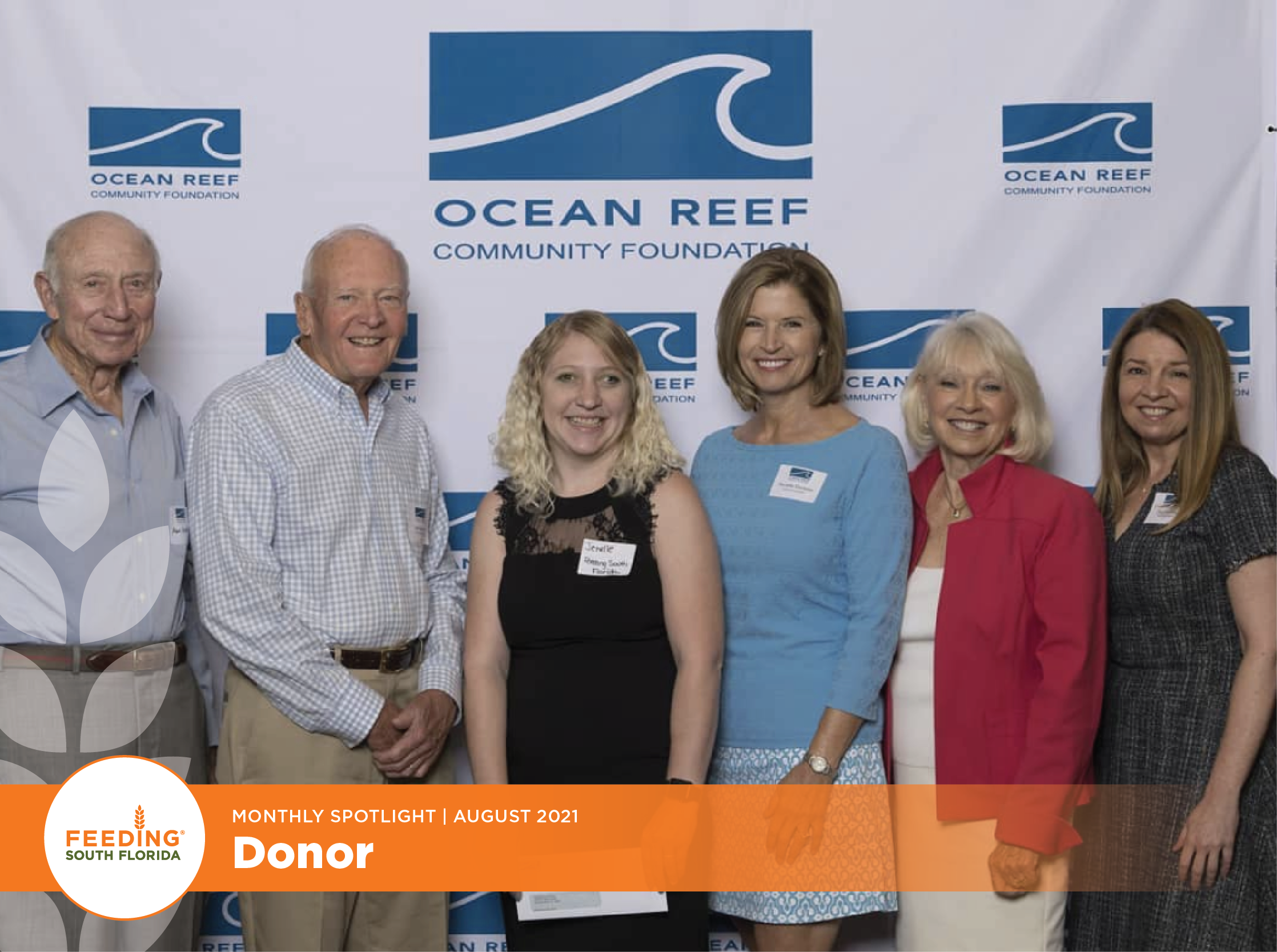 Ocean Reef Community Foundation started giving to The Daily Bread Food Bank, which would soon become Feeding South Florida, just as Yurianna Mikolay joined the organization as Executive Director in January 2009.  The Foundation has given every year since and provided over $1.1 million through their various funds. They started focusing on food insecurity for the first time in the wake of the Great Recession, and their Grants Committee immediately recognized Feeding South Florida as the most efficient and effective way to have an impact.
Yurianna's first 'in person' memories of Feeding South Florida are meetings with our President Paco Vélez and our Executive Vice President, Sari Vatske, during a needs assessment they were conducting. "Early on they helped us create a program that enabled Ocean Reef Club banquet kitchens to donate surplus food to community kitchens in Homestead and Key Largo. That program is extremely popular with our community to this day. As the person responsible for reporting the impact of our grants, you can't beat the capacity, efficiency and economy of scale of Feeding South Florida when it comes to hunger relief."
Yurianna also added, "The team is always thinking big picture and long term and our leadership really appreciates that fact and that they're always innovating", she responded. "Whenever there is a crisis, Feeding South Florida is there stepping up with a robust response for our organization to support.. The Great Recession, Hurricane Irma, the Government Shutdown, COVID-19 … I feel like we've been through a lot together! It's remarkable to think about how relentlessly challenging these years have been, and how the Feeding South Florida team was always there for the community doing the heavy lifting.  We are very grateful for the partnership."
The partnership between Ocean Reef Community Foundation and Feeding South Florida helps address emerging needs in Homestead, Florida City and the Upper Keys, working together to create a variety of custom solutions to meet the unique needs of those areas.
We are grateful for the continued partnership with Yurianna, the Ocean Reef Community Foundation and their generous support so we can serve the many South Floridians who are facing the impossible choices of hunger.  Together, we're Feeding South Florida.