Feeding South Florida opens 5,000-square-foot kitchen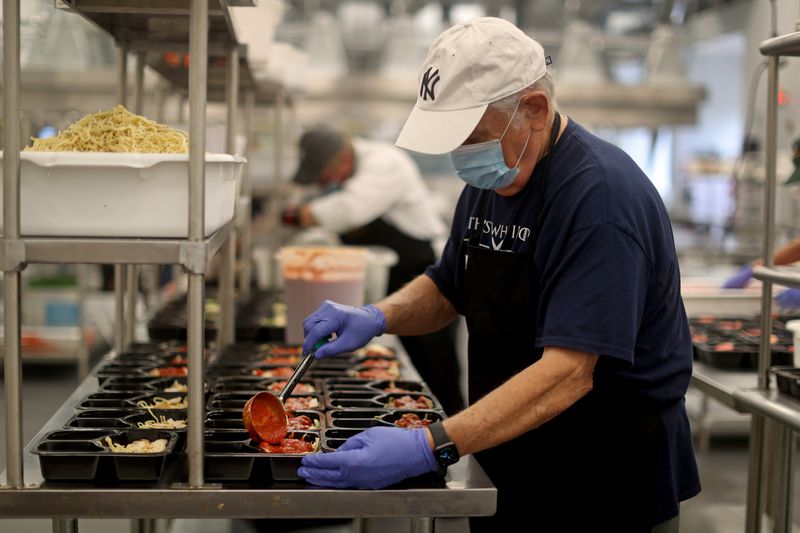 Feeding South Florida, the food bank that partners with other nonprofits throughout the county, has expanded with a 5,000-square-foot kitchen and food prep area that can now handle the production of 10,000 hot meals weekly. The Boynton Beach facility on Park Ridge Boulevard opened in July.
It's just in time to meet much greater needs, said Sari Vatske, executive vice president.
"The need has doubled because of COVID," Vatske said. She listed as recipients homebound older adults, school kids out on summer break, and numerous nonprofits that help food-insecure populations across the county.
Add to that people who are newly unemployed in the food and hospitality business, who find themselves needing basic help, and a potentially threatening hurricane season.
The organization also took over serving Boynton Beach's homebound seniors for the Community Caring Center of Boynton Beach.
"We're doing 1,000 meals weekly for CCC," Vatske said.
The new facility has a pantry up front. Supplemental Nutrition Assistance Program recipients can come in and get cleaning supplies, canned goods and dairy perishables as part of the program. The facility acts as a drive-through distribution center as well, providing boxes of SNAP benefit food weekly.
In the main production area, a gleaming new commercial kitchen line is in place.
"This is the culinary training kitchen," Vatske said. "We're going to have 10 to 12 people at a time, for 16 weeks, training here."
Feeding South Florida chefs, led by Chrissy Benoit, will team with volunteer guest chefs from the community to train people to work in the culinary field, both kitchen and front-of-house positions.
The goal is for graduates to find work in commercial restaurants. The program is open to anyone with at least a GED who wants to get into the culinary field or improve his or her career, she said.
The plan is for classes to be sponsored, Vatske said, with the goal that they are free for the trainees.
For now, the teaching kitchen is idle because of COVID-19. "We are hopeful by October we'll have teaching and training," Vatske said.
The organization also will add commercial events, such as catering large affairs.
"We will have a revenue-generating component. The money earned will be reinvested into our program," she said.
In the past, Feeding South Florida relied on vendors to help produce its meals; FSF now will become a vendor to others, supplying hot meals for recipients of other programs.
For special events and catering work, the agency will hire from its grad pool.
"We'll also have an incubator program for food products," Vatske said. Entrepreneurs can learn to make and market their own products in a commercial environment.
"Right now, we're focusing on scaling our production. We're still hiring and training for current production."
Workers on the production side are cooking and packing meals for distribution. Soups are prepared in one of the giant tilt skillets — cream of celery was the choice on a recent day. The menu rotates through a four-week plan.
Meals are cooked rapid-fire in the new combi ovens. These are high-volume ovens that perform multiple functions such as baking, steaming, poaching and roasting.
"These are amazing," Vatske said. "They are state-of-the-art," allowing them to turn out hundreds of complete meals much faster.
Volunteers are used to pack and seal the food trays.
A cold storage area is being added; for now, it shares space with the major distribution area. There's also a small laundry room where kitchen linens and uniforms are laundered, keeping everything in house.
The agency also works with FEMA and Florida's CERT (the emergency response team coordinators), as well as community groups to provide meals for emergency workers and people in shelters during disaster relief efforts.
Hurricane Harvey, a Category 4 storm that devastated parts of Texas and Louisiana in 2017, wiping out resources for food, spurred a new program for Florida, Vatske said.
The state funds FSF and other organizations, which have high-production meal-distribution plans ready whenever a storm approaches.
Other funding comes from federal agencies, as well as a number of local partners such as Publix, the Quantum Foundation and other private groups.
Volunteers and donations are still needed from the community, she said, more than ever to help people outside the government programs.
Vatske said FSF is grateful for all donations. "Absolutely. We have general programs and supplies to fund."
For information about the programs or volunteer opportunities, go to feedingsouthflorida.org.
By: Jan Norris. Originally published by The Coastal Star on September 1, 2020. View original article, here.