Feeding South Florida's Monthly Spotlight: September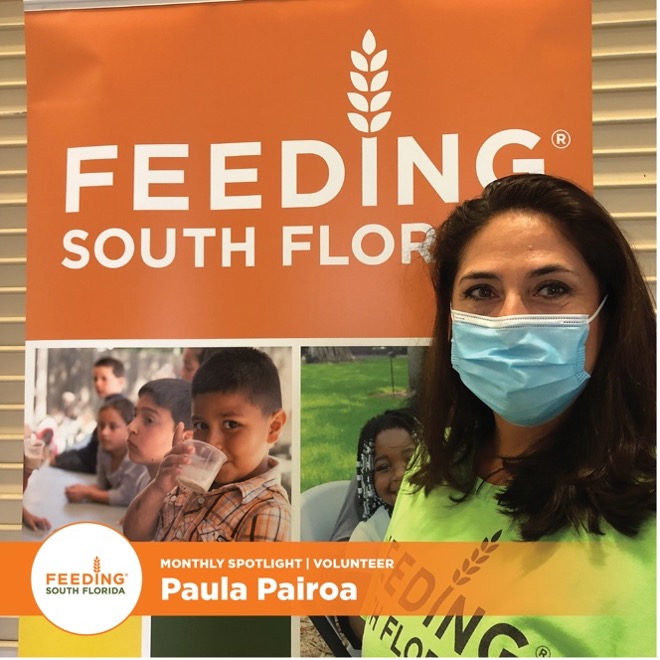 Friendly Food Banker of the Month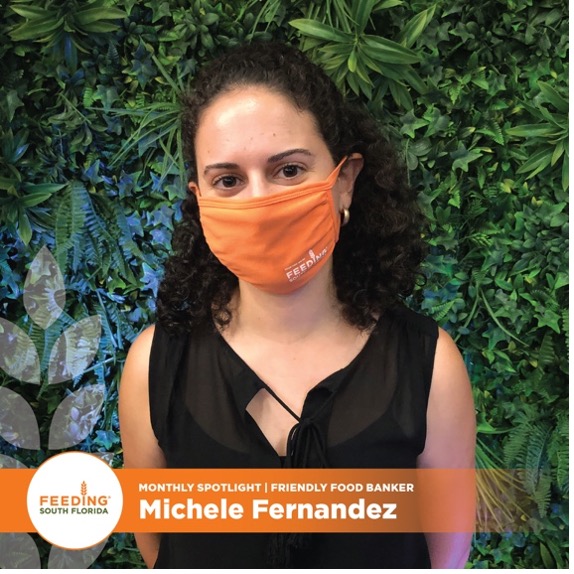 Full name: Michele Fernandez
Hometown: Pembroke Pines, Florida
What is your role at Feeding South Florida? Donor Experience Manager.
How long have you been with the organization? Almost two years.
How has your career grown since starting at Feeding South Florida?
Every day I learn more about food banking and the finesse at play among all our departments. There is always so much to learn! I joined our Philanthropy Team as Community Engagement Coordinator and have transitioned to a role that will help ensure every supporter understands how their donations impact our mission to end hunger.
What is your favorite thing about working here? Each day is unique, but an everyday constant is seeing the community's ability to band together behind a common cause and make an impactful change – whether that's volunteers working alongside one another to sort and inspect food, or our team assisting a client with an appointment, or a company starting a food drive.
What do you want people to know about Feeding South Florida?
We're a local organization supporting our neighbors right here in South Florida. Dollars donated to Feeding South Florida stay here and benefit our very own communities.
We aim to provide nutritious foods, including fruits and vegetables, to families in need. But care is given to going beyond only providing a meal to families. Our team can provide assistance applying for benefits like SNAP or Florida KidCare (Florida's Children's Health Insurance Program). We also aim to meet people where they are at with innovative programs like our Mobile FARMacy, school pantries, and home deliveries.
There's so much more beyond the above, and the community's trust and investment in our work helps makes it possible.
Is there a mission moment or story that sticks with you that reminds you why Feeding South Florida's role in the community is so critical?
I always think about one individual, who received her and her family's Thanksgiving meal at a distribution we hosted with the Miami Marlins in 2020. Her positive emotion over receiving a helping hand that day was palpable even via our phone conversation. In her words, she visited the distribution in desperation; with the start of COVID-19, she was forced to close her small business — a daycare she had just opened in early 2020. By the time Thanksgiving came, she found herself unable to provide food for her own family. It was a privilege to speak with her and have her share this experience with us, and to know that her family was able to enjoy a Thanksgiving meal.
Some days, it's the volunteers or supporters who join us for a tour and share that years ago, they also benefited from assistance from a food bank, and its why they support the organization today. All are mission moments for me.
---
Partner Agency of the Month: Big Coppitt First Baptist Church Food Pantry, Key West, FL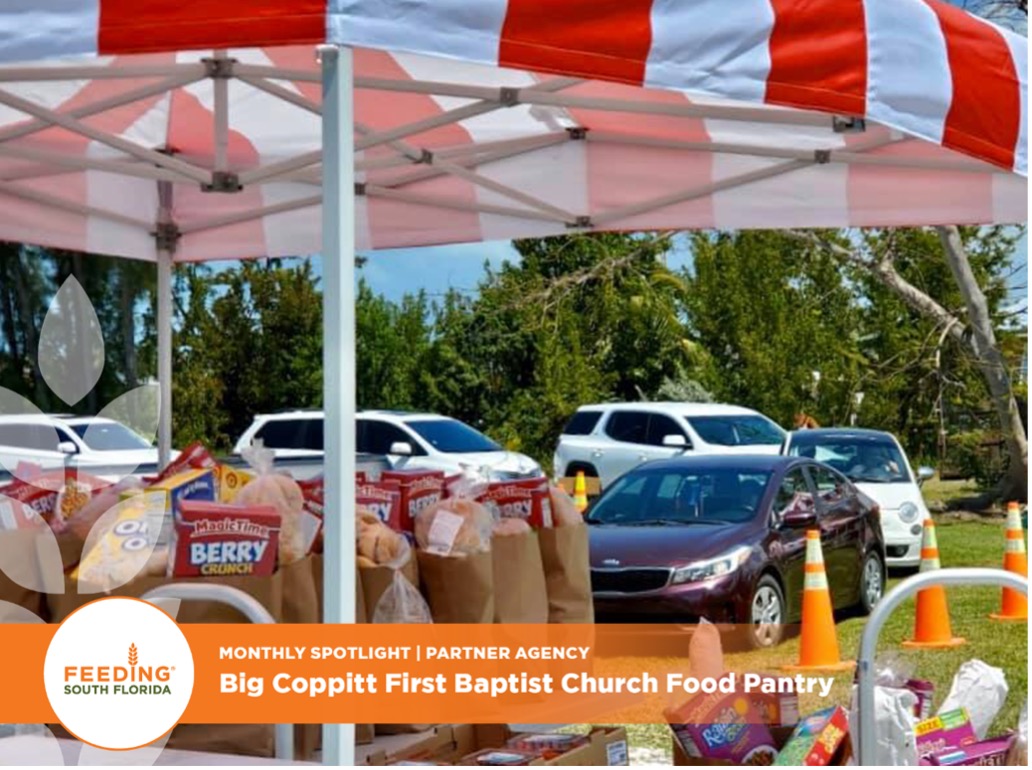 Darrell Michaud is Big Coppitt First Baptist Church's Food Pantry director. While he was a youth pastor for another church 15 years ago, he recalls taking his group on a mission trip to Tampa where they served at a church that had a food pantry. The idea of serving the community in that capacity has stayed with him since that week.
"We started our pantry distribution as a shop pantry, and gained our first shipment of canned goods through the US Postal Service can food drive, back in November of 2017. We would purchase other food items from donations through our church and served approximately 80 families a week during that time."
Darrell recalls placing their first order with Feeding South Florida on December 14, 2019. "The difference that day made, has been astounding. Since that day we have served just over 2500 families and have logged in 17,536 in assistance. It has always been a pleasure when dealing with anyone associated with the organization and our pantry volunteers feel like part of the larger organization with a common goal of helping people. The food we receive from Feeding South Florida is such a tremendous blessing and we are so thrilled to be able to be a small part of that."
We asked Darrell why they continue this work, he said, "We have the privilege to get to know these individuals and their struggles. We have opportunities to help them beyond the food provided. We have a client who would only get dry nonperishable items, so we asked him why he never gets meat or dairy. Turns out he lives on a boat and his batteries went bad and he could no longer run his refrigerator. We were able to provide him with a large marine battery to operate his refrigerator."
Thank you Darrell and Big Coppitt First Baptist Church Food Pantry for your service and dedication. Together, we're Feeding South Florida
---
Volunteer of the Month: Paula Pairoa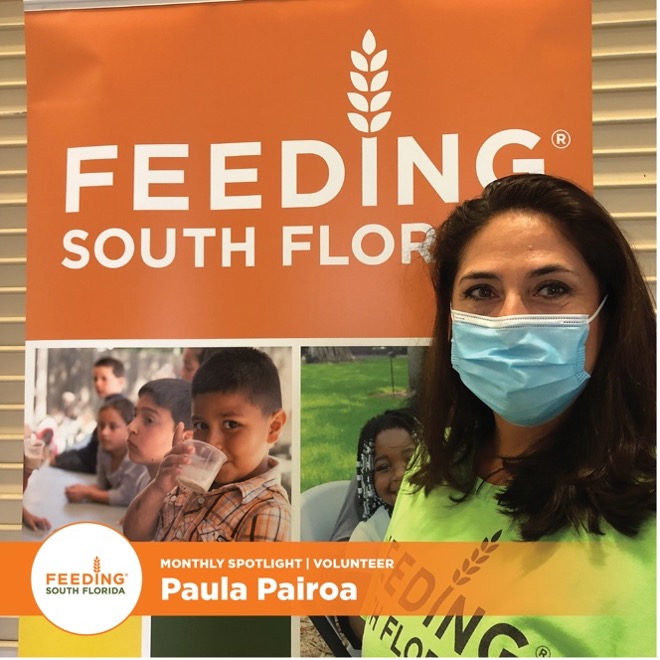 Paula Pairoa started volunteering in August of 2020. Because she works full-time, she volunteers with Feeding South Florida on Saturdays. She helps lead the new volunteers through the inspect process and has logged over 230 hours since that time. Paula has also arranged a day of service for the company she works for, and the company has committed to volunteering quarterly as well as making a yearly donation.
"The pandemic has been overwhelming for so many. But at the end of the tunnel, you have this little light that is Feeding South Florida, helping people and the coming together as a community, that for me, feels like magic.".
When we asked Paula why she gives her time to Feeding South Florida, she said, "Feeding South Florida is an organization that I trust, which for me is very important. I trust them because I know they are taking care of every single detail and every donation that is received is being put to good use. You know it's going to go to the right people, and they are doing the best for the people that are going to receive this help."
Paula's advice for people looking to volunteer is, " When I go to Feeding South Florida, I give my heart and soul for those hours, because that is the meaning of community to me. It is the best decision you will make for yourself and for the community. It will fill your heart with more joy that you can imagine. It's like magic."
Thanks to people like Paula, we are changing lives one meal at a time.
---
Donor of the Month: United Way of Broward County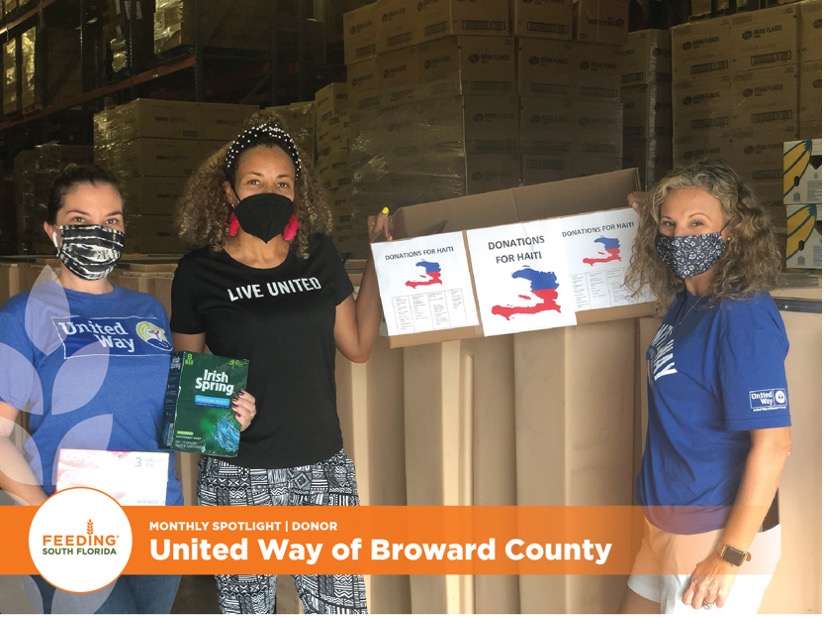 United Way of Broward County first donated to Feeding South Florida during the beginning of the COVID-19 pandemic to further support food operations that would reduce hunger and food insecurity throughout Broward County. This year, United Way of Broward County expanded their support of Feeding South Florida by investing $300,000 in the expansion of our infrastructure, helping acquire a tractor, refrigerated trailer and additional items as necessary.
"The goal is to ensure that no family, no child goes to bed hungry in Broward County – expanding our efforts in partnership with Feeding South Florida puts us close to achieving this goal. Feeding South Florida is efficient and impactful – not only in its operations across the quad-county area, but in the organization's intentionality in convening cross-sector partners and engaging volunteers in hunger and food insecurity in our community."
When we asked United Way of Broward County what they wish other people knew about Feeding South Florida, they responded, "We wish that everyone knew that aside from addressing the most critical and immediate need for food, that Feeding South Florida also leads education and advocacy efforts to ensure long-term systems change in our economic and political landscape for impoverished children and families. We believe that tackling large community issues, such as poverty and food insecurity, takes partnership – it takes supporting organizations to do what they do best for the benefit of our residents who face various needs. Feeding South Florida provides critical food resources to our South Florida community and does it well."
We are thankful for the United Way of Broward County's continuous support. It is through the strength of our partnerships and the community coming together, that help us make a difference in the lives of those in need of assistance. Together, we're changing lives one meal at a time. Together, we're Feeding South Florida!