Monthly Spotlight | April 2022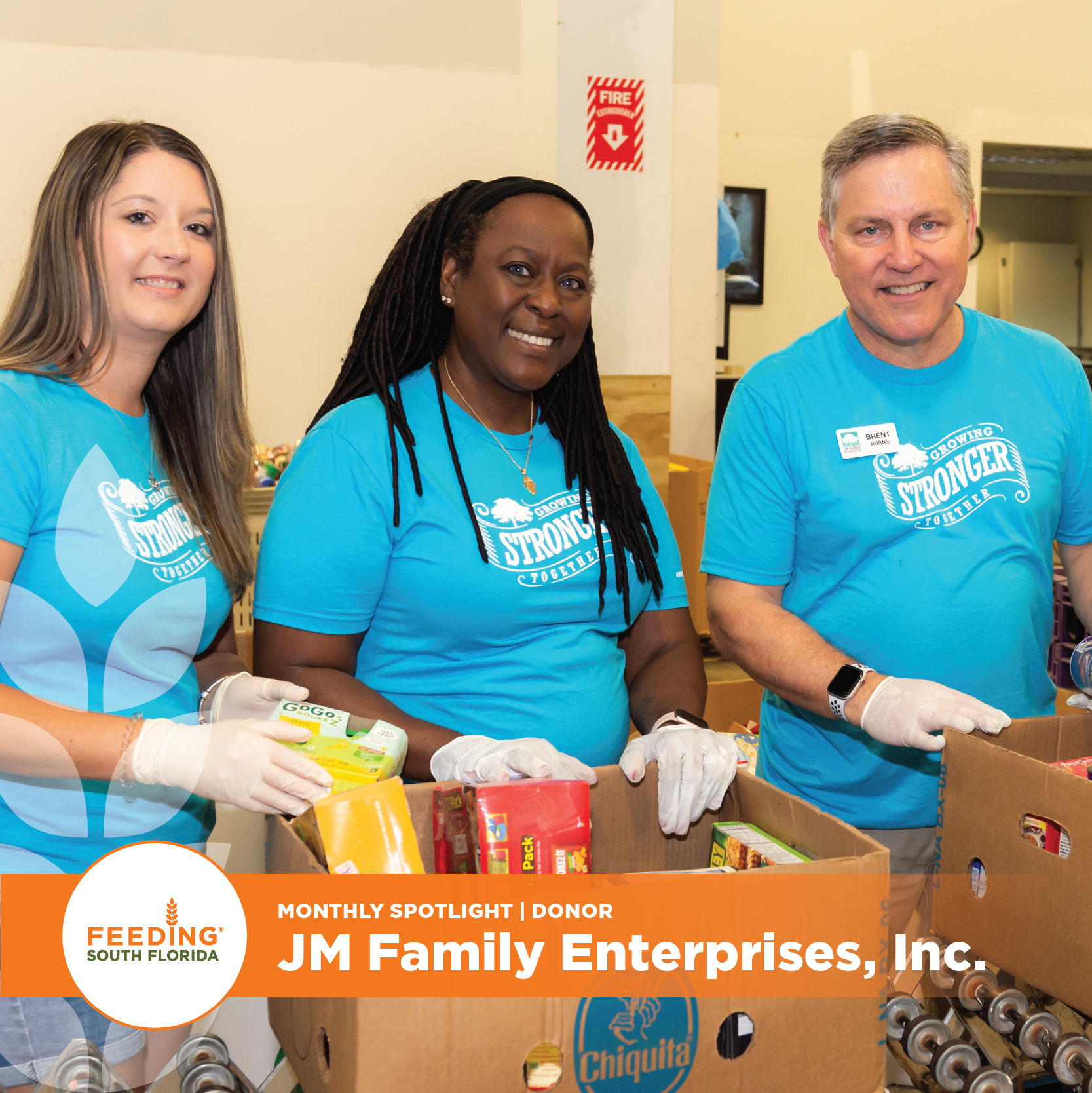 Donor of the Month: JM Family Enterprises, Inc.
"We are invested in the community's success," said Sasha Moon, JM Family Enterprises Manager of Community Impact.
Since the 1990s, JM Family Enterprises has supported Feeding South Florida's mission to end hunger in South Florida. JM Family's spirit of giving back can be traced to the company's origins in 1968. The company's founder Jim Moran prioritized strengthening the communities they live in work in.
"Feeding South Florida is the go-to of who we want to support for food banks here in South Florida. JM Family respects and values the work Feeding South Florida is doing to get food into the hands of those who need it most," said Moon.
JM Family's Corporate Impact is focused on empowering families, promoting education, and embracing the environment.
"Giving is something very meaningful to our associates. They look forward to our campaign every year, especially the volunteerism events because it's [Feeding South Florida] such an impactful organization," said Moon.
Much like Feeding South Florida, JM Family Enterprises is a steward for change.
"Feeding South Florida is a leader…they are one of our significant relationships and we are proud to partner with them. We are proud of the work we have been able to do together in terms of financially supporting Feeding South Florida and the volunteerism too," said Moon.
JM Family Enterprises is a long-term supporter of Feeding South Florida. Apart from numerous donations, JM Family associates volunteer in our warehouses inspecting and sorting food, collaborate with us on community initiatives such as Toyota Fights Hunger, sponsor holiday campaigns and present our annual Outrun Hunger 5K. JM Family's Michelle Esposito currently sits on Feeding South Florida's board of directors.
We are humbled by the outpour of support we have received from JM Family Enterprises and are grateful to work together, side by side, to change lives one meal at a time.
Volunteer of the Month: Mattathias Johnson
How long have you been volunteering and how did you get started with it?
When I and my mother (Frances) relocated to South Florida in 2017…and immediately started volunteering. Ruth was the first person we met from there and she welcomed us in warmly and we've been committed to serving as much as we can ever since.
What is your favorite part about volunteering with Feeding South Florida?
The teamwork, laughter, and relationship building that takes place during the volunteering sessions amongst the volunteers with new faces as well as familiar faces.
What keeps you motivated to keep coming?
Feeding South Florida's mission hits home because I've been homeless and hungry before in both childhood and adulthood. Lending a hand to fight against food insecurity through volunteering efforts is my moral obligation.
Where's your favorite location to volunteer?
Pembroke Park, FL (Ruth is the besttttttttttttt)

Partner Agency of the Month: Faith Farm Ministries
How long have you been a partner agency with Feeding South Florida? 
I have been with you for 20 years. Just not sure when Faith Farm Ministries became a partner.
When did you open?  
Faith Farm Ministries has been open for 70 years now.
Can you tell me a little about your overall functions? 
I was the chef here for 17 years, but now am the food donation coordinator for all three of our locations.
How many families have you fed over the years in estimation?  
Millions
Is there a mission moment that stands out to you? 
They are all meaningful.
Why do you continue this work?  
I love to help others.