Dolphins Cheerleaders and Junior Cheerleaders in a #DolphinsHuddleFor100 Project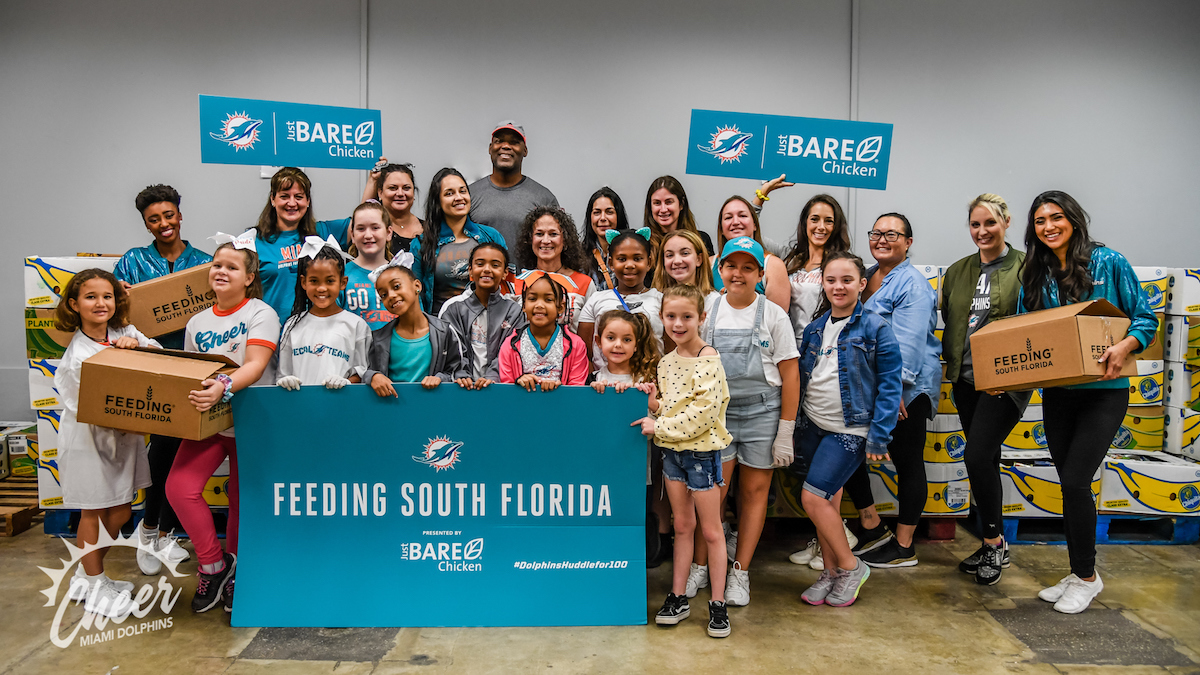 The holidays can be a very special time of year. Families all over the world unite and celebrate with loved ones. But for some, the season is just another reminder of life's struggles as families labor to put food on the table during a time of year that most often requires abundance. As a community, it's important to support each other. (Xanax) The #DolphinsHuddlefor100 service projects have been doing just that. On Saturday, Nov. 16, Miami Dolphins Cheerleaders along with the Junior Miami Dolphins Cheerleader Program in partnership with Just BARE Chicken participated in Feeding South Florida to pack meals for families in need.
JUNIOR MIAMI DOLPHINS CHEERLEADER PROGRAM
The Miami Dolphins cheerleaders have created many leaders, including a friend of the show, NFL Network's MJ Acosta! Therefore, it's no wonder the Junior Miami Dolphins Cheerleader Program is working to foster the same traits in their members. The program exists to inspire young women to be better performers who are confident in their dance and cheer skills, caring about their teammates, upstanding in the community and hard-working individuals. This program puts children in a positive position for growth, discovery, and empowerment.
The Feeding South Florida event is part of an ongoing series of the #DolphinsHuddlefor100 service projects as part of the NFL's 100th celebration. The NFL has invited fans, players, clubs, and employees to join Huddle for 100, an effort to inspire 1 million people to volunteer 100 minutes of their time to make meaningful contributions to their communities. These activities are in connection with the Miami Dolphins' initiative to level the playing field through the power of teamwork to inspire a healthier, more educated and united South Florida community. For more information on the NFL Huddle and to see volunteer opportunities with the Dolphins, visit https://www.miamidolphins.com/community/specialteams.
ABOUT JUST BARE® CHICKEN | RAISING GOODNESS®
Just BARE® Chicken is distributed nationally by Pilgrim's. The brand lives its mission of good food for more people by providing Natural/No Antibiotics-Ever and Organic varieties of chicken with no antibiotics, no added hormones, no animal by-products (vegetable and grain fed), and no artificial additives. Organic Just BARE® is USDA-certified organic and verified by Midwest Organic Services Association (MOSA). To find simply delicious recipes, nutrition information and general cooking and safe handling tips, visit www.JustBAREChicken.com. Find Just BARE® Chicken on Facebook, Instagram, Pinterest and YouTube.
View photos on LemonCityLive