Deutsche Post DHL Mobilizes Its Employees for Global Volunteer Day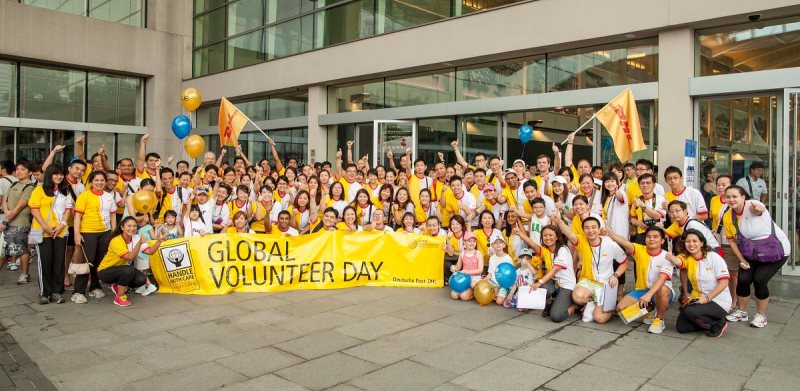 Preparing a meal for people who don't have the means to feed themselves. Building a home for those who cannot afford to have a roof over their heads. These are the kinds of meaningful activities that volunteers do across our country and across the world. And once again, our company is joining in the effort.
Deutsche Post DHL, the world's leading postal and logistics group, is once again calling on employees, customers and non-profit organizations to lend a hand in volunteer projects as part of the 2014 Global Volunteer Day celebrations. Last year, more than 100,000 DP DHL employees in 127 countries around the world participated in over 1,600 community projects and programs as part of the Group's annual Global Volunteer Day event. Most of the Global Volunteer Day activities will take place during the month of September, although employees take part in volunteering events throughout the year.
DHL employees around the world join forces with business partners and non-profit organizations in a multitude of regional and local projects as a way to show their commitment to social responsibility.
In the United States, DHL employees are participating in numerous activities this month, including beach and park clean-ups in Florida and Texas and food sorting in Feeding South Florida's Annual Sort-A-Thon. Earlier this year, volunteers helped the local Community Food Bank of New Jersey by assembling 300 boxes containing juice, rice, pasta, beef and more, to be distributed to seniors in need; in Houston, Texas, a group of volunteers helped pack and deliver over 330,000 boxes of Girl Scout cookies to the troops in Afghanistan. And in New Orleans, DHL employees served up a bountiful holiday feast with all the trimmings – preparing and serving main dishes, salads and desserts — to more than 600 homeless and indigent people that took part in the 20th annual "Christmas in July" hosted by the Bridge House/Grace House, a substance abuse treatment program.
"DHL's participation in our 24-hour Sort-A-Thon through their Global Volunteer Day is essential to Feeding South Florida's mission of ending hunger for the 871,920 individuals in South Florida who struggle to put food on their table," said Paco Velez, President and CEO of Feeding South Florida. "Without DHL's support, so many families would not have the proper nourishment to live, learn and thrive."
In the Americas, DHL employees from more than 12 countries are working with TECHO, a non-profit organization in Latin America that builds homes for needy families. Since 2010, more than 380 homes have been built with the help of more than 2,500 employees. This year, the goal is to build 100 more houses. One of the activities planned with TECHO will take place in Costa Rica, where DHL executives will join employees for a weekend in November to build a house.
Employees in the Philippines will help rebuild a childcare center that was destroyed during Typhoon Haiyan. Their colleagues in Italy will be collecting food donations for a local relief organization. Hundreds of Global Volunteer Day projects will also be implemented in Germany – from painting projects in schools and river clean-ups, to special events at children's facilities and senior citizen centers.
"It is encouraging to see so many Deutsche Post DHL employees turning out for this year's event and supporting their local communities through volunteerism," says Christof Ehrhart, Director of Corporate Communications and Responsibility at Deutsche Post DHL.
But as Ehrhart explains, the Global Volunteer Day program is not limited to just these few days in September. "Last year we made the conscious decision to extend Global Volunteer Day to include activities throughout the entire year. By doing this, we are underscoring the value of volunteerism within the Group and honoring the dedication our employees show to their own volunteer projects."
The idea for Global Volunteer Day originated in 2008 in Asia, where Deutsche Post DHL employees supported projects over a specified period to time. This regional initiative went global in 2011 when the Group held its first-ever worldwide volunteer day. Global Volunteer Day is now a Group-wide employee volunteering program that is coordinated centrally and implemented at a regional and local level. The Global Volunteer Day projects deliver against the Group's three core Corporate Responsibility programs, which focus on environmental protection ("GoGreen"), improving educational opportunity and employability for young people ("GoTeach"), and providing humanitarian logistics support ("GoHelp").
All information and pictures on Global Volunteer Day you can also find via www.facebook.com/living.responsibility or Twitter with the hashtag #gvd14.
On the internet: www.dpdhl.com/press
Follow us: www.twitter.com/DeutschePostDHL or www.twitter.com/dpdhl_amotz
Deutsche Post DHL is the world's leading mail and logistics services group.
The Deutsche Post and DHL corporate brands represent a one-of-a-kind portfolio of logistics (DHL) and communications (Deutsche Post) services. The Group provides its customers with easy to use standardized products as well as innovative and tailored solutions ranging from dialog marketing and e-commerce related logistics to industrial supply chains. Around 480,000 employees in more than 220 countries and territories form a global network focused on service, quality and sustainability. With programs in the areas of environmental protection, disaster management and education, the Group is committed to social responsibility. In 2013, Deutsche Post DHL generated revenues of more than 55 billion euros.
Die Post für Deutschland. The logistics company for the world.
For more information: www.dpdhl.com