Conviva Care Centers and Bank of America Donations Jump-Start May 5 Giving Tuesday Now Efforts for Feeding South Florida® COVID-19 Relief Fund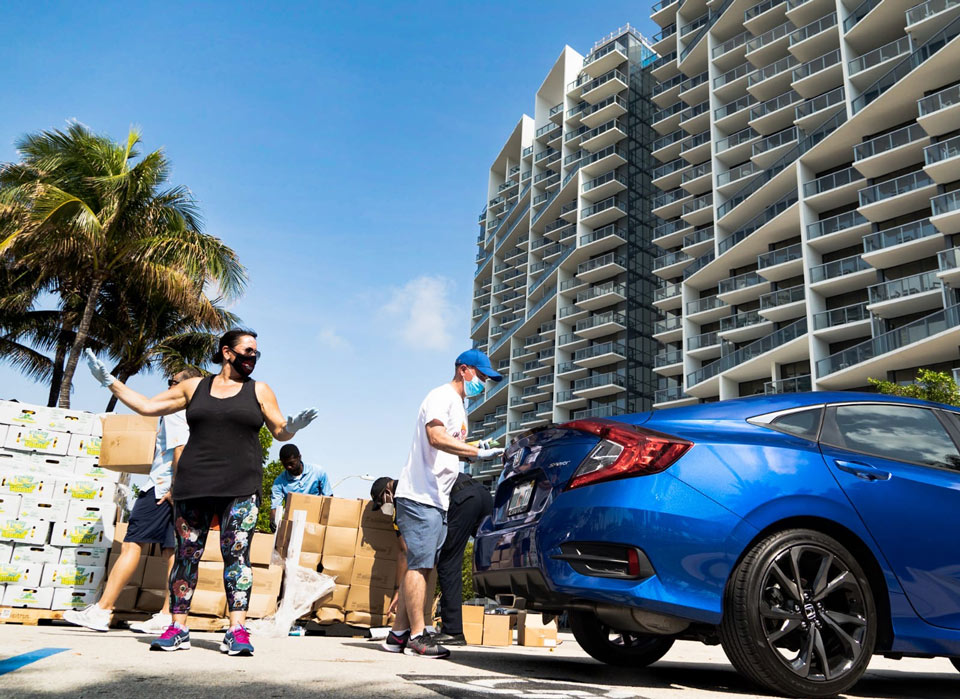 Pembroke Park, Fla. — May 1, 2020 — Feeding South Florida®, the leading domestic hunger-relief organization in South Florida, is looking to the South Florida community to donate to its COVID-19 Relief Fund through the May 5 Giving Tuesday Now, a new global day of giving and unity. To jump-start the donations Conviva Care Centers has donated $750,000 and Bank of America in Palm Beach, Broward and Miami-Dade Counties have collectively donated $520,000. Feeding South Florida is hopeful that other organizations will help build on the support that Conviva Care Centers and Bank of America have provided, to offer even more meals to families across South Florida.
Feeding South Florida is hoping to raise $2.5 million more to meet the 600% increase in demand it has experienced since the coronavirus pandemic began.
For every dollar of support it receives, Feeding South Florida can serve seven meals. Through their donations, Conviva Care Centers and Bank of America have already been able to provide 8,890,000 meals, and they challenge the community to provide 26,110,000 more.
Those who would like to donate to Feeding South Florida's COVID-19 Relief Fund can visit https://feedingsouthflorida.org/donate-now/.
#GivingTuesdayNow is being held in addition to the regularly scheduled Dec. 1, 2020 Giving Tuesday as an emergency response to the unprecedented need caused by COVID-19. The day was redesigned to create a wave of generosity, citizen engagement, action from business and philanthropy, and support for communities and nonprofits around the world.
"Feeding South Florida is making an immense difference in the lives of many families and individuals who are struggling to put food on the table during this unprecedented pandemic," said Kevin Meriwether, president of Conviva Care Centers. "We at Conviva Care Centers are happy to support Feeding South Florida with our donation, and hope that more organizations and individuals do the same."
"With much of our community experiencing food insecurity, Feeding South Florida is going above and beyond to provide essential meals to those impacted during this time," Lori Chevy, Broward County, Bank of America Market President. "We are committed to helping Feeding South Florida bridge the gap for children and families in Palm Beach, Broward and Miami-Dade counties who need immediate access to nourishment."
Prior to the pandemic, Feeding South Florida served 706,000 individuals through its direct-service programs and local network of approximately 300 nonprofit partner agencies. The organization is now seeing approximately 1 million individuals in need of assistance and is serving over 265,000 individuals per week throughout Palm Beach, Broward, Miami-Dade and Monroe Counties.
In response to the increased demand, Feeding South Florida has distributed over 18 million pounds of food in its service area since March 9, 2020. In an effort to supplement closed agency sites, schools and other meal sites, Feeding South Florida has added another 155 food distributions on top of what is normally distributed with partner agencies each week.
Prior to the pandemic, it cost Feeding South Florida $125,000 a week to operate its organization. That number has currently increased to $500,000 a week.
"At a time of emergency when we have an incredible need for help, we are very thankful that Conviva Care Centers and Bank of America have contributed transformative gifts to Feeding South Florida," said Paco Vélez, president and CEO of Feeding South Florida. "These donations will hopefully inspire others to donate, to help us serve the 1 million individuals who are experiencing food insecurity during COVID-19."
In response to Feeding South Florida facing a volunteer shortage amid the pandemic, the Florida National Guard has been deployed to help the organization meet the rising demand. Forty-five soldiers will be stationed at Feeding South Florida's headquarters in Pembroke Park and Feeding Palm Beach County headquarters in Boynton Beach to help sort and pack family meal boxes, help with the inbound product, and assist with the receiving and shipping docks. The soldiers are working seven days a week, while practicing social distancing, until Friday, May 8.
Feeding South Florida's food distributions are updated daily and available at https://feedingsouthflorida.org/covid19/. To find out how you can help, learn about what Feeding South Florida is doing, safety precautions, and much more, visit https://feedingsouthflorida.org/covid19/