Charity trying to feed hungry families while school is out because of coronavirus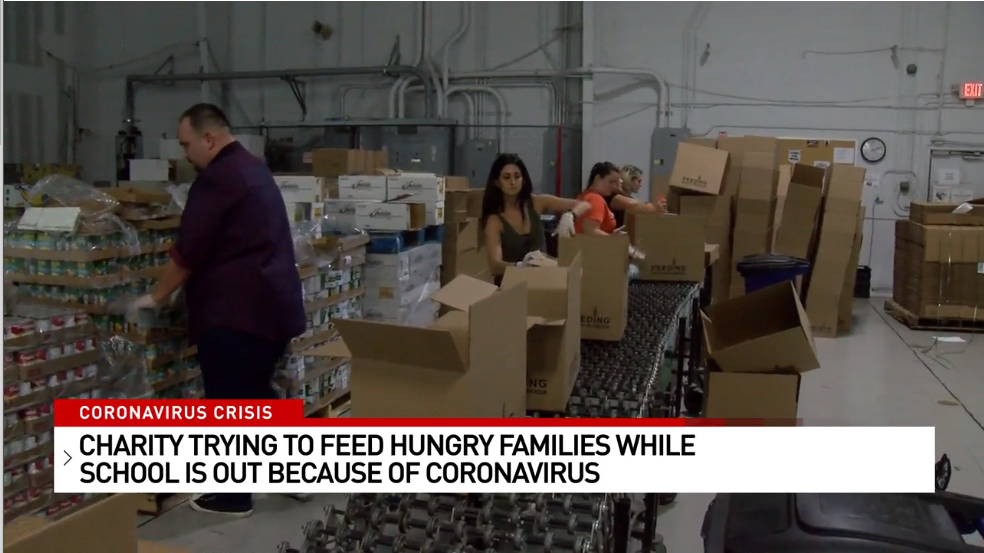 BOYNTON BEACH, Fla. (CBS 12) — The coronavirus pandemic may have an impact on families that don't have enough to eat.
A local non-profit is trying to do something to curb the hunger.
Alana Wortsman, a business development manager from Ft. Lauderdale took part of her Sunday to volunteer and help pack food boxes at Feeding South Florida, a non-profit charity in Boynton Beach.
"It's a really scary time that we're living in right now," Wortsman said.
Because of the coronavirus threat, schools are closing and that means some kids who would get free breakfast and lunch at school might not have as much to eat because they're not in school.
"It's really scary that, one, they're not getting the education they need, they're not getting the meals that they need," Wortsman said. "This is definitely a huge team effort right now."
These boxes will go to schools in Palm Beach County and also to more than two-dozen community locations where parents can pick them up.
This non-profit gives out food to nearly 200,000 people in Palm Beach County each year.
"It's incredibly sad to know that families right here in some of the wealthiest areas in the United States struggle to put food on the table," said Sari Vatske, Feeding South Florida executive vice-president.
The need is expected to be even greater now due to the coronavirus pandemic because some parents may have to give up their paycheck and stay home from work and watch their children while school is out.
"These meal boxes make an incredible difference. It could be the difference between a child having dinner at night or having nothing," Vatske said.
She says they expect the demand to increase.
"This is unprecedented for many of us. It probably will get worse before it gets better,."
Normally they would have 10 shifts a week of volunteers packing these food boxes. Due to the coronavirus threat, they'll now add two more shifts every week and that will continue they say, for the foreseeable future.
Vatske says they could use more volunteers and also cash donations. To find out more, click here.
The list of food distribution sites are:
Benoist Farms Elementary
Congress Middle
Conniston Middle
Forest Park Elementary
Gove Elementary
Greenacres Elementary
Highland Elementary
Hope Centennial Elementary
Indian Pines Elementary
Jupiter Elementary
Lake Park Elementary
Lake Worth High School
Lantana Middle School
Limestone Creek Elementary
Lincoln Elementary
Northmore Elementary
Okeeheelee Middle
Olympic Heights High
Osceola Creek Middle
Pahokee Elementary
Palm Springs Middle
Palm Beach Lakes High
Pine Jog Elementary
Roosevelt Elementary
Spanish River High
Suncoast High
Tradewinds Middle
Village Academy
Wellington Landings Middle
Wynnebrook Elementary