Agencies Team Up to Distribute Food in Belle Glade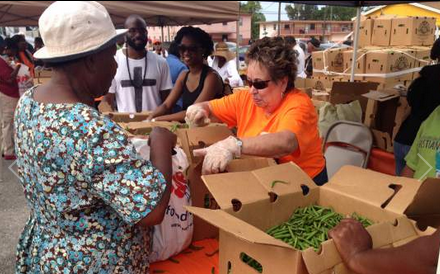 BELLE GLADE — The Loading Ramp was transformed Saturday afternoon as tents, chairs and even a custom-made choir bus set up shop in the Belle Glade square for a huge food distribution event.
Redeeming Word Christian Center partnered with Feeding South Florida to feed over 300 families on Saturday, Nov. 15. Boxes of cucumbers, green beans, peppers and even whole chickens and turkeys were distributed to families in the community — just in time for the Thanksgiving holiday.
Pastor Ed Brinson, of Redeeming Word, said Saturday's event was the second food distribution his organization has conducted in Belle Glade, but said there were more to come.
"Growing up, apart from what the Bible says, my father always taught me to share. You're blessed to be a blessing to someone else," said Pastor Brinson. Pastor Brinson said he fell in love with Belle Glade the first time he traveled to the remote city in the Everglades.
"I can't explain it. My heart is in Belle Glade," he said. "I love the people. There's a lot of need here but the people are precious and always thankful." Pastor Brinson said Redeeming Word plans to return to Belle Glade after the New Year when they will adopt houses in the area to spruce up. He said his volunteers will paint the houses and clean up the exterior, do yard work and put up fences. He also said he will be targeting houses owned by elderly residents.
Redeeming Word is a nonprofit, Christian organization based out of Fort Lauderdale but has a satellite branch in Belle Glade.
Joining Redeeming Word and Feeding South Florida were Dot and Ruby Helping Hand and Bridges of Belle Glade. A similar food distribution event was also held in Pahokee on the same day.
To view original post, click here.