More than 250 Participants Helped End Hunger During Feeding South Florida®'s 2nd Annual Outrun Hunger 5K Palm Beach County Walk/Run on Sept. 24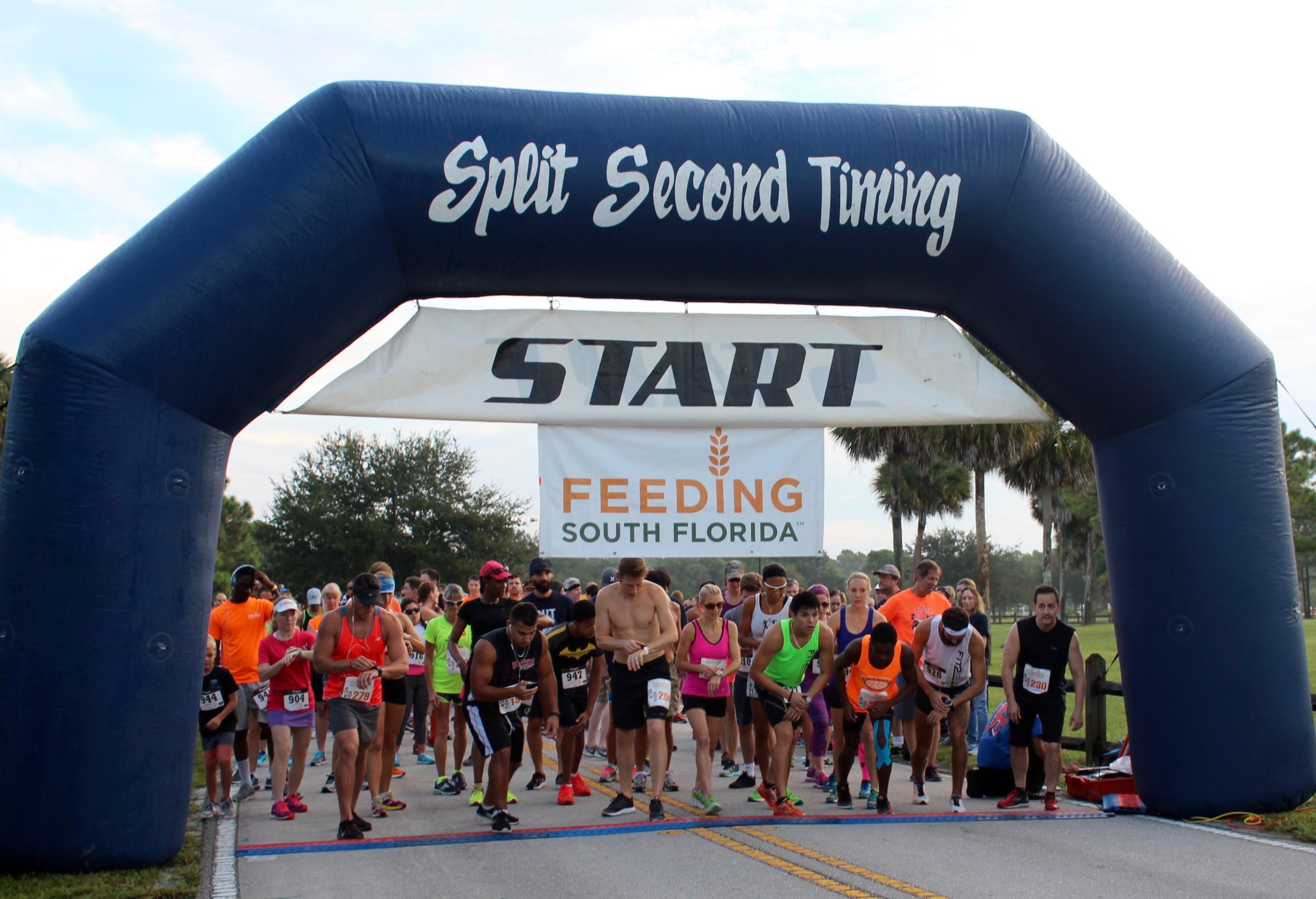 Event was a Simple Opportunity for Residents to Provide Meals for Those Experiencing Food Insecurity
Boynton Beach, Fla. — Oct. 03, 2016 — Feeding South Florida® inspired more than 250 area residents to walk/run miles for meals to end hunger at its 2nd Annual Outrun Hunger Palm Beach County 5K Walk/Run on Saturday, Sept. 24. The 5K kicked off at Okeeheelee Park, located at 7715 Forest Hill Blvd., West Palm Beach, FL 33413.
The support of all participating children, adults, corporations, religious groups, and friends helped provide 32,760 meals for the 199,460 individuals struggling to put food on the table in Palm Beach County — 60,340 of whom are children and nearly 40,000 of whom are older adults.
Feeding South Florida debuted its Palm Beach County branch, Feeding Palm Beach County®, in February 2016, in response to the growing needs of the Palm Beach County community. Feeding Palm Beach County provides more than 11 million pounds of food each year to Palm Beach County alone, through direct service programs and a network of more than 100 nonprofit partner agencies throughout the county. Feeding Palm Beach County is a 25,644-sq.-ft. facility, situated at 4925 Park Ridge Boulevard, Boynton Beach, 33426, conveniently located off I-95 and Gateway Boulevard on two acres of land.
The Sept. 24 event began with a warm-up led by Chelsea Taylor of 103.1 WIRK's "Tiny & Chelsea in the Morning," followed by the run/walk at 7:30 a.m. The event included a marketplace and entertainment provided by Mike Sipe Entertainment. After the race, awards were distributed.
The race was professionally timed by Split Second Timing using disposable transponders to ensure accurate scoring and time results. Outrun Hunger Palm Beach County 5K sponsors include Source1 Purchasing, Jeffie's Choice, The Legend Group, Gardens Presbyterian Church, Red Robin Gourmet Burgers, 103.1 FM WIRK Country, Yelp! Broward-Palm Beach, Raw Juce, Fit2Run-Wellington, Fit2Run-Boca Raton, Tri Bike Run, First Watch Café and Mike Sipe Entertainment, Events & Productions.
"As we celebrate our 35th anniversary of service to the community, we could not be more honored and grateful for the strong showing of community support at this event," said Feeding South Florida President and CEO Paco Vélez. "As the sole Feeding America® food bank serving South Florida, Feeding South Florida is the largest and most efficient food bank in the area. Feeding South Florida is a 4-star rated nonprofit by Charity Navigator, with a 98.7 percent efficiency rating which measures fiscal soundness and transparency, making us the most efficient food bank in Palm Beach County. We are able to provide six meals, or $12 worth of grocery products, for every $1 donated. This is because it only costs us about 14 cents to move a pound of food."