Feeding South Florida Mobile Food Pantry Brings Food to Underserved Areas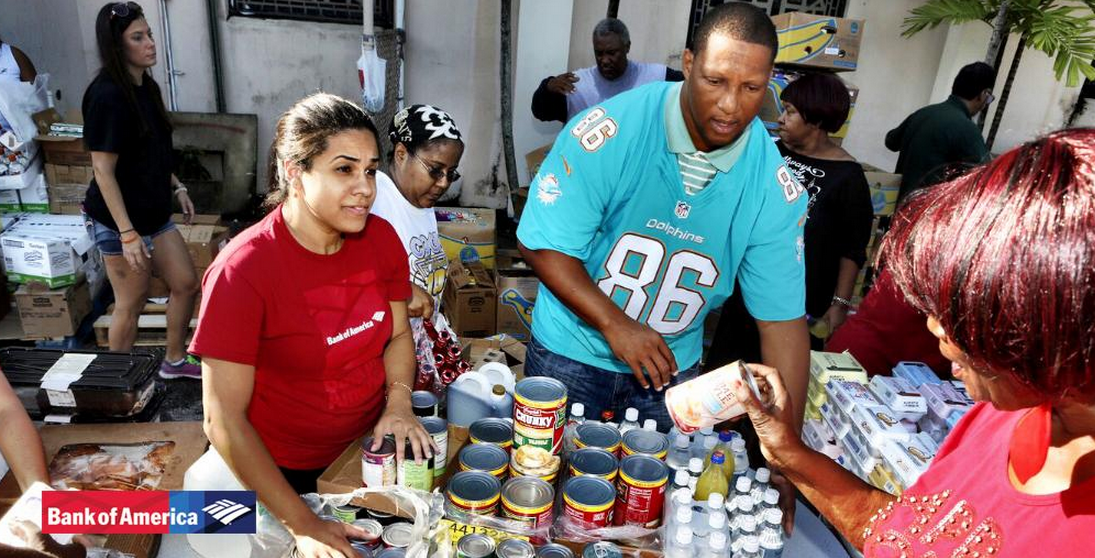 There are dozens of deserts throughout South Florida. They are not marked by cactuses, sandstorms or rain scarcity.
Called food deserts, the USDA defines them as areas with a high concentration of low-income people who live more than a mile from a supermarket or large grocery store, limiting their access to healthy, affordable food.
"There are little pockets of Hollywood, for example, or Fort Lauderdale or Lake Worth or Delray Beach," said Sari M. Vatske, vice president of community relations for Feeding South Florida.
Since 2009, the Pembroke Park-based hunger relief organization, part of the Feeding America network, has worked with partner agencies to provide people living in South Florida's food deserts immediate access to nutritious food through its Mobile Food Pantry Program.
"There definitely is that obesity poverty dichotomy, and so people tend to think that, if people aren't healthy, it's because they have too much food," Vatske said, "but what they don't realize is that, in areas where there are food deserts, there tend to be these fast food chain stores or corner markets, and if you can get a bag of chips for 50 cents or you can get a Happy Meal for $2, or an apple for $1.50, you're going to always choose the bigger bang for your buck."
Feeding South Florida receives produce, dairy, bread and other food donations from retail partners like Publix, Winn-Dixie, Walmart and Target, as well as from farmers and growers all over South Florida. With volunteer help, the food is sorted and packaged onto palettes and delivered by truck to partner agencies, whose volunteers are trained in food safety and distribution.
Currently, food is distributed weekly at six fixed Mobile Food Pantry sites in Broward County, two in Miami-Dade County and one in Palm Beach County. Feeding South Florida also has several pop-up distributions, based on partner agency ability, each week.
"Volunteers are able to set up tables and baskets so that clients can go through the line and have that ability to choose which products they would want, very similar to the way they would in a marketplace if they were shopping for the items themselves," Vatske said, noting that the more than 500 Feeding South Florida Mobile Food Pantry distributions held every year each draw between 250 and 1,000 people.
"The USDA averages that household size is about four people in today's day and age, so when you think about the people that come out in line and then the number of households and the number of people that that impacts, it's pretty incredible," she said.
She added that the Mobile Food Pantry is not just about providing food to people in need.
"It's also saving their overall budget, meaning instead of them getting on a bus route and maybe taking two different buses to get to a grocery store or spending gas money on traveling to that, we are bringing the resources to them," Vatske said.
In late September, during Hunger Action Month, Bank of America and the Miami Dolphins Foundation partnered with Feeding South Florida to distribute at fixed Mobile Food Pantry site Fort Lauderdale Multicultural Church of God in Christ.
"You actually go and see and feel and pass out the items to the residents. They were all very thankful, and it just is a rewarding experience," said Bank of America Assistant Vice President Lilia Ciciolla, who handles the financial institution's corporate social responsibility within the Broward market and gathered 13 other employees to volunteer with her at the distribution.
Networking for Christ Ministry in Hollywood is another one of the fixed sites. Every Wednesday morning, an average of 12 to 15 church and community volunteers help distribute food, said Tara Bandy, who volunteers as the pantry food coordinator.
She said the pantry, which became a Feeding South Florida Mobile Food Pantry in August 2010, has grown from serving 25 people per week to serving 300 people per week and last year alone distributed half a million pounds of food.
"You see the need of the people, and you see what difference you make in one's life, especially where there are little children involved," she said. "… You may want to do more, but at least you know that, OK, tonight they have something on the table."
To view original post, click here.
By Emily Moorhouse