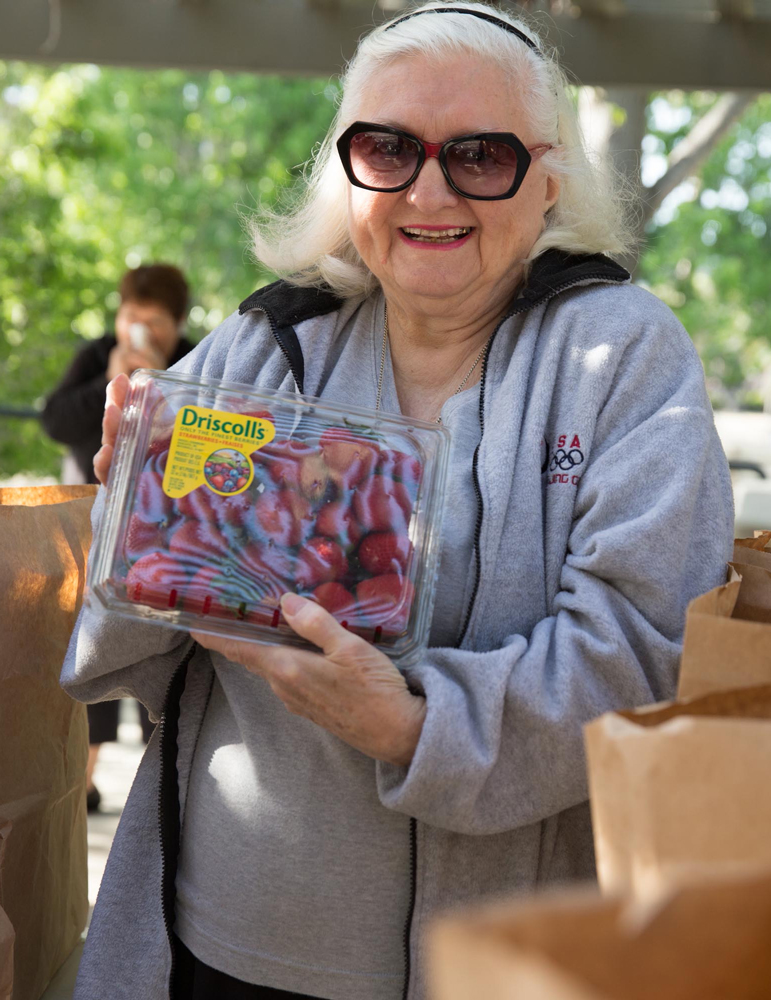 Compared to their food-secure peers, food-insecure seniors are:
60 percent more likely to experience depression

53 percent more likely to report a heart attack

52 percent more likely to develop asthma

40 percent more likely to report an experience of congestive heart failure
With your support, Feeding South Florida serves over 130,000 older adults each year.
With the support of the AARP Foundation and the Miami Marlins, Feeding South Florida is able to distribute boxes filled with 10-12 meals for our older adults who struggle between paying for groceries or medicine.
Many times, low-income older adults are home-bound due to the inability to drive, lack of transportation, or the inability to travel themselves. As such, provide distributions of shelf-stable, senior-friendly food items to senior housing sites that are most in need.
In 1963, the National Council of Senior Citizens designated May as the month for the United States to appreciate and celebrate older adults and their contributions to our communities. Feeding America and Feeding South Florida participate in the movement by raising awareness and showing support for the 4.8 million seniors facing hunger in our country.
This year, Older Americans Month falls on the heels of the release of our Spotlight on Senior Health: Adverse Health Outcomes of Food Insecure Older Americans research with the National Foundation to End Senior Hunger (NFESH). The study reveals that senior food insecurity is associated with lower nutrient intake and an increased risk for chronic health conditions.
With your support, Feeding South Florida serves over 130,000 older adults each year, yet we can see from these disconcerting statistics that we have much more work to do. Nearly 1 in 12 seniors in the United States receives food assistance from Feeding America, and 1 in 7 seniors in South Florida faces the choice between paying for rent, medication, or food. It is a critical time to raise awareness and show support for our older neighbors facing hunger.
This year, the message is simple. Hunger affects people of all ages, and sadly, older Americans are often a forgotten population. Data shows how hunger hits seniors especially hard. We're speaking out together to "Solve Senior Hunger."
To ensure older Americans receive the proper nutrition they need to lead active lives, Feeding South Florida partners with the Florida Marlins and elected officials to hold monthly distributions and raise awareness of the issue of senior hunger in America.
GET INVOLVED
Help increase awareness for the issue and join our social media campaign #SolveSeniorHunger with #FSFendshunger.
MAKE a sign with the handwritten hashtag #FSFendshunger
POSE for a photo with an older adult you know, while holding your #FSFendshunger sign and SHARE the photo on Facebook, Twitter, and/or Instagram
SEND AN EMAIL to your Member of Congress and invite them to your local food bank's senior program
CALL with your local food bank to schedule a visit
CONTACT
If you are a client in need of assistance, please call our Benefits & Emergency Services Coordinator, Soledad Fontecilla, at 954.518.1857, or email here.
*We distribute meals through our partner agencies.